Wood Lattice vs. Vinyl Lattice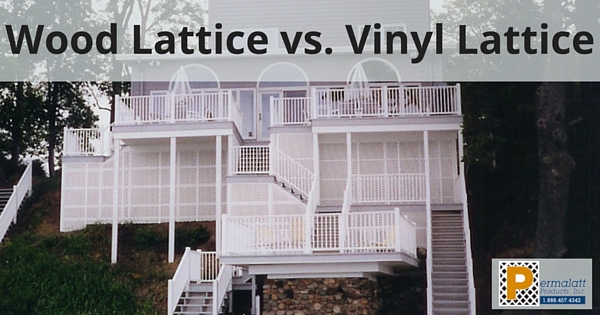 It's that time of year again where the outdoor projects begin. Tackling the "wish" and "honey do" list now can mean a summer full of relaxation and enjoyment in your new outdoor area.
Are you considering a project that includes lattice? Before you start your lattice project, you will want to check out the options available to you. The decision of which type of lattice fits the look and characteristics you want will need to be made before the construction begins. We'd like to offer a few bits of information to help. By comparing wood lattice and vinyl lattice, you can make an informed decision regarding the material you want to use for your project.

First, we'll look at the wood lattice product.
Wood Lattice
You can find this product at most lumber companies and big box stores. Most wood lattice is held together with galvanized staples. It is available in many wood types that can be pressure treated or coated to increase the resistance to rotting.
Positives
Wood lattice is easy to cut. However, please be aware of where the staples are when cutting.
With wood lattice there is no need to be concerned about expansion or retraction of the lattice sheet. It is dimensionally stable.
You can paint or stain this lattice any color you want.
The wood lattice will give your property a traditional look that can blend with many landscape designs.
Negatives
Wood lattice will draw moisture and weather quickly. It can split, splinter, and crack from sun exposure and will rot over time.
Wood lattice shouldn't be considered maintenance free as it will need treated, stained or painted annually.
The wood lattice is not insect proof.
Now let's look at the vinyl lattice product.
Vinyl Lattice
A true vinyl lattice is a specialty product and is not available at the big box stores. There are a few high-end lumber companies who will carry this type of lattice. It is made strip over strip; it is not molded or stapled.
Positives
A solid core vinyl lattice is easy to cut.
This lattice is dimensionally stable. This means no warping or expanding. It will not crack, splinter or rot.
It is insect proof and moisture resistant. It is mold and mildew resistant. It will not fade and is virtually maintenance free.
A solid core strip over strip constructed vinyl lattice offers a beautiful look for any project.
Negatives
It is not available in "any' color. Paint and stain may not adhere to this type of lattice.
In summary, what product is the best when considering wood lattice vs vinyl lattice? The decision is ultimately yours. It's your area to create the look you want. With the positives and negatives listed above, you may have a better idea of which one will work best for you. We hope that this short breakdown helps you make your decision.
Permalatt Products, Inc. manufactures a high quality, premium vinyl lattice that will enhance any project you have. Our lattice products include a Lifetime Warranty offering peace of mind. Be assured you can count on our vinyl lattice to last a lifetime.
With the DuraShell® solid core vinyl lattice, the sky's the limit. Any project any time, the DuraShell® lattice is second to none. Contact us today for more information and your free quote.