Privacy Screens and Fences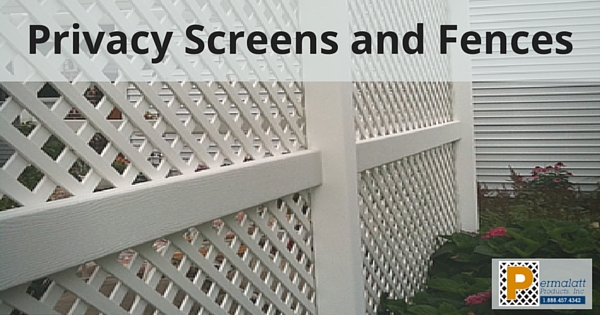 We all want a place where we feel secure to peacefully relax.
We want to feel comfortable and not exposed in our outdoor spaces. However, we don't necessarily want to feel closed in or totally secluded while we obtain our privacy. What would you think about a way to provide privacy for your property and outdoor area that will also add style, allow natural light and airflow? There is a way to achieve this with a Permalatt lattice screen or lattice fence. You will also find that a lattice screen or fence may be the most cost-effective way to make your dream of privacy a reality.
Permalatt Lattice privacy screens are a great way to keep that over exposed feeling at bay.
When using a lattice privacy screen, you can create a place that will offer an intimate setting. The lattice privacy screen can provide a great atmosphere where you can entertain family and friends, finish that book you started, or just provide a place to get away from it all. You can add a privacy screen anywhere on your property to enhance your space.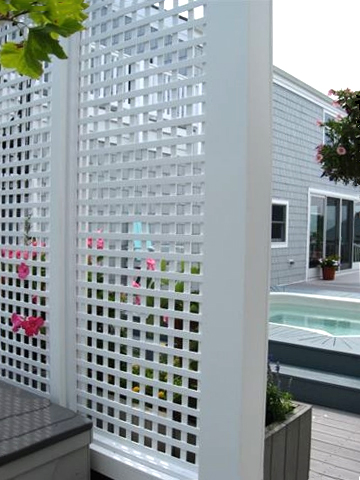 Here is another privacy idea, a lattice fence.
A lattice privacy fence offers the same benefits as the privacy screen. This is the perfect option if you don't want to fence in the entire area. The lattice fence will block off any space creating the privacy you desire but will also create a decorative accent. However, using a lattice fence around the entire space or property adds beauty to the entire location.
Lattice provides an economical and easy-to-use way to enhance your home and outdoor space.
Permalatt lattice can create privacy while adding dimension and beauty to the appearance of your area. With either a diagonal or square design, a lattice screen or fence is a great way to magnify the value of your property. This will become a handsome design that boosts curb appeal as well.
The atmosphere you wish to create with your lattice privacy screen and fence will determine just how enclosed you want the area to be. Remember, the smaller the opening or pattern in the lattice the more privacy is provided. However, the larger opening or pattern in the lattice will also provide a level of privacy. By taking the time to consider the finished project, you can make sure you capture the privacy and design you desire.
Permalatt Products, Inc. manufactures a high-quality premium lattice.
We manufacture a true 3D lattice using a strip over strip construction. With opening sizes of 1" diagonal, 1" square, 1-7/8" diagonal, 2" square, 2-3/4" diagonal, or the 3" diagonal, you can achieve any look you want for your project.
We offer standard sheet sizes of 4'x 6' and 4' x 8'. If you prefer a custom sized sheet, we can accommodate you! In our diagonal openings, we can manufacture any custom sheet with a width of 4 feet or less, and any length up to 12'. In our square opening lattice, we can manufacture any custom sheet size that is a width of 4 feet or less, and any length of 8' or less.
Whether it's a lattice privacy screen or a lattice fence, Permalatt Products, Inc. offers lattice that will be perfect for your project. We're happy to help you achieve your goal of privacy for your special area!
Visit our website, www.permalatt.com, for more information regarding the DuraShell® and Decorative 3D lattice. Remember, all quotes are free, so contact us today. Don't forget to request your sample kit as well.