What is DuraShell® Vinyl Lattice and How To Use It

When it comes to lattice there can be a bit of confusion as to what one is the best for your project. You may want to research the lattice types available and find out just what makes one better than the other. It can be hard to get information regarding how certain lattice types are manufactured, let alone find someone who is willing to share all of the information you seek.
At Permalatt Products, Inc. we want it to be simple for you to understand how our lattice is made and ways you can use it.
We're just going to put it all out there and tell you what you want to know. Permalatt makes the DuraShell® vinyl lattice with solid cellular core strips. Each strip is ¼" thick. The strip over strip method creates the ½" total thickness. To clarify, the ½" thickness is at the point where the two strips cross in the pattern.
What is an opening size? When we ask you what opening size you want, we are referring to the pattern size. Meaning the size of the hole you want for your lattice pattern. Permalatt Products, Inc. manufactures both diagonal and square openings. The diagonal or diamond pattern is measured on a slant from the inside of the top strip to the inside of the opposite strip.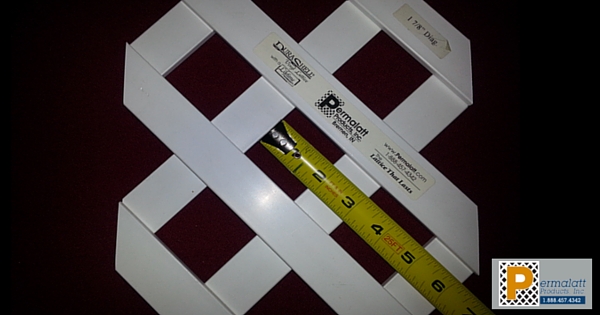 The square opening is measured from the inside of one strip to the inside of the next strip.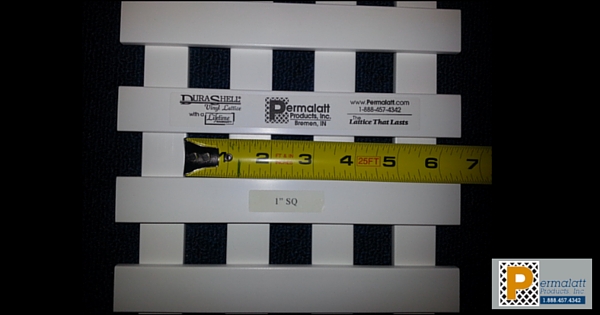 What sheet size do you want? Our standard sheet sizes are 4'x 6' and 4'x 8'. In the diagonal openings we also offer standard fence topper sizes of 12" x 6' or 8', and 16" x 6' or 8'. Now if you don't see the sheet size you "want", call us. We are happy to accommodate you with custom sheet sizes as well.
Now let's talk about the DuraShell® product and its attributes.
Each strip is a solid core strip. Each strip has a scuff and scratch resistant coating on it. Both the solid core and DuraShell® surface of each strip gives the product great durability. The DuraShell® product meets Class A-1 UBC Fire Ratings. It is dimensionally stable meaning no worries on expansion or warping after installed. Our colorfast weather-ability means DuraShell® vinyl lattice holds it color. Our lattice won't splinter, crack or rot. The DuraShell vinyl lattice is insect proof. Last but not least, the DuraShell lattice carries a Lifetime Warranty.
We also offer ACCESSORIES to our lattice.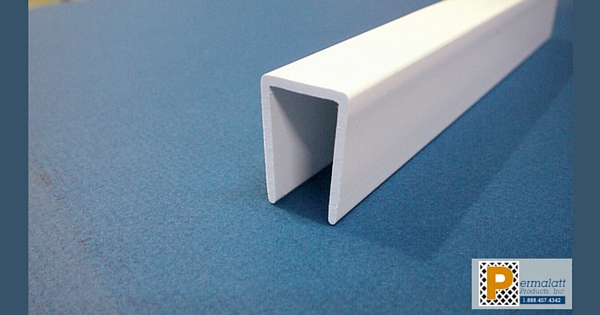 Our U-channel can be used to frame your lattice sheet as well as guide it along a rail or post.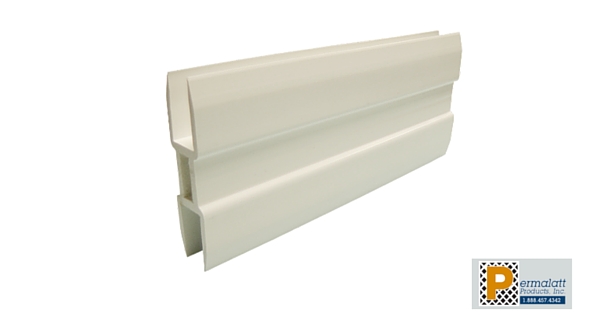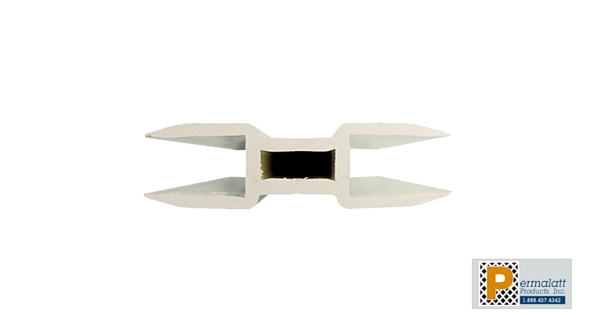 Our H-channel is a great way to connect your lattice sheets.
How can you use our DuraShell lattice?
Permalatt has a lattice product that can be used in any project imaginable. For either indoor or outdoor uses, our DuraShell® vinyl lattice is a top of the line product that will stand the test of time.
Here are a few of the common uses for our lattice.
Arbors, trellises, gazebos, deck skirting, fence accents, privacy screens, stair enclosures, gates and pergolas. There are many, many uses for the Permalatt Products, Inc. solid core lattice.
On our website, www.permalatt.com, visit the photo gallery page to see the many projects our lattice and accessories have been used in. There are even indoor uses for the DuraShell® vinyl lattice. The "News" page on our website has several articles written for uses and comparisons of our lattice. Our Facebook page also offers a lot of information on our lattice that will be helpful to you.
DuraShell® is our strongest and most durable vinyl lattice that promises to provide long lasting beauty. Contact us today with any questions. We are always happy to help. We will even provide you with a free quote for your current project. We look forward to hearing from you!