How To Maintain Your Vinyl Lattice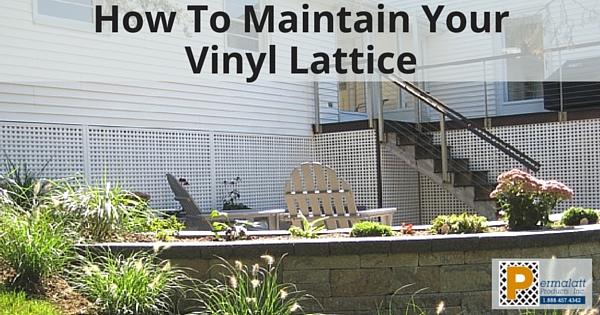 The vinyl lattice you installed last year still looks awesome. It was a good investment for your property and you couldn't be happier.
How will it look for the next season? Depending on the kind of vinyl lattice you installed, it may be considered maintenance free or low maintenance. We have a few suggestions for you on how to maintain your vinyl lattice to assure the lasting beauty.
Cleaning;
Exterior lattice maintenance:
When it comes to cleaning, the vinyl lattice simply needs to be sprayed off with water. Presto, you are finished with the maintenance part. We do suggest that you "clean" the lattice periodically to keep the like new look. Just a quick rinse with the hose every now and that should be sufficient to remove surface dirt and debris.
However, if you find spraying with the hose is not giving you the results you hoped for, use a mixture of warm water and dish soap or a mild detergent. Wipe the vinyl lattice down with the mixture where needed. Once you have it clean, rinse it by spraying the vinyl lattice with the hose.
If you have a really tough stain you may need to use a mild cleanser and scrub the lattice with a soft bristle brush to restore the vinyl lattice to a clean state. To prevent scratches and discoloration, make sure you do not use abrasive cleaners or rigid materials on your lattice panel. If you decide to use a store bought cleaner, please make sure it won't compromise the integrity of your vinyl lattice. In most cases, an environmentally safe cleaner will work well.
For the extremely tough stain, mix 1 part bleach to 5 parts water. After cleaning the tough stain, rinse the vinyl lattice sheet thoroughly with water.
Tip: Always start at the top of the lattice sheet and work your way down to the bottom of the lattice sheet when cleaning.
Interior lattice maintenance:
If you have used vinyl lattice for an interior design you will need to clean it just like you would your vinyl window blinds. A quick dusting with your favorite feather duster and you are finished. For the dust that refuses to lift off the vinyl lattice sheet, you can also use a damp soapy cloth. Rinse the cloth often. Continue to wring the cloth out to avoid excess water. After cleaning and rinsing the vinyl lattice, wipe it down with a dry cloth.
Besides cleaning, there are other types of maintenance for your vinyl lattice.
Repairs:
Since vinyl lattice does not have the joint fasteners you find on wood lattice, you will not have the added maintenance of checking all the slats to make sure they are still fastened together. However, you will want to check each location where you have secured the lattice to a separate structure. Example, is your lattice screwed or nailed to the bottom of a deck or a post? Check the nail/screw to make sure it still offers your vinyl lattice the support needed to keep it in place. You may want to inspect your vinyl lattice often to avoid missing an area that needs repair.
Another repair issue may be scratches or dents in your vinyl lattice. While the only way to repair a dent is to replace the lattice sheet, you can remove light scratches. To remove a light scratch, dip a clean cloth into some lacquer thinner and buff the affected area until the scratch disappears.
We hope the maintenance tips we shared are helpful to you.
Do you have a lattice project you'd like to start? Want a vinyl lattice that is 2nd to none? Choose the DuraShell® vinyl lattice. Reach out to us at 888-457-4342 and one of our team members will be happy to help you with a quote for your lattice project.
Or you can visit our website at www.permalatt.com and complete the contact us form. Simply click on the orange block that describes what customer type you are and we will get back with you.
We can't wait to hear from you!