Decorative 3D Lattice

Permalatt Products, Inc. manufactures two levels of vinyl lattice. They are the DuraShell® and the Decorative 3D lattice. While both are manufactured similarly and are both high-quality products, they also have their differences.
Why do we say two levels?
It has to do with the thickness of each type of lattice.
The Decorative 3D is manufactured with a solid core strip over strip method. Each strip is 1/8" thick producing a ¼" total thickness.
The Decorative 3D lattice is virtually maintenance free giving you peace of mind with a lifetime warranty. Available in both square and diagonal openings, this lattice product provides a traditional look. The 3-D and solid core construction will not rot, peel, decay, splinter, chip or warp. Decorative 3D lattice adds long lasting beauty to your project.
As we consider the Decorative 3D lattice, we at Permalatt Products, Inc. know it is the better option compared to the other lattices available to you at the big box stores. Our proprietary manufacturing process creates a premium 3-dimensional lattice compared to the plastic flat and 2 dimensional molded brands.
The Decorative 3D lattice offers a nicer appeal than the molded lattice sheet. With a solid core construction, the Decorative 3D lattice product will not splinter when cut like hollow PVC lattice can. You can easily nail or screw through the lattice and not be concerned with the possibility of damage where the sheet is secured.
Where can you use the Decorative 3D lattice?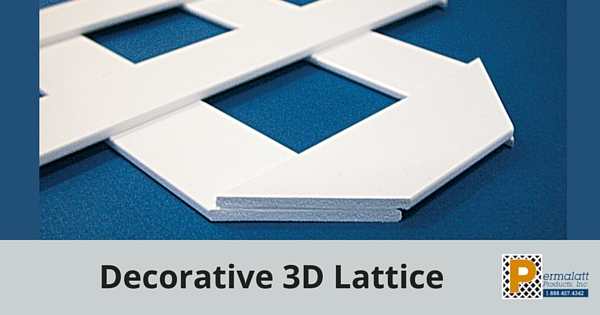 The number one use for the Decorative 3D lattice is in fence topping projects.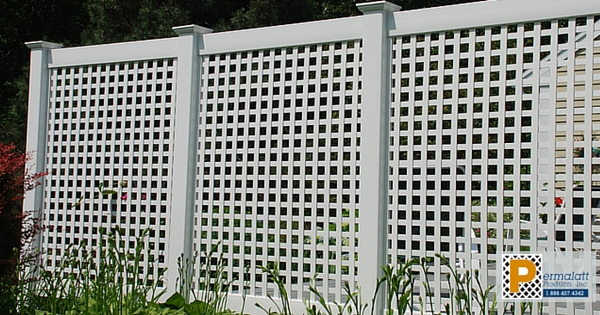 You can also use the Decorative 3D lattice when adding a privacy screen to your outdoor area.
What about indoor uses?
The premium vinyl strips used to create our Decorative 3D lattice meet several ASTM fire ratings. This means you can use the Decorative 3D lattice indoors as well as outdoors without worry. So decorate away!
The Decorative 3D lattice is available in opening sizes of 1-7/8" diagonal, 2" square, and 3" diagonal. The standard sheet sizes are 12" x 6' or 8', 16" x 6' or 8', 4'x 6' and 4' x 8'.
Don't see the sheet size you need? We offer custom sheet sizes as well. Just call customer service and we will provide a free quote for you.
We manufacture the Decorative 3D lattice in the colors of Snow White, Laguna Dune, Sandtone, and Khaki.
Where and how can you get Permalatt Products, Inc. Decorative 3D lattice? Contact us direct at 888-457-4342 or through our website, www.permalatt.com.
Yes, that's right, you buy directly from the manufacturing facility. Reach out to us today for your free quote or if you have any questions. We're happy to help!