Why Vinyl Lattice is Superior to Other Types of Lattice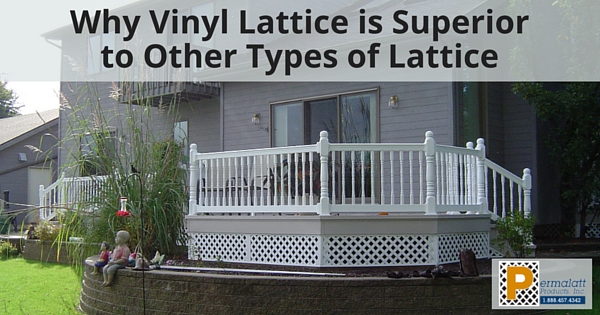 What makes one material better than the other when it comes to lattice?
Some may say that it's personal preference. Ok, that can be part of it. However, there are many factors to consider when choosing the best lattice for your current project. The decision will come down to this, what is your personal preference for looks, maintenance, durability, and cost.
There are pros and cons for every building/designing material available to you. We intend to list the reasons why we know that vinyl lattice is beneficial and the best choice of lattice over the other lattice options.
Just a reminder, when we share vinyl lattice ideas and suggestions, Permalatt Products, Inc. always states the advantages of using vinyl lattice in consideration to our DuraShell® and Decorative 3D lattice.
Benefits of Vinyl Lattice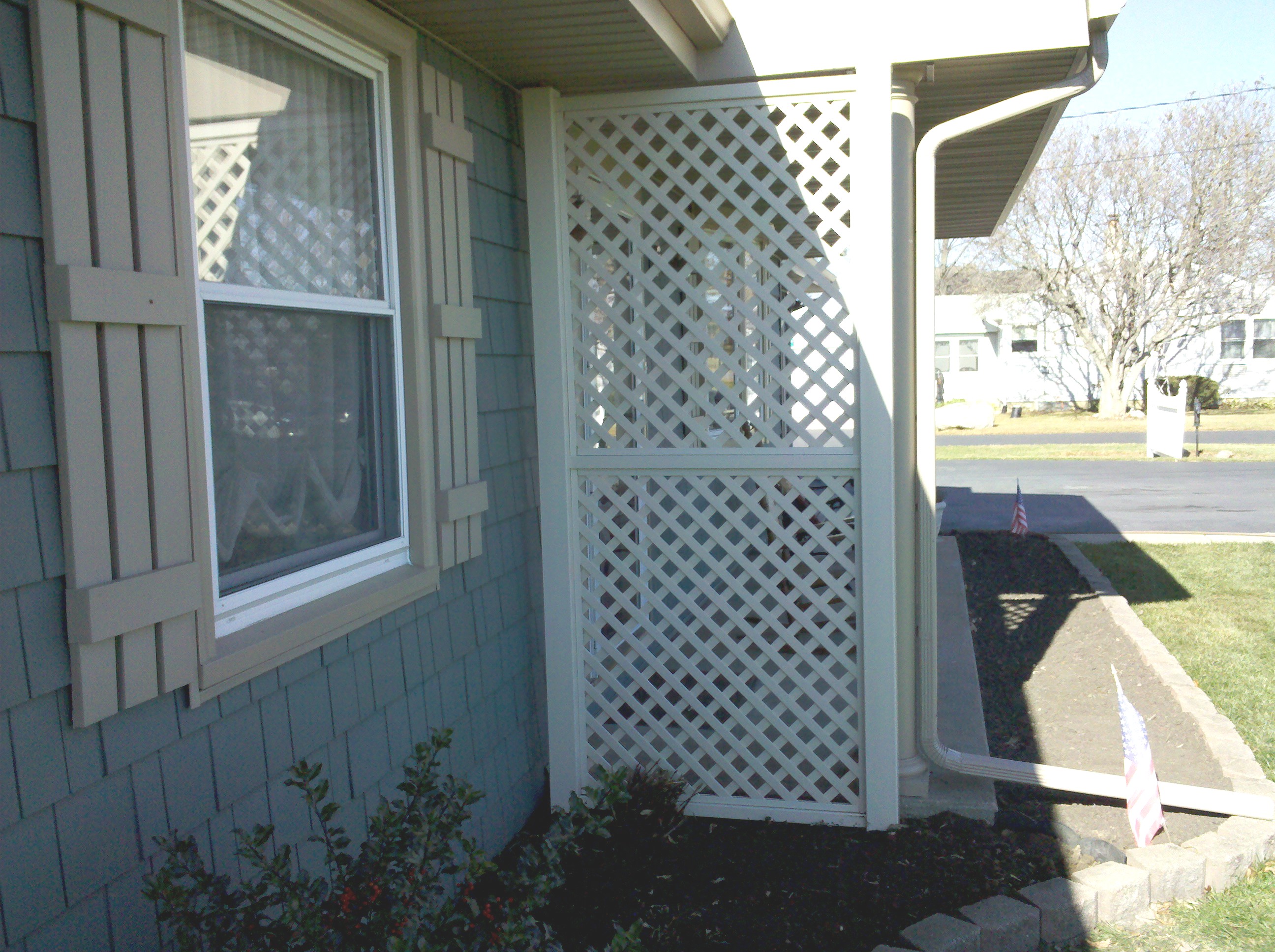 Vinyl lattice can give your property a lasting beauty. Vinyl lattice can easily last for decades. Vinyl lattice does not rot or peel – no replacement cost for that. Because our vinyl lattice stands up to harsh weather and decay, it carries a lifetime warranty. The DuraShell® and Decorative 3D lattice will not mold or mildew. When it comes to maintenance,
The DuraShell® and Decorative 3D lattice will not mold or mildew. When it comes to maintenance, vinyl lattice is the easiest thing to take care of. A quick rinse with the hose and you're done. No painting, scraping or sealing – ever. Vinyl is termite/insect resistant.
Permalatt's lattice is dimensionally stable meaning no warping. No need to predrill screw/nail holes before installation. No cracking or splintering either. One more thing to consider, vinyl lattice comes out on top as a sound investment for your property.
The DuraShell® lattice can be used in both vertical and horizontal projects. Yes, you can also use DuraShell® lattice for the top of your pergola. No sagging between support beams. Our vinyl lattice is manufactured with the color throughout each strip. It is not a surface color.
So go ahead, cut it and install anywhere. You won't have a raw, off colored edge exposed. If you prefer to use u-channels or h-channels in your project, we offer those in the same color as our lattice sheets in the DuraShell® product line.
It doesn't matter if you are incorporating our vinyl lattice into your area, or if you are starting from the ground up, our lattice sheets, u-channel, and h-channel will complement any project.
Please note: When choosing a color, we strongly recommend you order a color ring as most computer monitors will not represent the actual color.
HDPE Lattice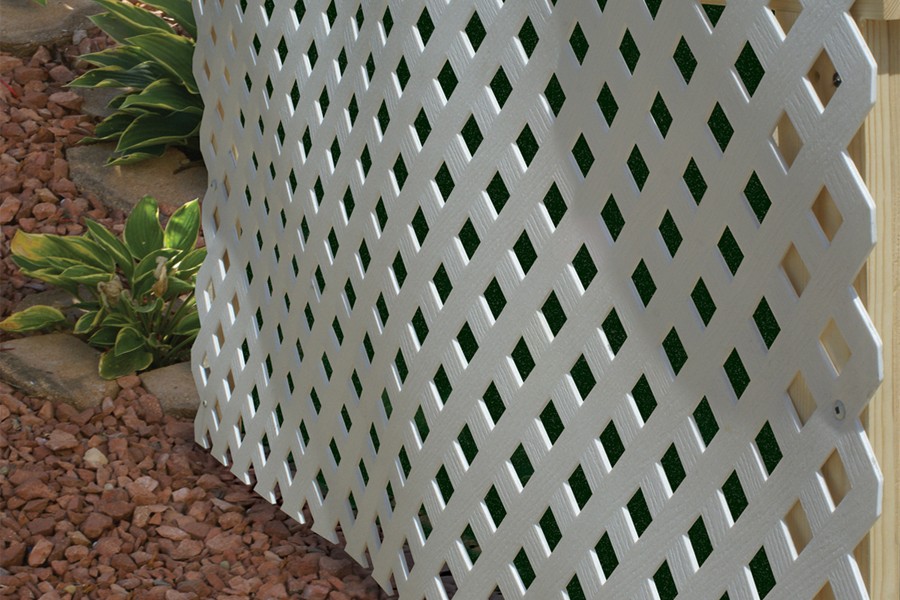 HDPE or plastic lattice as it's more commonly known as, carriers some of the same characteristics as Permalatt's vinyl lattice. Both are rot and insect resistant and will not peel. Like the DuraShell® or Decorator 3D lattice, the plastic lattice does not need to be sealed from moisture.
Now, please keep in mind though that the plastic lattice is pressed with a wood grain texture that can collect mold and mildew. This means there will be additional cleaning involved with the plastic lattice.
Since the plastic lattice is molded into a continuous piece, it tends to expand and retract substantially. This means you will need to pre-drill oversized holes for screws or nails when attaching the lattice to the structure or frame.
With the expansion and retraction characteristics, you will need to leave a gap around the entire sheet for thermal movement. Cold temperatures can also affect the integrity of the plastic lattice sheet causing it to crack or break. Most plastic lattice manufacturers offer a lifetime limited warranty with installation and maintenance requirements.
And Finally, Wood Lattice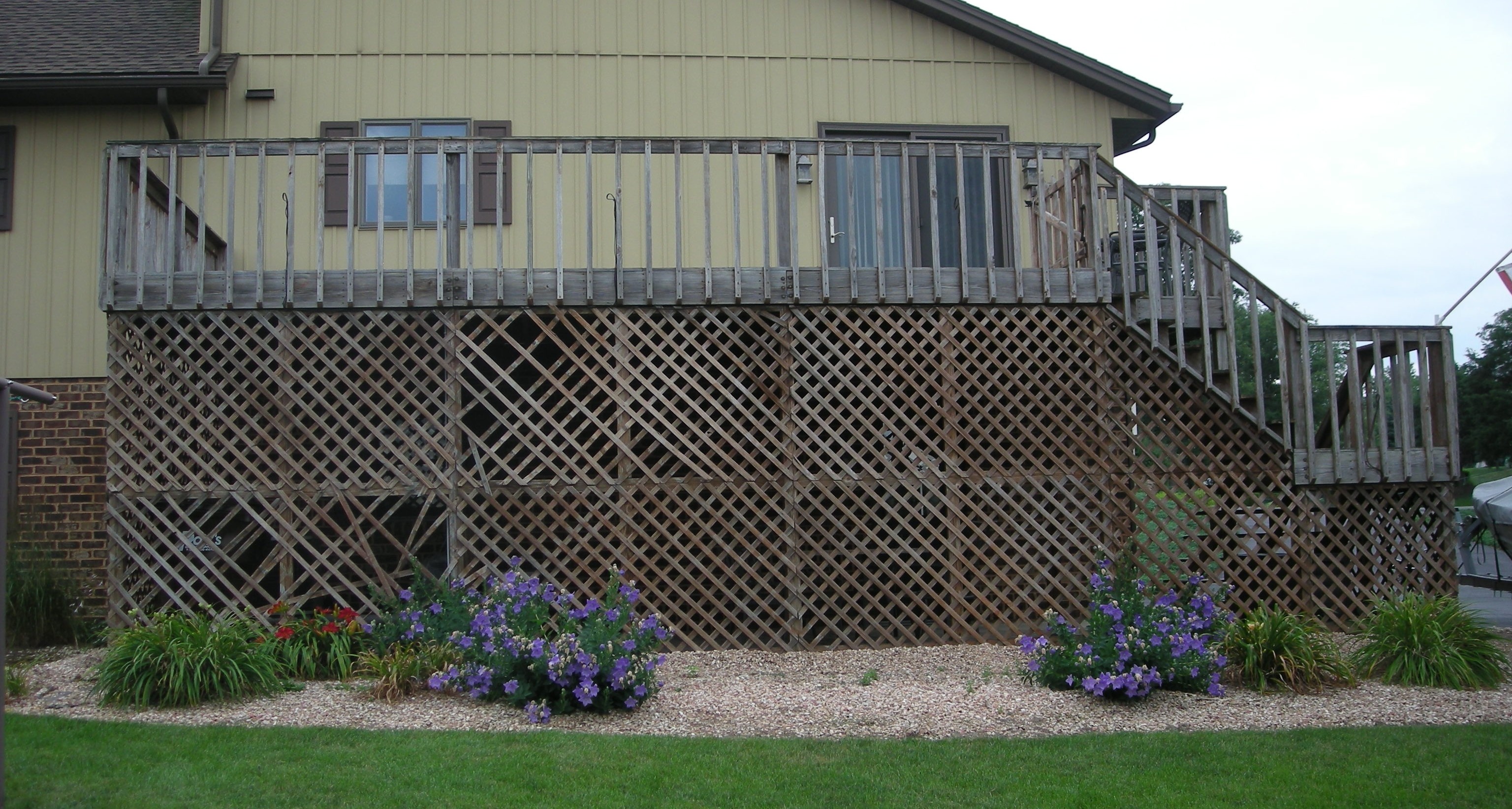 A wood lattice can attract termites and who want those things around the rest of the property? A major disadvantage of wood lattice is the upkeep that is needed to keep it looking nice.
It will need yearly maintenance to keep it in good shape. It will require pressure washing, scraping, and wire brushing before it can be repainted or stained. It will need to be properly treated to resist warping and decay.
Because wood is prone to decay, no matter how well it's treated, it will need to be replaced eventually. The time and cost to maintain your wood lattice can be substantial. Wood lattice rarely includes a guarantee or warranty.
DuraShell® lattice is a niche product manufactured by Permalatt Products, Inc. and is not available in the big box stores. We manufacture a high-quality premium vinyl lattice that is easy to cut and install. DuraShell® lattice is "Made in the USA" by skilled craftspeople. DuraShell® lattice is the best choice hands down and is truly 2nd to none.
Contact us today for your free quote on your current lattice project.
Don't forget to visit our website, www.permalatt.com and order your color ring or complete sample kit. Or call us at 888-457-4342. Get yours on the way to you today.
Save
Save