Unique Ways to use Lattice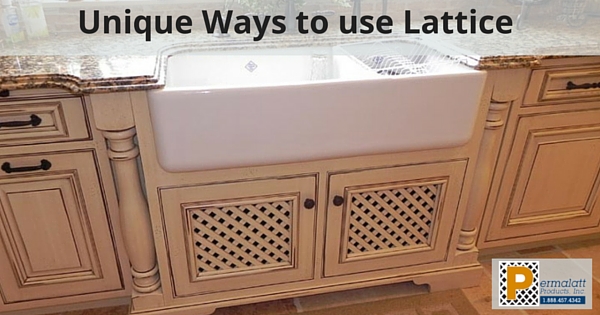 As a lattice manufacturer, Permalatt Products, Inc. has sold lattice for all of the typical uses … fencing, gazebos, pergolas, deck skirting and even privacy screens. These are the most common projects we see where we see our lattice used. With that being said, we've also experienced projects that are not so typical.
Let's take a moment and think outside the box. Lattice can have a square or diagonal opening design. With those choices in mind, you can create an unlimited look for any type of project. From the interior to the exterior of you home, office, or business, lattice can become multifunctional.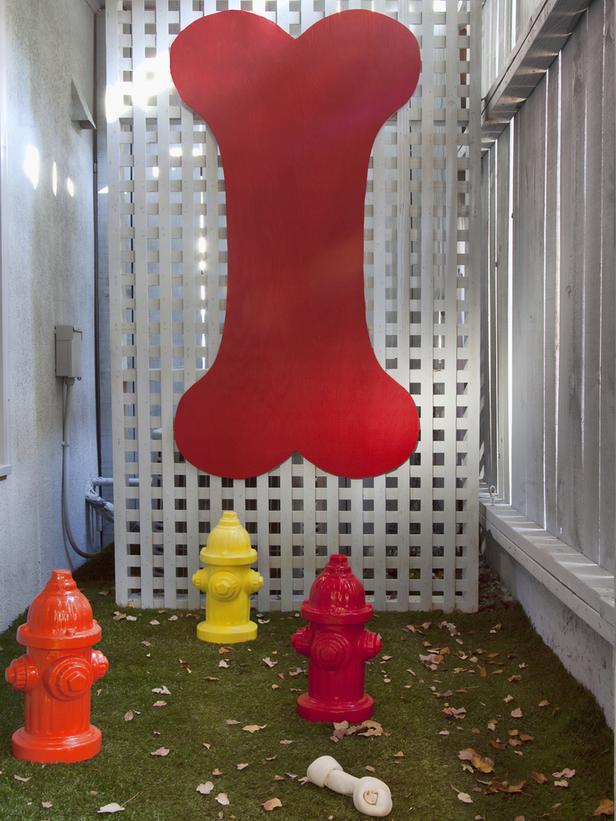 Unique lattice uses in the home
Do you have the typical fluorescent lighting with the standard plastic cover? Would you rather have a unique look? Why not secure a piece of lattice to the lighting frame instead? The lattice can allow more light to flow through than the plastic sheet. Simply screw the custom cut lattice sheet to the recessed frame. This will allow you access to the bulbs as well as create a nice look in the room.
You can even use a lattice sheet over a screen door. This will protect the screen from your pet's claws without restricting air flow.
Want to update your kitchen cupboards? You can remove the center panel of the door and add a piece of lattice. You can do this to every door or just a few to get the look you want.
Unique lattice uses outside the home
Now if you're the crafty type, you can remove the old screen from a door and add a piece of lattice. This gives you a decorative piece you can set outside for your flowers or vines to latch on to.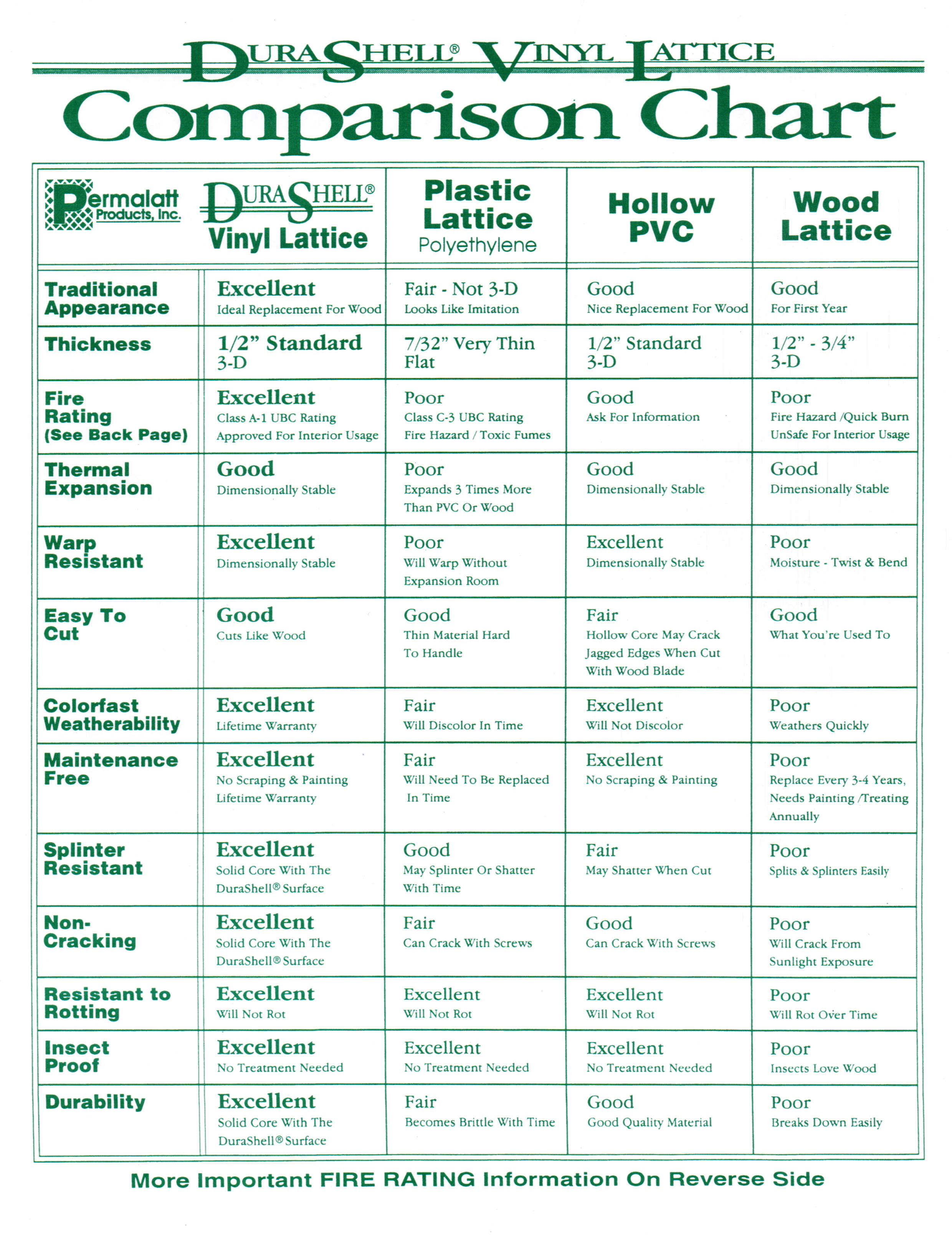 Do you have space on the patio you want to add a little pizazz to? Build a wall table with lattice and molding to use for your potted plants and flowers. Using a larger lattice sheet behind the table gives the area a little more depth as well.
These are just a few of the unique uses we have encountered with some of our clients. The uses of lattice can be limitless. If you can imagine it, you can create it!
Use Permalatt Vinyl Lattice for safety and durability
Consider Permalatt Products, Inc. DuraShell® lattice for all of your projects. We have the lattice that stands the test of time.
As the manufacturer of the DuraShell® vinyl lattice, we have compared several attributes of Vinyl, HDPE (plastic), Hollow PVC and Wood lattice. The Comparison Chart sums up each product per category and is included for your convenience.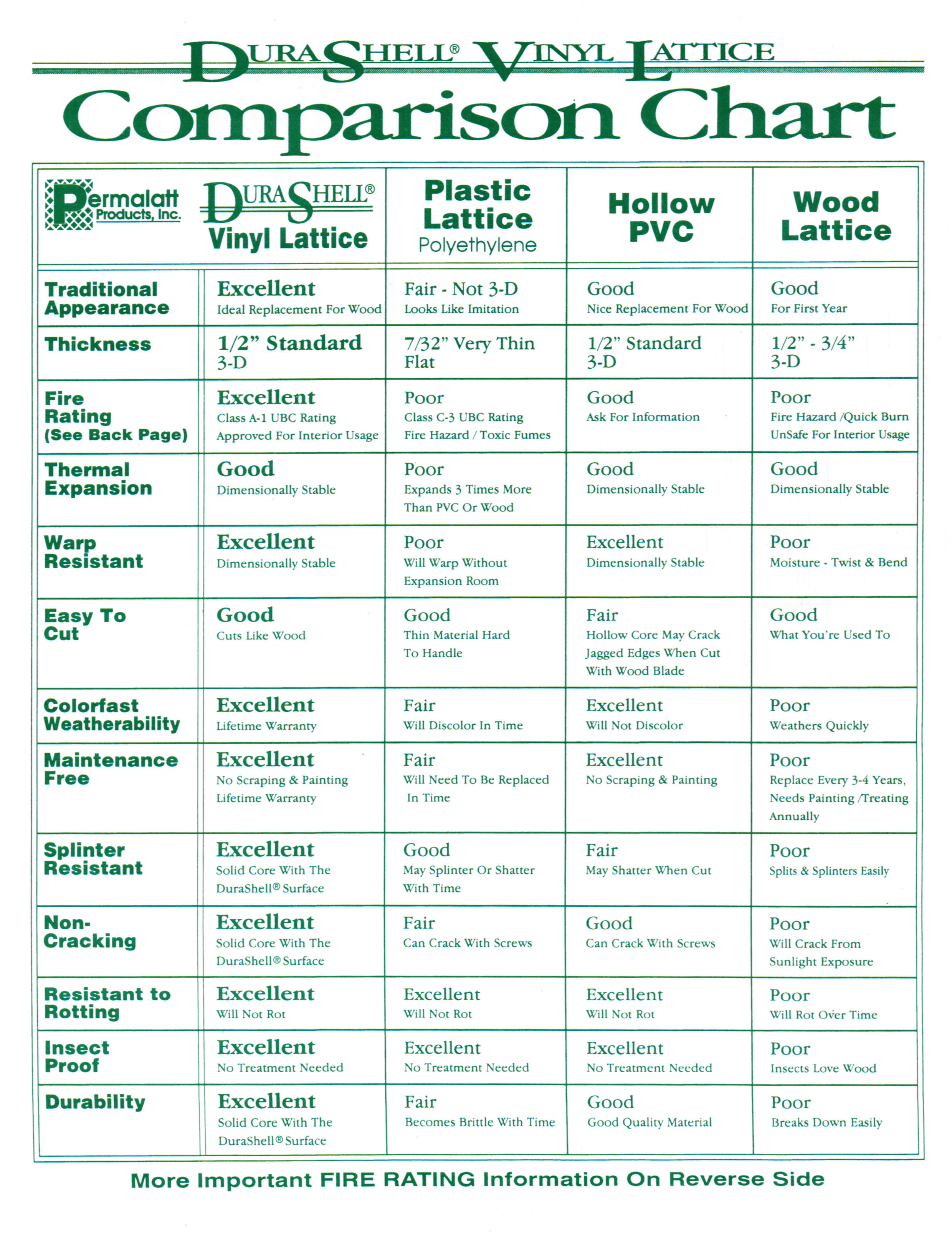 The DuraShell® vinyl lattice has passed several fire test and ratings. The DuraShell® lattice passed the Surface Burning ASTM E84-95 with the highest possible rating. DuraShell® lattice has also passed the following test: ASTM D635-91 – Rate of Burning and/or Extent and Time of Burning test, ASTM D1929-91a – Ignition Properties, and ASTM D2843 – Smoke Density Test.
What's this mean for you? It means our lattice can be used for your indoor projects and provide you with peace of mind.
We invite you to browse our FB page and/or visit our website, www.permalatt.com. You will see many other ways to use the Decorative 3D and DuraShell® lattice. Don't forget to request a sample kit or call for you sample kit today, 888-457-4342.
Feel free to contact us with any questions or to receive a free quote for your current project. We're happy to help and look forward to hearing from you!
Save