Which Lattice Should You Use for Your Vinyl Fencing?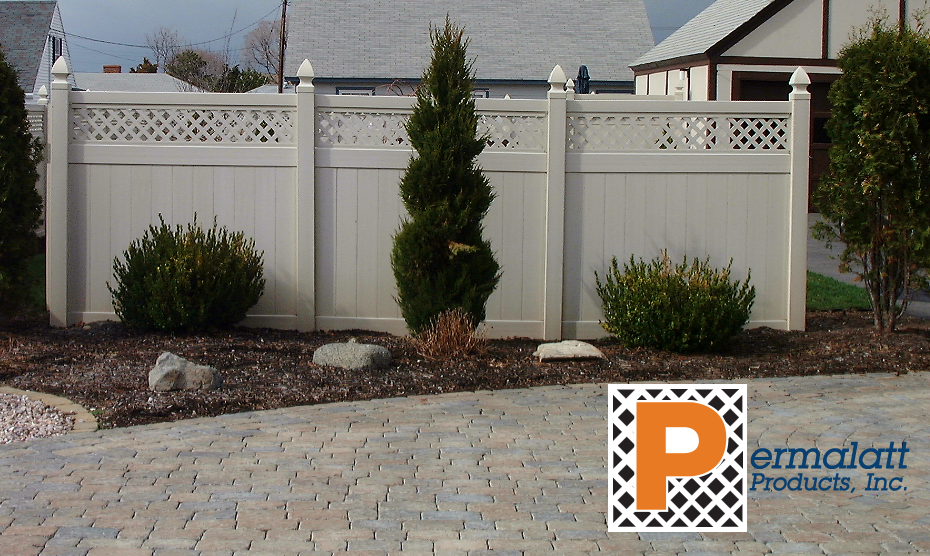 Yes, you can choose the lattice you want to use for your vinyl fencing!
Vinyl lattice comes in several types, let's look at the benefits of each so you can decide which is best for your project.
Polyethylene or Plastic Lattice
Plastic lattice is injection molded. A wood grain look may be added to both sides for texture and beauty. It's usually .15 inches thick, but can be up .25 inches. Plastic lattice is resistant to insects, and rot. However, mildew and mold will grow on it, and it will require regular cleanings and maintenance.
This lattice could have a reaction to hot or cold temperatures and could have extreme expansion. Plastic lattice can become brittle and crack. The color may fade if to save costs the manufacturer only adds a minimum amount of pigment micro-ingredients. This lattice is readily available at most of the big box stores. Plastic lattice is the cheapest of the man-made lattice.
Vinyl Lattice
Vinyl lattice is extruded from the raw materials. It often has a smooth surface. The thickness may vary but is usually .25 inches. Vinyl lattice is resistant to insects, mold, and mildew. It's maintenance free. This lattice will not rot, crack, peel, or become brittle.
There is little color fading with a quality made vinyl lattice. Vinyl lattice offers minimal expansion and contraction; it will not warp. This lattice is easy to cut and can be found at high-end building products distributors and lumber companies.
Permalatt Products, Inc. manufactures a high quality, premium vinyl lattice. At Permalatt, we offer two levels of vinyl lattice – both are a solid cellular core strip construction. Our lattice is manufactured in the USA by skilled craftspeople. Our propriety manufacturing process creates a premium 3-dimensional lattice compared to the plastic flat and 2 dimensional molded brands.
The premium vinyl strips which are used to create our lattice have met ASTM ratings. It's fade resistant in all of our colors including our snow-white lattice. It's resistant to insects, mold & mildew. Both the Decorative and DuraShell® lattice cut just like wood. They won't rot, peel, splinter, chip or warp. Both offer minimal expansion and contraction and fare well in weather. Vinyl lattice is a good value.
Decorative Lattice
Decorative lattice is a total thickness of 1/4". Each strip is 1/8" thick. It offers a nicer appeal than the molded lattice sheet. With a solid core construction, this lattice product is much stronger than the plastic lattice and will not splinter when cut like hollow PVC can. Decorative lattice is a better value.
DURASHELL® Lattice
DuraShell® lattice is a total thickness of 1/2". Each strip is 1/4" thick. This lattice also has a hard surface that resists dents and scratches. The solid core construction is dimensionally stable. This is the best value for your money.
At both levels, better and best, Permalatt Products, Inc. meets and exceeds all of the standard vinyl lattice qualities. We're the best choice hands down. Have questions? Visit our Lattice Center for answers or contact us.