Contractors, Are You Tired of Using Low-Quality Lattice?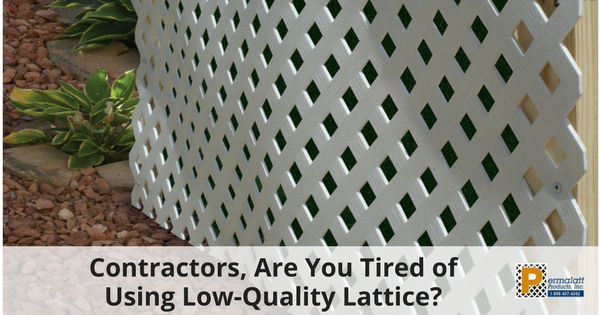 How many lattice projects have you completed only to have the client call you a couple of months later complaining of warping?
Or maybe the client currently has wood lattice and they want you to "fix" it.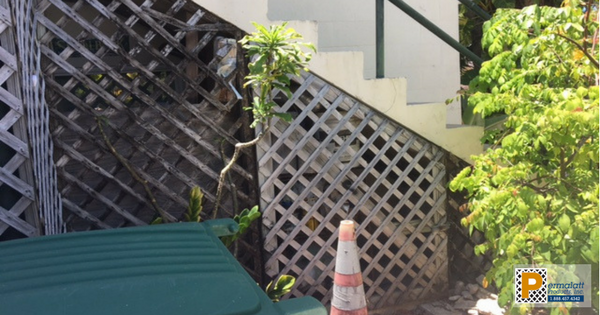 What if you could use a high quality, premium lattice that will not warp, or require scraping and painting on a regular basis? There is a lattice you can install and feel confident your clients will be happy for years to come! DuraShell® lattice. Permalatt Products, Inc. manufactures this high-quality premium lattice that will leave your clients as well as yourself the promise of long-lasting beauty.
Premium Quality Vinyl Lattice Features
As you can see in the picture below, the DuraShell® lattice is manufactured with solid core strips. With our proprietary strip over strip process, the end result is a dimensionally stable lattice with a lifetime warranty.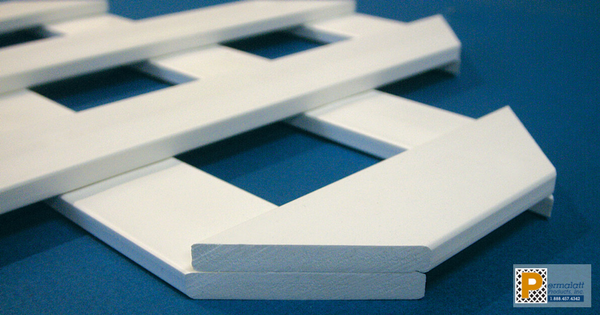 The DuraShell® lattice is easy to cut with a circular saw. It cuts like wood. If you prefer, we can manufacture custom sheet sizes for you. Yes, we offer custom sheet sizes! Call us and we will be happy to explain the custom sheet size options as well as provide a quote for you.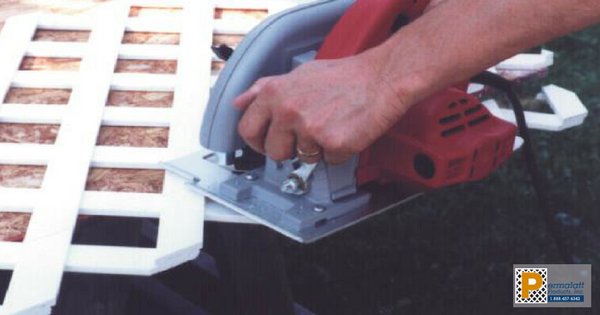 Order a Sample KIt
Do you prefer to see the product first?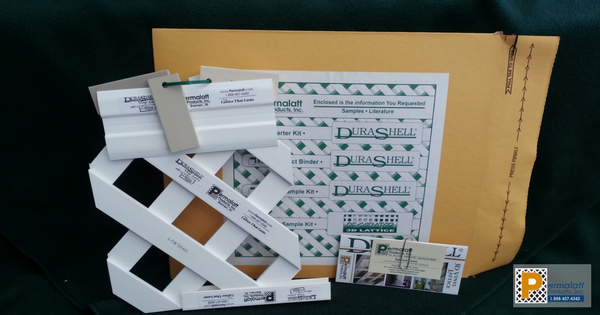 It's never too early or too late in the season to get samples of our DuraShell® lattice. Our standard sample kit includes samples of the 1-7/8" diagonal lattice, u-channel, h-channel, a color ring and a brochure.
Do you have a client who wants privacy lattice? No worries! Just let us know and we will gladly exchange the 1-7/8" diagonal with 1" diagonal or square lattice sample.
No more guessing if the color will really match. The color ring is made from the strips we use to manufacture the lattice. So the color ring represents the actual color of the lattice you will receive.
Do you want to use channels but want the same color as the lattice without finding a matching paint? We have just the thing. Our u-channel and h-channel come in the same colors we offer in our lattice. Therefore, it's a win, win for you!
If you'd like to receive our free sample kit, simply go to the website, www.permalatt.com. Next click on Contractors, Builders & Remodelers at the top of the Home page. Or give us a call. We'll ship the standard or custom sample kit to you via UPS per your request.
Did we mention we provide free quotes? Give us a call to get your Contractors discounted pricing today!
We look forward to hearing from you!
Save
Save