Vinyl Lattice Fencing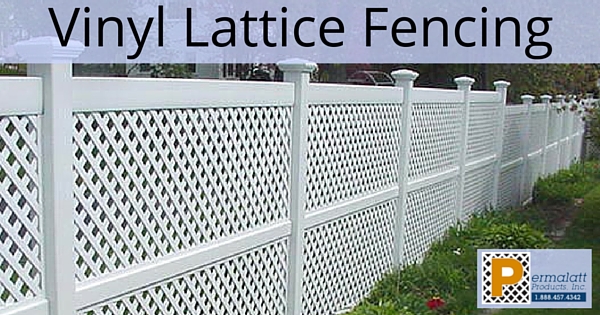 Are you considering a vinyl fence for your property? Are you afraid you will feel closed in and secluded?
Why not install a vinyl lattice fence?
Whether you want to fence in the whole yard or just add a boundary line, a vinyl lattice fence is a perfect option.

The vinyl lattice fence will enhance any space while creating the privacy you desire. A fence doesn't have to be solid or shut you off from the world to be effective.
Lattice offers a great option for all types of fencing projects. The vinyl lattice will allow airflow, and allows the sun to shine through while keeping the characteristics of a fence.
When we first started our lattice production, Permalatt Products, Inc. was geared towards the fencing industry. While the growth of the vinyl lattice usage has expanded our horizons past fencing, we still match many of the colors top fencing companies offer.
In other words, it's a good possibility that the post, cap, and railing color you choose will match the lattice we manufacture. Our u-channel and h-channel are available in the same colors we offer our lattice in.
What does this mean for you? You can have a complete color match for your vinyl lattice fence project. Check out some of these beautiful and creative ideas from Pinterest!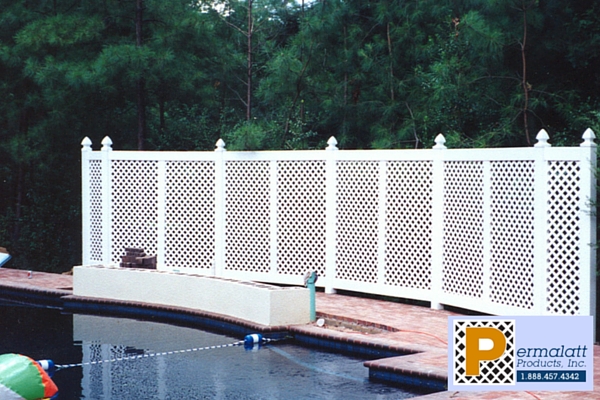 When installing lattice with in the railing, you can choose a slotted rail that will allow the lattice sheet to sit within the rail, or you may choose to use a standard rail and post with the u-channel to secure the lattice to each component.
Installing a vinyl lattice fence can be a "DIY" project, or installed by hiring any general contractor or a fence contractor.
Permalatt Products, Inc. is pleased to be among the top choice of lattice suppliers.
Permalatt Products, Inc.'s lattice is offered in many openings sizes, allowing you to capture any desired look for your project.
We offer standard and custom sheet sizes to accommodate your vinyl lattice fence. Our product carries a lifetime warranty.
Permalatt Products, Inc.'s lattice is guaranteed against peeling, flaking, cracking and becoming brittle. It won't fade or warp. This means no matter that of our colors you choose, or how you use them, the results are always the same. Perfection!
We're happy to help you with any of your lattice needs for your project, so contact us today and let us answer any questions you might have.