How Vinyl Lattice Can Be Used
Many of us have a "honey do" list. If your list includes deck skirting, fence accents, railing décor or a gazebo, Permalatt Products suggest using vinyl lattice for the finishing touches. Lattice is easy to install. It's moisture resistant, insect resistant, and cost effective.
Lattice Deck Skirting: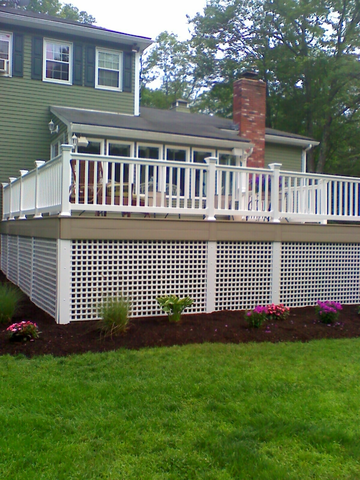 Without some skirting or landscaping, the area below your deck will have posts, joists, dirt and other unattractive things exposed. The best way to cover this area and create a finished look is to add lattice. Include mulch, plants, and flowers in front of the lattice to create a colorful landscaping. Vinyl lattice used as deck skirting will even out the visual effect of the area.
The lattice will also prevent animals from making the space under your deck their home. Lattice allows ventilation that will prevent moisture from collecting under the deck that can cause the deck to deteriorate. It truly provides a finished look to all decks. Choose any style and color you want.
Lattice Fence Accents: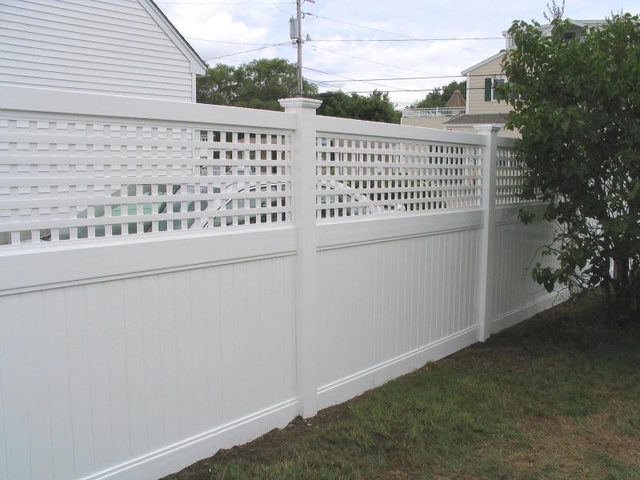 When you install a vinyl fence, you have the option to include a vinyl lattice topper. As you can see, by using lattice at the top of your fence, it provides a touch of elegance and will transform a simple fence into a style all of your own. A lattice topper will allow airflow as well as create an open feel to your area. While keeping the boundaries marked it also offers an additional focal point for the property. Just like the vinyl fence, vinyl lattice last a lifetime. There are many vinyl lattice designs to choose from. Have fun with it, it's your space, create the look you want.
Lattice Railing Décor: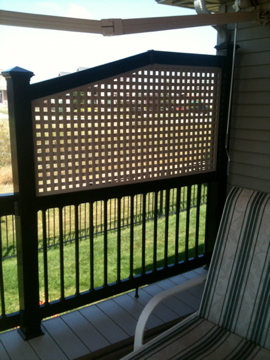 Whether you have a wooden, vinyl or aluminum rail system, the vinyl lattice can be added. Think outside the box and create something other than the common rail for your outdoor area. It will add visual interest and provide a border for any space as well. A vinyl lattice railing décor will create an awesome backdrop to the view on the outer side while offering a great look within the area. Lattice railing décor looks good from either side! The lattice will create some privacy for you, and as is true with all lattice projects, it allows airflow. Vinyl lattice additions to your deck railing will give your area that one of a kind appeal.
Gazebos: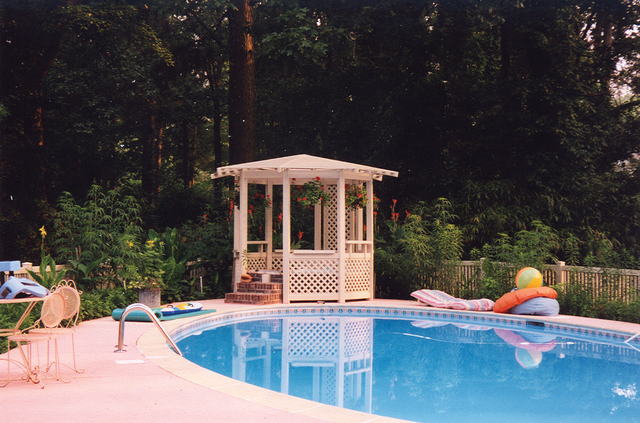 It's no surprise that gazebos are so popular. They are a great way to enjoy the outdoors. They are a perfect enclosure for a hot tub. Or they offer a separate area to relax and listen to the birds. Gazebos are your extra outdoor space to do with and use however you want. Gazebos come in many sizes and shapes. We recommend vinyl lattice for the sides and ceiling for the open air effect. Or for the ultimate privacy, you can enclose all of the sides with lattice. So it's the best of both worlds; airflow and /or concealment within the gazebo.
There are many types of lattice to choose from. We've compared the main lattice types previously. See our "What lattice is best for your project" to see why we recommend vinyl lattice.
At Permalatt Products, Inc., we offer either the square or traditional diagonal design with several size openings. As the manufacturer, we are able to provide the exact sheet size you need. Our premium lattice will enhance every one of your projects. And it's maintenance free! Who doesn't love the idea of the honey-do list growing shorter instead of adding to it? Contact us today for more information.