Using Vinyl Lattice for Mobile Home Skirting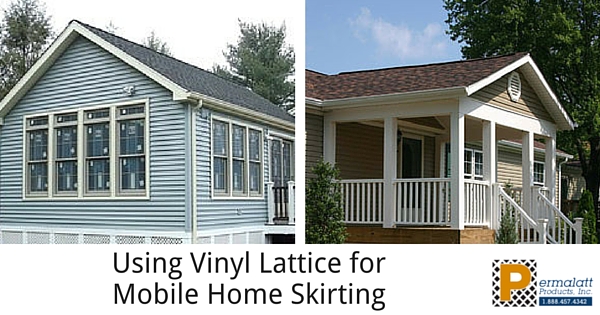 Most mobile home owners use skirting for the space between the ground and the bottom of the home. Installing skirting is also a way to complete and improve the look of the mobile home. The skirting will hide the structural elements and foundation system. Mobile home skirting not only enhances the look of a mobile home, but it also protects the lower part of the home from rodents and debris.

What material should be used for skirting? As with any project, there are many materials that will work. However, some materials prove to be better than others. We would like to suggest that you or your client use vinyl lattice.
Using vinyl lattice skirting will hold up in all types of weather and is resistant to dry rot, and mildew. The benefit of using vinyl lattice is not only a great look but is also a maintenance free quality. Vinyl lattice is insect proof and moisture resistant. If you choose Permalatt Products, Inc. DuraShell® lattice, it will not fade, warp, crack, splinter or rot. The DuraShell® lattice is dimensionally stable.
Using vinyl lattice as the mobile home skirting can also set the tone for the added deck or porch. Extending the vinyl lattice skirting from the mobile home to the added porches and deck offers a unified look for your home.
As you consider what vinyl lattice to use for your mobile home skirting, we want you to know Permalatt's DuraShell® vinyl lattice is a specialty product and is not available at the big box stores. HOWEVER, it is easy to order! Your order will ship and arrive at your place in a short amount of time.
Do you have a lattice project you'd like to start? Want a vinyl lattice that is 2nd to none? Choose the DuraShell® vinyl lattice. Any project, any time, Permalatt Products, Inc. is here to help you with your lattice needs.
Reach out to us at 888-457-4342 and one of our team members will be happy to help you with a quote for your lattice project.
Or you can visit our website at www.permalatt.com and complete the contact us form. Simply click on the orange block that describes what customer type you are and we will get back with you.
We can't wait to hear from you!