Using Vinyl Lattice for Outdoor Privacy Panels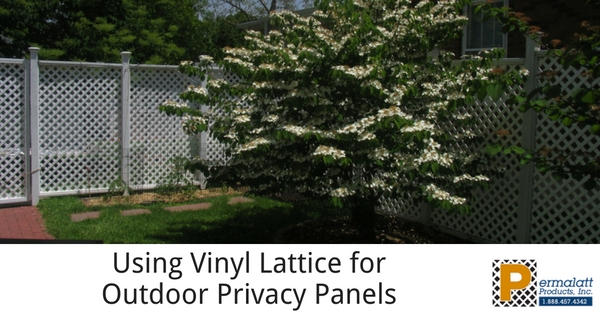 Do you have a spot on the property that needs some added outdoor privacy?
How in the world are you going to accomplish that without a major demo and rebuild project? Or maybe you don't have an existing private spot and want to add one. We have the solution. Incorporate vinyl lattice privacy panels.

In the world of lattice, a privacy lattice is one that has a small opening or hole in the pattern. At Permalatt Products, Inc., we offer a 1" opening. You can choose either the 1" square or the 1" diagonal opening for a privacy project.
Before installing privacy lattice

As you can see in the "before" photo, the structure did provide privacy and define the area. But look what happens when you add a privacy panel to the top of it.
After installing outdoor privacy lattice
The "after" photo shows how a vinyl lattice privacy panel completely changes the look of the area. Now there is complete privacy for this part of the property.
What if you don't like the small or 1" opening? Privacy can also be accomplished with a slightly larger lattice opening. For example, Permalatt Products, Inc. offers a 1-7/8" diagonal opening. Using several panels together you will create privacy for your entire area.
You don't like the diagonal? Well, we also offer a 2" square opening that can be used as a privacy panel.

With these opening size options for vinyl lattice privacy panels you have the opportunity to gain privacy for any of your outdoor spaces. The atmosphere you wish to create may be determined by the size opening you chose. Not to worry though, the design is totally up to you. It's your space, make it what you want.
The DuraShell® privacy lattice panels are made with our propriety manufacturing process that creates a premium 3D lattice. It is a true strip over strip method. Not a pressed or molded method that looks 3D.
We want to remind you that the standard sheet sizes are 4'x 6' and 4' x 8'. However, Permalatt Products also offers custom sizes for your project as well.
Permalatt Products, Inc. offers lattice that will be perfect for any of your projects. Contact us and let us help you make your dream project become a reality. Visit us at www.permalatt.com or reach out to us at 888-457-4342.