3 Ways to Use the Area Under Your Deck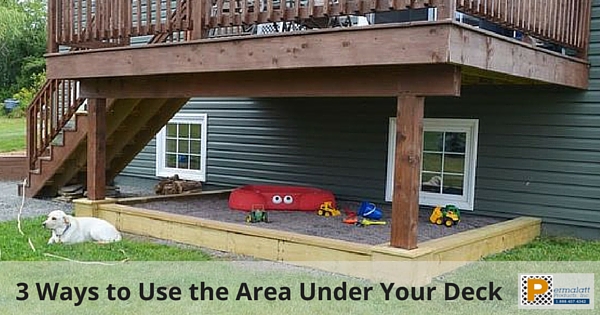 The common height for a deck is 3 to 4 feet from the surface to the ground. Some decks are lower and some much higher. So what do you do with the area under your deck? You can always close off the underside with lattice or other types of deck skirting, but why not use the space?
We can all use extra storage space, right? Turn the space below your deck into a closed storage area by using lattice deck skirting with a lattice door. This space then becomes a great place for additional storage for lawn chairs, yard tools, etc. If you do not have a roof over your deck remember, the openings between the deck boards will still allow rain to drip beneath the deck. But don't let this stop you from utilizing the space.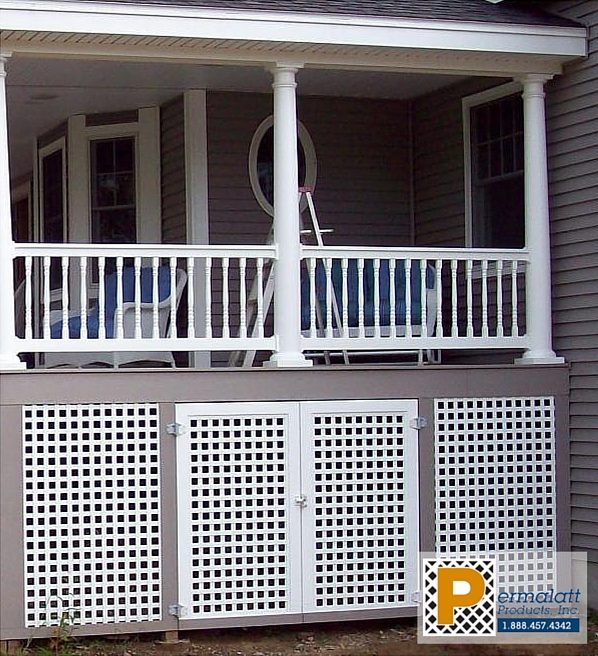 If your under-deck area is 7 feet or higher you have many options for this space. An upper-level deck that has lattice around the exposed area beneath it and along the stairs ties all of the area together. When installing the lattice enclosure leave a large access opening. Again this gives you a space for added storage or better yet an additional outdoor room. Incorporate landscaping and you have a beautiful focal point.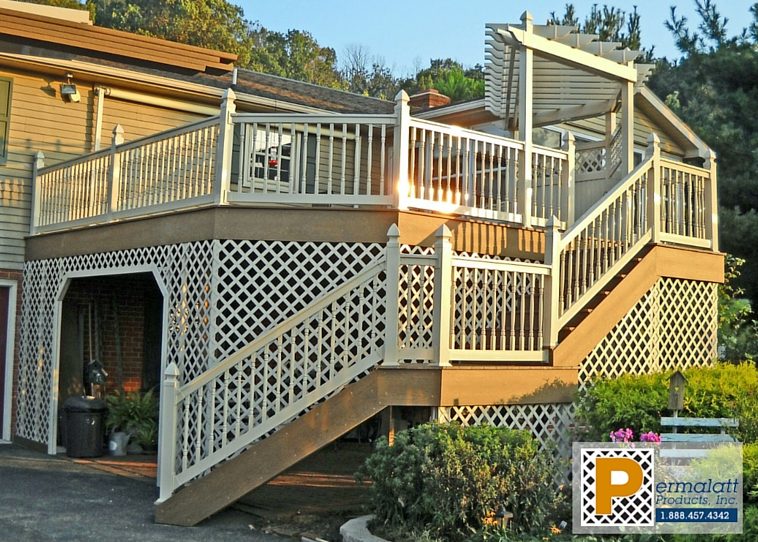 Another option you may consider adding a screened in room. You can also hang curtains around the perimeter for a different look. What about a swing or hammock? Make the space your own. Plants, chairs with pillows, ceiling fan, the list goes on and on.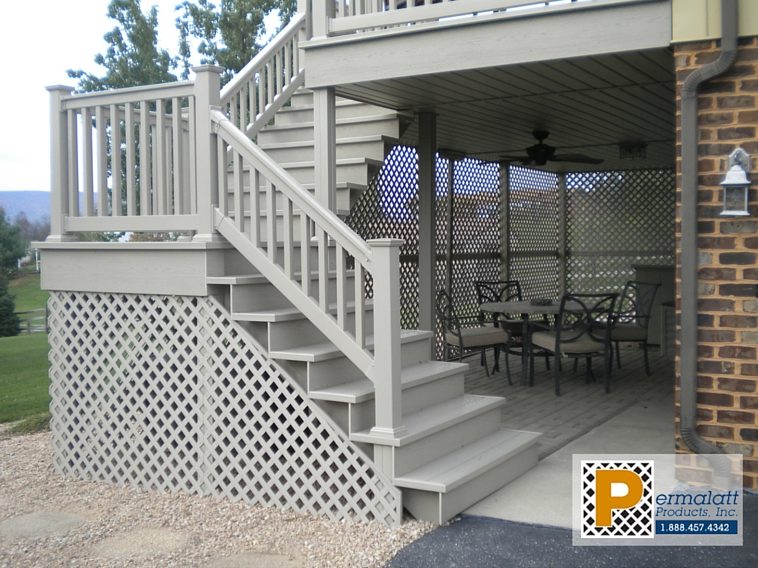 Customize your under-deck patio to add a useable outdoor living space. You can add patio pavers, brick or stones for flooring beneath your deck. Place an outdoor dining set in this area to create a great space for entertaining and family time.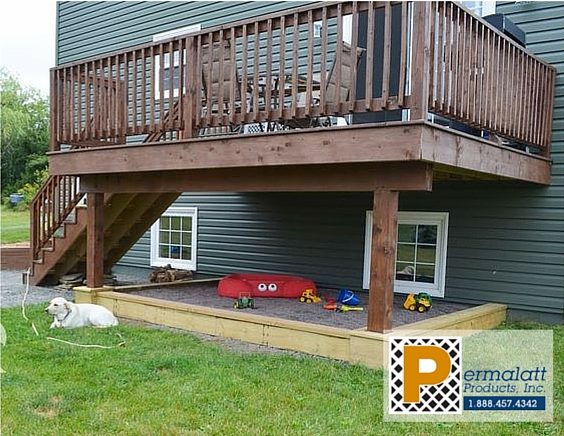 Why not make a nice play area for the kids? Add a small table and chairs, other outdoor items that are their favorite or maybe even make it a sandbox. The kid in me says this is like the best sandbox ever!!!!
So as you can see there are many ways to change the look of your area beneath your deck. Create a unique space or close it in for the more traditional look. It's completely up to you!
As a lattice manufacturer, we know that lattice will enhance the look of your entire deck area no matter how you choose to finish the underneath area. Permalatt Products, Inc. manufactures the DuraShell® solid cellular core lattice. We offer opening sizes of 1" square, 1" diagonal, 1-7/8" diagonal, 2" square, 2-3/4" diagonal and 3" diagonal. That's six opening sizes, not just "privacy or standard". Our standard sheet sizes are 12" x 6' or 8', 16" x 6' or 8', 4' x 6' and 4' x 8'. Yes, 6 sheet sizes are available as well. Don't see the sheet size you need? We are capable of manufacturing custom sheet sizes for your convenience. We offer U-channel to frame or guide the lattice sheet as well as an H-channel to connect the lattice sheets in your project.
We invite you to continue browsing our Facebook page and/or visit our website, www.permalatt.com. You will see many other ways to use the Decorative 3D and DuraShell® lattice. Don't forget to request a sample kit while on the website. Or call for your sample kit today, 888-457-4342. Feel free to contact us with any questions or to receive a free quote for your current project.
We're happy to help and look forward to hearing from you!