Using Vinyl Lattice Around Your Pool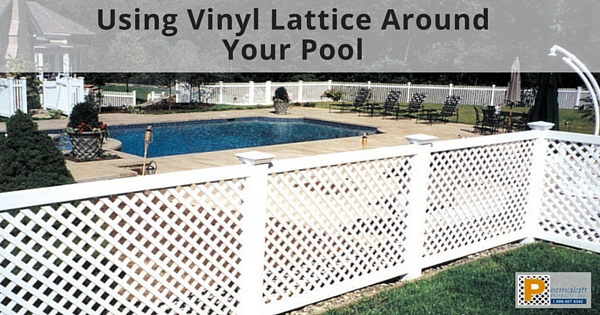 The official first day of summer is fast approaching. However in some areas the temperatures have already hit the hot mark. So if you have a pool you've probably already opened it. Or maybe you're considering adding a pool to your property this year.
Either way, you probably want your pool area to enhance the existing landscape and not hinder the look of your property.

Do you want to add or include a little privacy around the pool area? How about a little yard appeal? Have you thought about adding a gate to the pool entrance? If you answered yes to any of these questions, consider using vinyl lattice.
Adding Privacy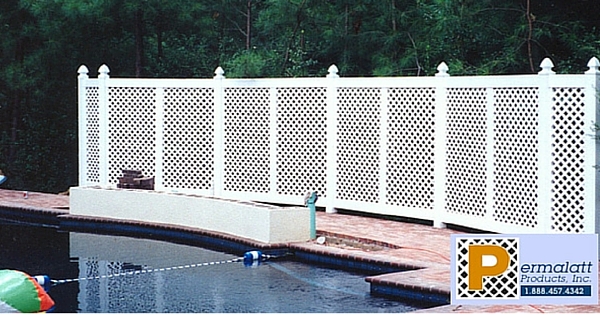 A vinyl lattice fence will provide the privacy you need for your pool area. Pool side privacy gives you the opportunity to relax and not worry about anyone watching your every move. The lattice fence also helps keep blowing debris from getting in the pool and surrounding area.
Creating yard appeal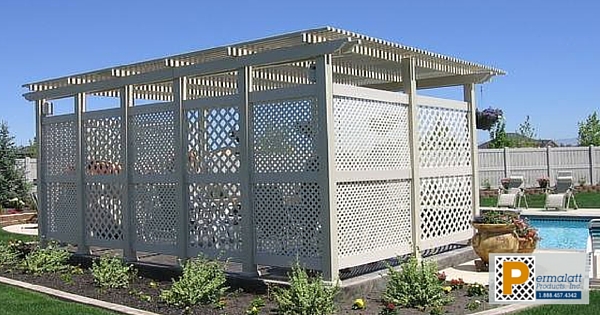 If you have a poolside pergola you can add lattice to the top and sides to offer shade. You will also create a nice gathering spot for family and guest to hang out while others are enjoying the pool.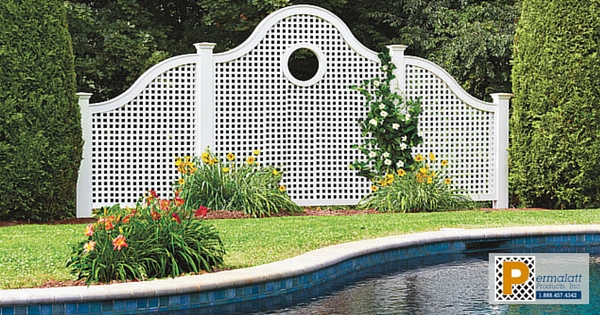 Why not add a little eye catcher poolside? This poolside lattice screen offers an added decorative piece that is sure to add to the beauty of your area.
Create a Lattice Gate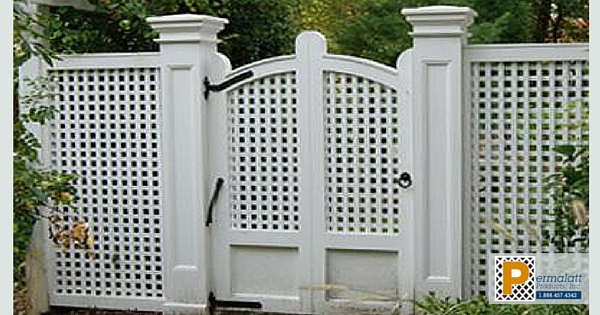 Does your existing walkway to the pool need a little something?
You can add a lattice gate to any fence entrance. Using lattice in your gate will offer privacy while allowing airflow as well as offer a unique look to any landscape.
Here's another thought. Did you see our article on how to use lattice to hide your AC unit and trash cans? Why not use that same concept to hide the pool equipment? Use a 1" opening lattice, post and rails and you will be amazed at what the look can do for your pool area.
As with any lattice project you have planned, the design and creativity are left up to you. You do not have to stay with just one pattern of lattice for any project you are working on. Square and/or diagonal, it's completely up to you.
Permalatt Products, Inc. offers lattice that will be perfect for your project. We're happy to help you achieve your goal of beauty for your special area!
Visit our website, www.permalatt.com, for more information regarding the DuraShell® and Decorative 3D lattice. Remember, all quotes are free, so contact us today. Don't forget to request your sample kit as well.