Transform Your Deck with Lattice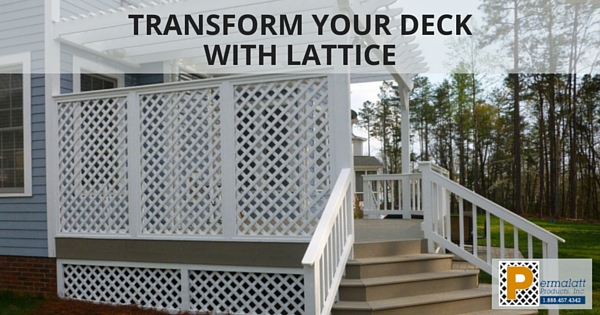 Decks are extensions of our home. They provide us with an area where we can relax or entertain family and friends. Do you want to turn your deck into an outdoor living area? Or maybe you just feel like it needs a little something. One way you can transform your deck is by adding lattice. Lattice will add both beauty and functionality.
Lattice can be used in a variety of ways making your deck both decorative and practical. Does adding lattice really make a difference? Yes, we believe it does. Here are few ways lattice can transform your deck.
Deck Skirting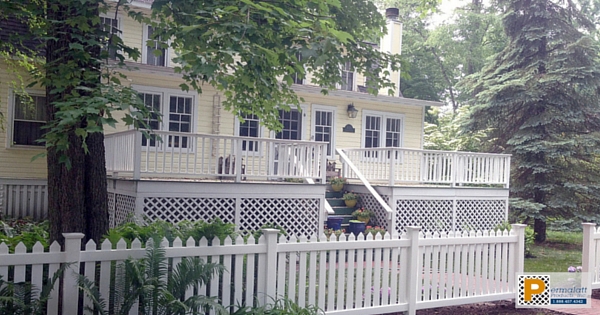 Using lattice as a deck skirting can actually increase your deck's appeal. Deck skirting made from lattice extending from the top deck board to the ground can create a hidden storage area and conceal the exposed deck support posts. The lattice skirting will keep pets and other animals from digging or building their homes beneath your deck. Lattice also provides a barrier that will guard against leaves and debris blowing under your deck. The lattice allows adequate ventilation needed for your deck to prevent mold and the build-up of moisture. By adding lattice as a skirting for your deck you literally transform the look of the deck itself.
Privacy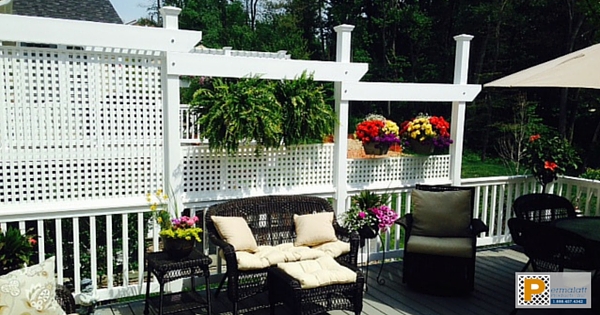 Using lattice for privacy on your deck allows that nice breeze to flow while limiting the neighbors view into your cozy space. Lattice with smaller openings can be installed above the railings to accomplish your need for additional privacy. Lattice used for privacy is a beautiful way to enhance the deck but not make you feel closed in. Of course, you can also use larger opening lattice to accent the area. The purpose for lattice on your deck is not limited to just providing privacy. Make it the space that is inviting and beautiful for you. You can choose the same pattern above the deck as you picked for below the deck. Or you can go from the diagonal to the square for either the top or bottom section, depending on the style you want.
It's your deck, you choose the look.
Deck Railing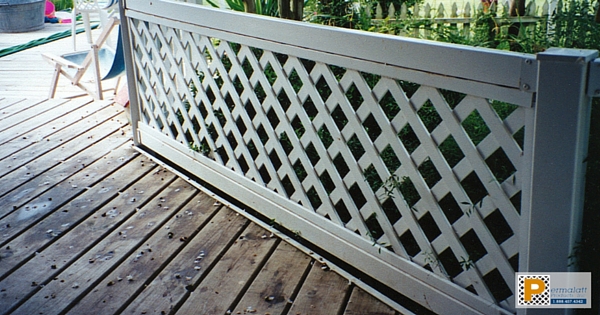 Using lattice in your deck railing is a way of adding visual interest to the look and feel of your deck. You can use the same color lattice, post, and rails or spice it up with a contrasting color. You can even vary the materials such as vinyl lattice with wooden rails and post. Yes, lattice will even look great in an aluminum rail system. Using lattice below the handrail can soften the look on the deck. If you have lattice in other areas of your landscaping or deck, it will offer a connected look between the two areas.
Pergola Top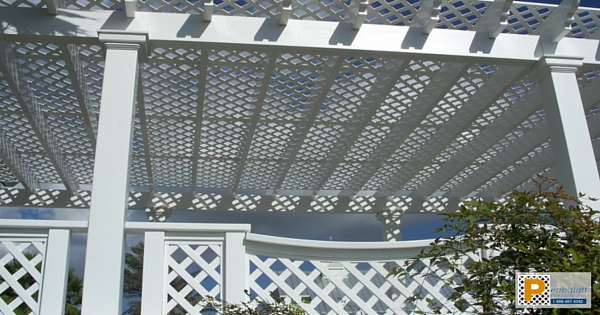 Using lattice for the top of your deck Pergola will provide additional shade.
You would be amazed what a little bit of shade can do to cool the area. Lattice cast soft shadows that move across the deck area throughout the day. You can create a lattice cover that allows many different variations of filtered light by changing the size opening (size pattern) you use.
Hopefully, these ideas have given you a vision on ways to transform your deck with lattice.
Permalatt Products, Inc. produces high-quality vinyl lattice that will make any project look great. Our lattice is easy to cut and install and will prove to be your best choice hands down. Permalatt Products, Inc.'s lattice is truly 2nd to none.
Got questions? Feel free to contact us, we're happy to help.
Visit our website at www.permalatt.com or reach us at 888-457-4342.