Uses for Vinyl Lattice in a Restaurant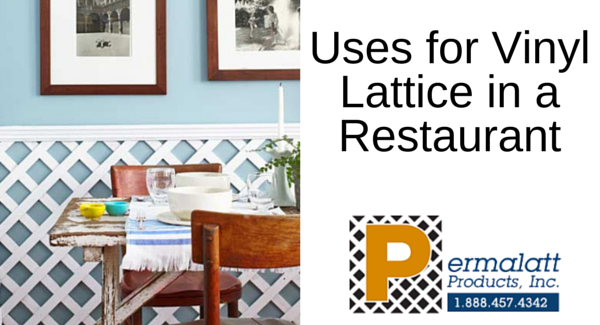 Lattice can be decorative or practical in landscapes, parks, gardens, or at businesses. It can even be used in an industrial location. The DuraShell® vinyl lattice can be used for both exterior and interior projects. It will last a lifetime and is virtually maintenance free. DuraShell® vinyl lattice is versatile in the traditional setting as well as the modern one.
Today let's take a look at the ways our DuraShell® vinyl lattice can be used in a restaurant's atmosphere. From the kitchen and dining area to the outdoor design, there are several uses for our lattice.

With the DuraShell® vinyl lattice meeting and passing the ASTM test of: E 84-95 surface burning, D635-91 rate of burning, D1929-91a ignition properties and D2843 smoke density, you can feel certain it is safe to use in any interior project.
Interior Uses for Vinyl Lattice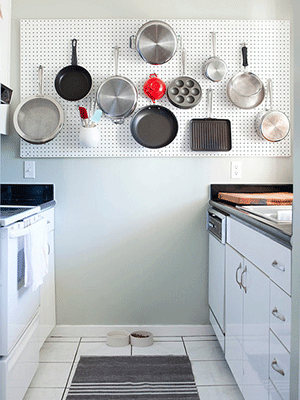 1) Let's start in the kitchen
No matter the size of the cooking area in any restaurant, there is a need for organization. Use the lattice sheet with hooks to hang and organize the pans and utensils needed. Actually; use your imagination; if you can make a way to hang it, mount it or support it, the lattice works in any of your applications.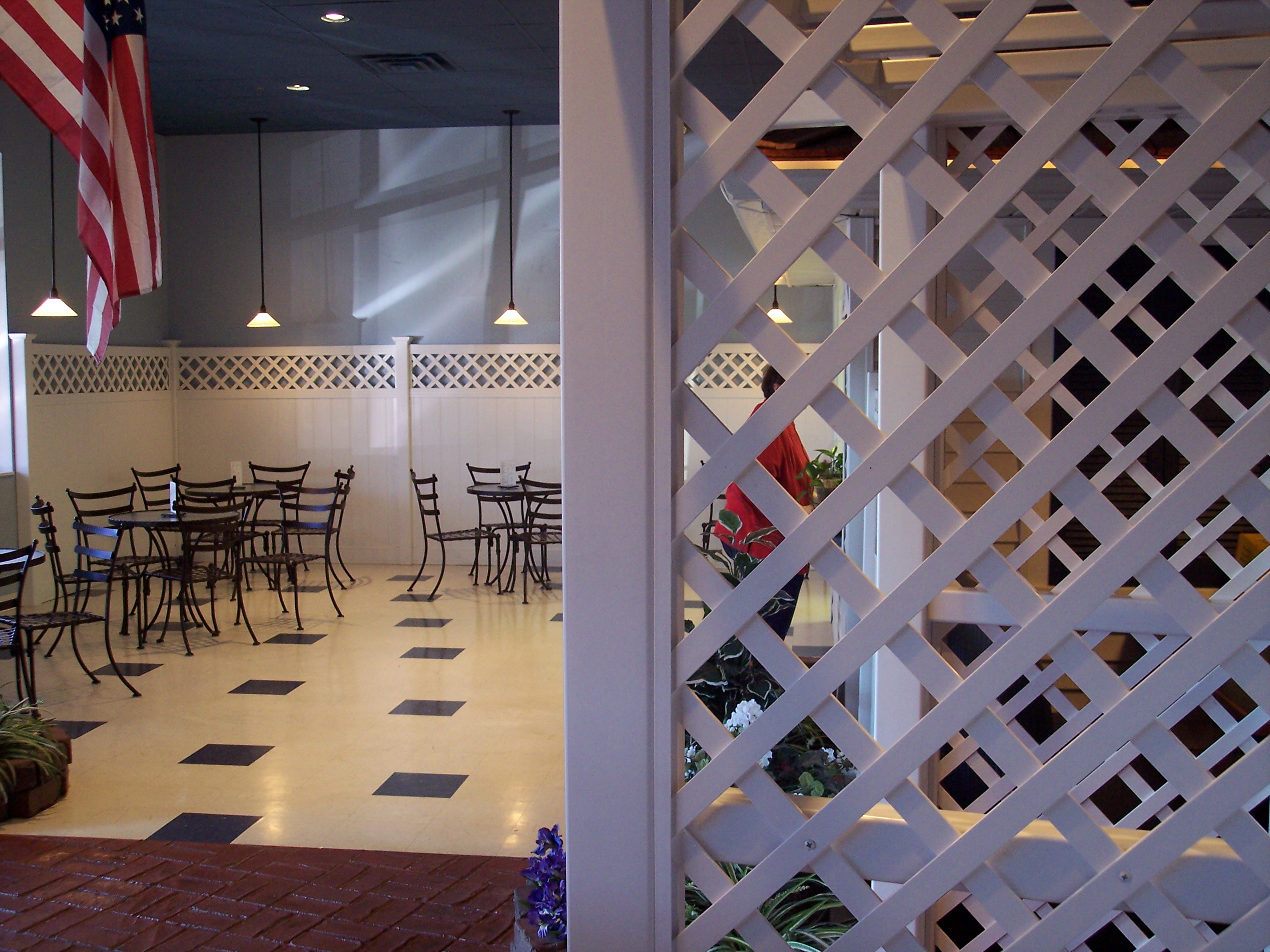 2) Maybe your restaurant is in the middle of a shared space, and you want to give it a separate look from the other businesses.
Or maybe you want to separate the family dining area from the bar. Create your boundaries with lattice. Incorporate the lattice with fencing to beautify an ordinary wall or area. Vinyl lattice makes a quick, easy divider with the advantages of a wall. Maybe even include lattice and post to draw attention to your entry way. Or choose the privacy lattice to offer an intimate area for your customers to dine in peace.
3) Use vinyl lattice as a suspended ceiling to cover the unsightly beams in any area of your restaurant.
You can use the lattice to support strands of lights to add the perfect touch for weddings. Or choose to leave the lights year round to add a delightful ambiance to the space.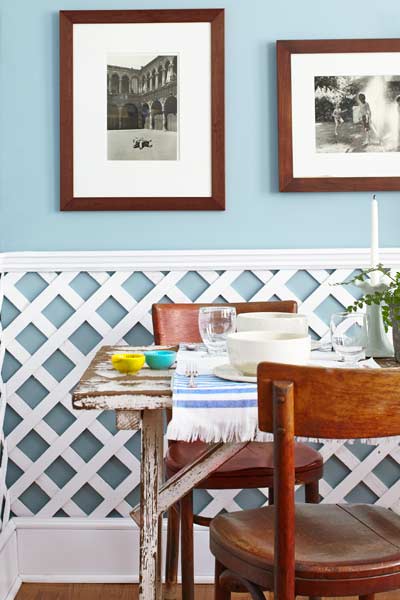 4) You can use lattice with a chair rail to break up the common look of the wall.
The lattice sheet will add that little touch of something that makes your place one of a kind.
Exterior Uses for Vinyl Lattice
Of course, there are several uses for vinyl lattice outside of the restaurant as well.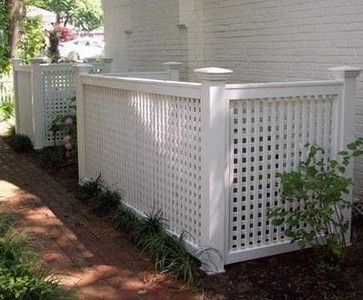 5) Hiding the AC unit. Build a lattice fence around each unit to conceal it.
Are you tired of seeing the ugly trash bin? Build a lattice fence around you trash bin as well. It makes a crisp and clean looking area around the trash bin or AC unit.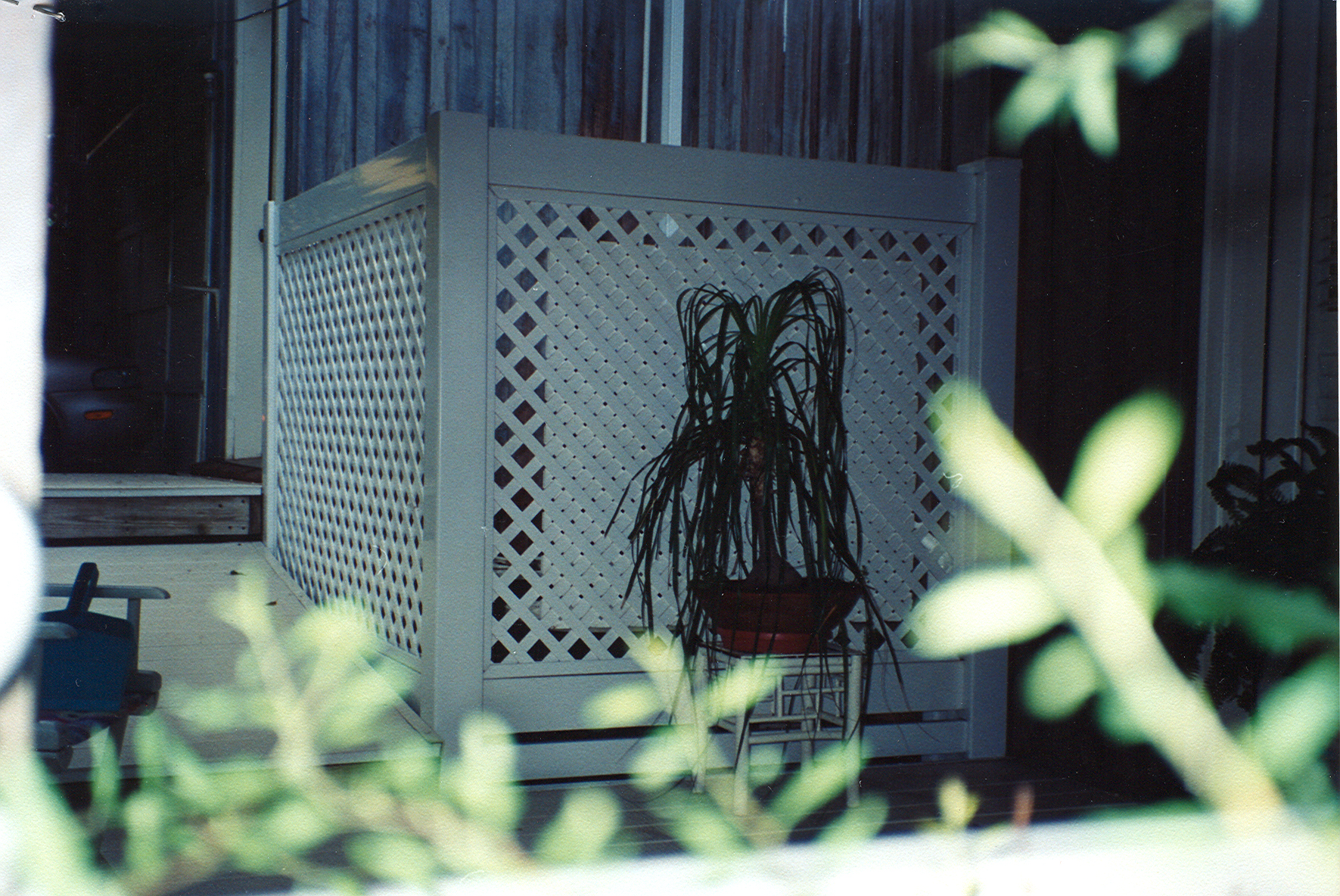 Thanks for checking out our ways to use vinyl lattice in a restaurant. So no matter if you're looking to change or spice up the interior of your restaurant or exterior, the DuraShell® vinyl lattice is perfect for your project.
Contact us today to receive your sample kit or get a quote for your lattice needs.