Uses For Lattice For Horses And Other Pets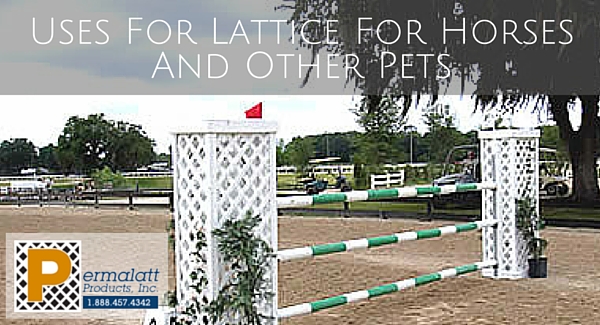 Lattice can be used for many types of projects. It is not limited to fencing, decking, pergolas, or arbors. We have a few ideas and options for lattice that will help you with many of your animals.
Take a look at the uses we've shared and let your imagination create the perfect lattice project for you and your pet.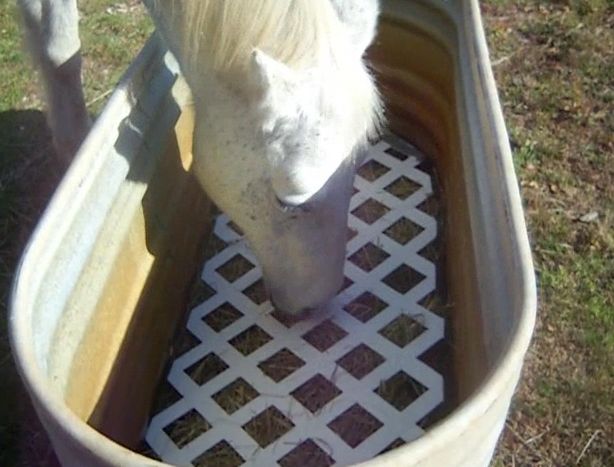 As a horse or pony owner, you know that there are some neat and eager hay eaters, but there are also some who will paw at and spread the hay around as they eat it. Some of the ones who spread it all around will even lay in it and make waste it.
Of course you can use a hay bag, but let's face it, those can be a challenge to fill. Plus, if you are feeding more than one horse, filling the hay bags may be quite time consuming.
There are many reasons for this type of behavior, but let's look at a solution to minimizing the amount of wasted hay.
Here is a way to control the waste as well as encourage your horse or horses to slow down a bit when eating:
Use an old water tank to put the hay in and lay a piece of large opening lattice over the top of the hay. The lattice piece will hold the hay down in the tank while allowing them to take controlled bites. Ta-da! Now your equine buddy can get his fill without wasting the hay.
Maybe you host horse shows at your home or facility. Or maybe you enjoy jumping your horse. Here, we have a couple of ideas on how you can use lattice to create eye pleasing jumps.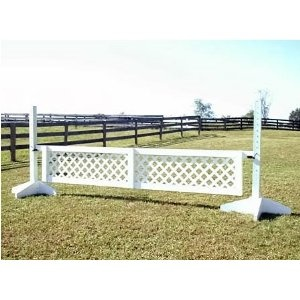 Here in this first photo you can see all that's used is a couple of post, bases, and a framed lattice section.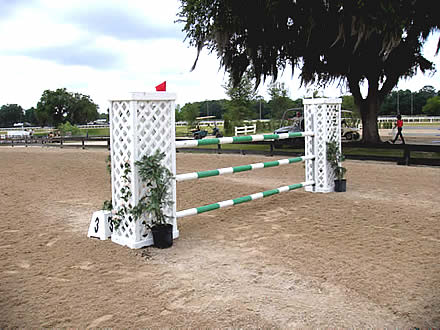 In this second photo you can see that the lattice is actually used to box in the jump stands. Inside the lattice box there are adjustable pegs that hold the PVC tubes.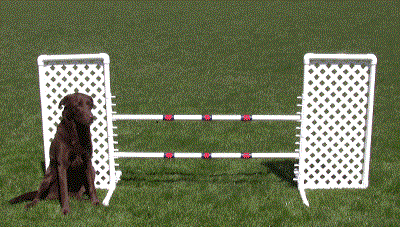 Maybe you teach a dog agility class or want something at home you can use to work with your dog on the over command.
To make your DIY dog jump, frame two lattice sheets with tubing or wood. Add legs to the lattice frames to support the sheets. Insert pegs on the inner portion of the lattice section.
Make sure the pegs are the same height on both framed lattice sheets so the tubes will be at the same height. Use small PVC tubes to connect the two lattice sheets together by simply placing the tubes over the pegs.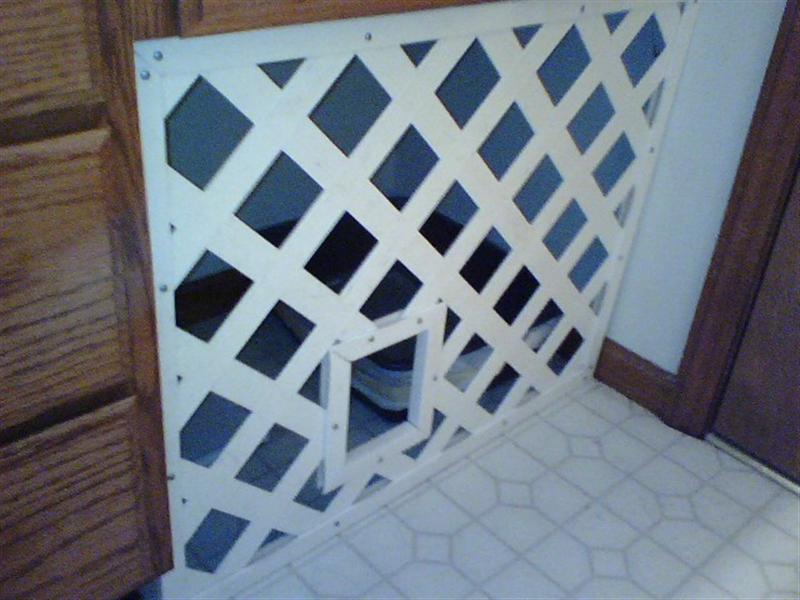 Do you want to make a safe place for your dog or cat? By utilizing that cubby hole under the built in desk area, you can make a place for your pet to go. It will offer a sense of security while they can still see what's going on with the rest of the family.
Use U-channel to frame a lattice sheet and frame the cut out entrance. You can secure the lattice piece to the wall and cub board to ensure a stable front for your pet. This idea works great for any area in the home.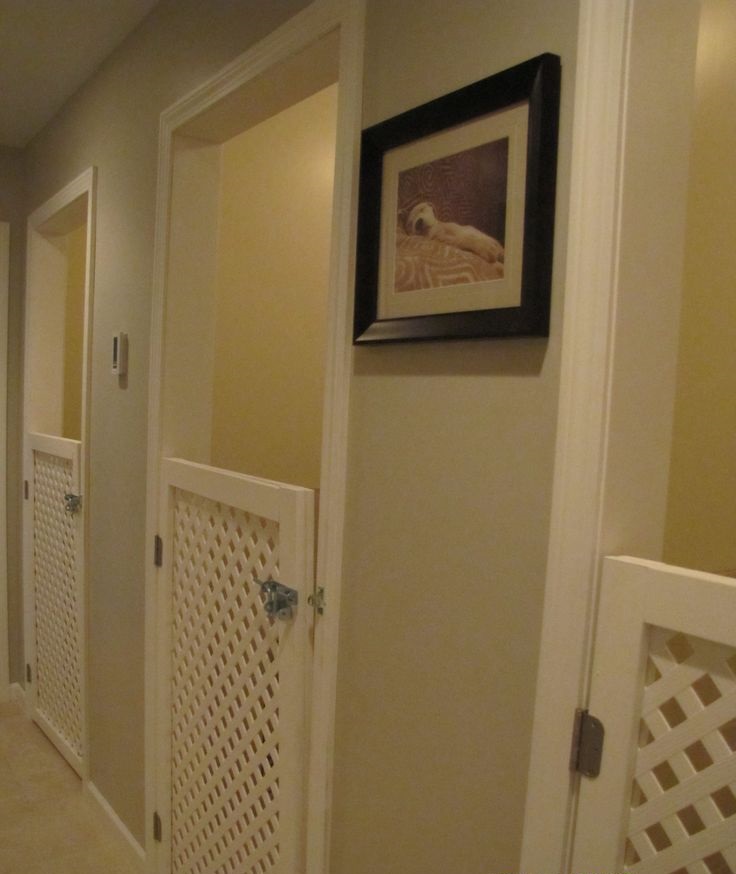 Looking for just the right barrier for the inside pets while adding a unique look to the area? Why not use lattice to incorporate a special look that includes functionality? This is a great idea for your cherished small pet.
By using a lattice door, you allow ventilation and privacy for your pet or pets. If you own a kennel or veterinary clinic, this option will secure the individual area for each pet while giving you a classic look for your facility.
Pet owners will love the idea of the lattice door over the cage area for their four legged family member.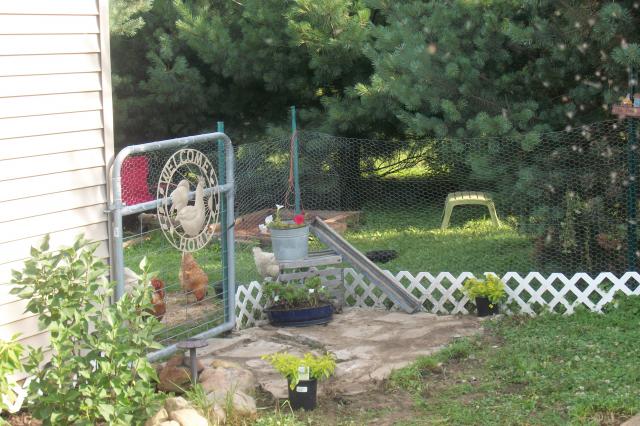 Do you have chickens that like to get out? Add a piece of vinyl lattice along the bottom of the fencing to give added support to the wire fence. This also adds a nice look around the area.
Another added benefit is the lattice piece can keep predators from gaining access from the outside of the fencing as well. You can also use a complete lattice fence instead of the common chicken wire fence.
We hope these ideas have helped you plan a few do it yourself solutions to use for any of your animals. We are happy to help you with any of your lattice needs.
Our DuraShell® lattice is maintenance free and has a lifetime warranty. We also have U-channel and H-channel to complement any lattice project.
Contact us today and we will be happy to provide you with a free quote for your project!