Tips for Decorating your Lattice
Yes! You can add things to decorate the lattice on your fence, privacy screen or anywhere else you have it.
Lattice is used most often in outdoor projects like deck skirting, trellises, privacy screens or fencing. However now you can also find it in entryways, kitchens, bathrooms, craft rooms and even in the bedroom. No matter where it's located you might find that you want to dress it up a little bit. Either for a special occasion or maybe even to decorate for a certain season.

By adding elaborate decorative pieces, lights, flowers or tooling, you can create a festive look anywhere your lattice is installed.
What should you use to display the objects on the lattice panel?
The options are unlimited depending on if your choice of décor is permanent or temporary.
Example, the décor pieces on a fence may be things you intend to leave it up year round. In that case, you can use staples, nails or screws to secure the object to it. To secure lighting to the lattice sheet, your options can be zip ties, small hooks, fabric strips or even glue. If the lighting is a permanent decoration you can also staple the light strand to it. Be careful to staple around the cord and not through the cord.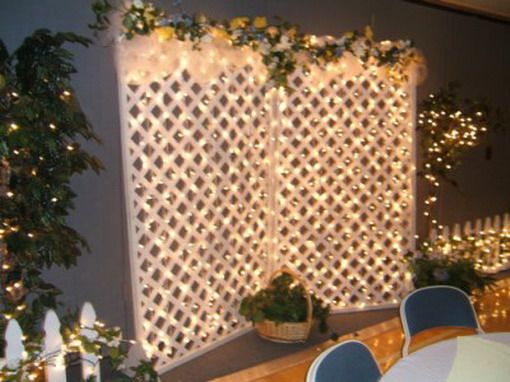 To attach floral swags or fresh flowers, simply weave the swag or flower stems through the openings on it. You may also choose to hang the flowers with floral wire.
To decorate a lattice deck skirting for Halloween, you can add fake cobwebs, plastic spiders, and bugs. Weave the cobwebs through the openings and tangle the bugs in the web.
Attach crepe streamers and balloons for birthday parties and baby showers for a sweet backdrop to the area.
See, there are so many ways to decorate your lattice for any occasion or season that will prove to be an eye-catching addition.
Permalatt Products, Inc. will be happy to manufacture a custom sheet just for your project. Permalatt Products, Inc. manufactures the DuraShell® solid core lattice in opening sizes from 1" to 3". We offer standard sheet sizes of 4'x 6' and 4' x 8'.
Contact us for a quote today! www.permalatt.com or reach us at 888-457-4342.