There's Still Time To Enjoy Your Outdoor Spaces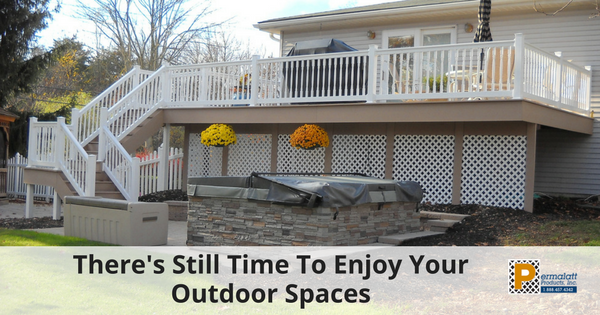 As summer winds down into the fall season, there is still time to enjoy your outdoor living spaces.  As the days seem shorter and the temperatures are a little cooler why not make just a few changes to embrace the autumn season?
Add plants to your Outdoor Spaces
Bring touches of life to the space by adding plants. Use tall grasses, cascading plants and leafy ground cover types.  Mums are a great plant to display in the fall months too. Add pumpkins, squash, and lanterns to finish the look.
Change your color scheme
Change out the cushions for the chairs and benches and use accent throws with textures. By using warm tones for autumn, adding rugs and soft furnishings to spice up the outdoor space, you will revitalize the area. It will feel more welcoming and comfy as the season changes.
Add some warmth
The cooler weather can hold some of us back from doing a lot of things we love outside.  How about gathering everyone around a new fire pit or fireplace? Imagine the warmth and good old-fashioned campfire socializing.  Or maybe it will be a great spot just for you to sit and "ponder" things.
So even though the view may change colors, and the weather seems lacking, the renovation of your outdoor area could change your entire attitude about the autumn season!
While you're sitting around in your new space take a look at our website, www.permalatt.com.  You may find you need a few pieces of lattice to enhance your existing living space or create a new one.
Save