What Should You Use to Enclose the Area Under Your Deck?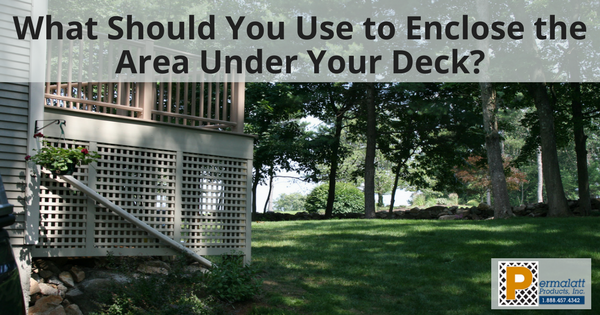 Decks are important living spaces. They create a transition between indoors and outdoors. Decks provide an area where we can entertain and relax.
With that in mind, animals who make their home under the deck could make mischief and take a lot of your time and money in repairs. Debris like old leaves and wind blown trash that accumulates can be unsightly and smell bad. To prevent these issues, you'll need to enclose the area under your deck.
Just like every other home renovation project, the options can be overwhelming. Maybe we can help with a few ideas.

Vinyl deck skirting
Seal off the bottom of your deck completely with vinyl deck skirting. It offers a clean, uniform look. One thing to remember with this method: you'll want to include vented panels to provide the necessary air flow beneath the deck. The vinyl skirting is a maintenance free option. Most panels are available in many heights up to 24". Vinyl deck skirting is found at your local big box store. If your area is over 24", you'll need to consider other options.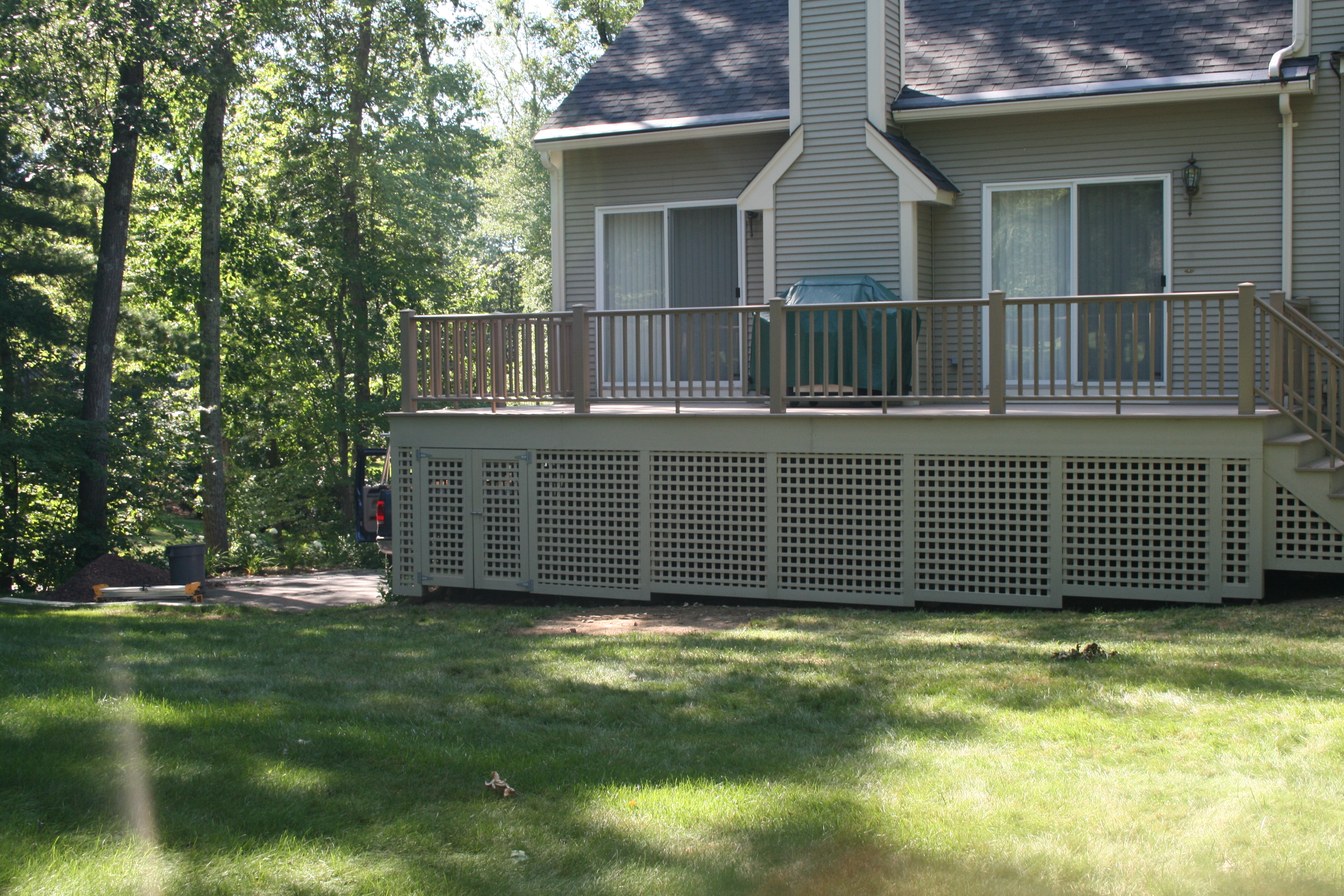 Board skirting
For this skirting, you can use wooden or composite boards to construct a wall around the bottom of your deck. Install each board vertically, horizontally or at an angle. Only your imagination limits your design. Make sure to leave ventilation gaps to prevent mold and a moisture build-up. If you choose wood boards, they will require regular painting or staining. The composite boards will only require periodic cleaning. You can find either of these board options at all of the big box stores and most lumber companies.
Lattice skirting
Lattice skirting is the most common and most cost effective option. Of course, it's our favorite. Lattice provides adequate ventilation and hides the ugly under your deck. To compare lattice products, see our "What lattice is best for your project" post. We break down the positives and negatives for each product type.
Wood or Vinyl Lattice?
Wood lattice is easy to find in diagonal (diamond shaped) openings. But remember, wood will need to be painted or stained yearly to keep it looking nice. Wood lattice is available at the big box stores and lumber companies.
Vinyl lattice is available with diagonal openings and square opening. So even though lattice is the most common option, the design doesn't have to be just like everybody else's. The vinyl lattice is maintenance free. Vinyl lattice products can be found at the big box stores or contact us for the best choice in vinyl lattice. Permalatt Products will enhance and beautify your deck project.
Our DuraShell® lattice is perfect for every project!