Indoor Uses for Vinyl Lattice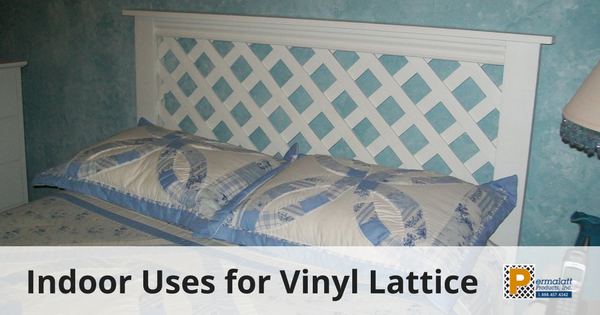 Have you ever thought about using vinyl lattice to decorate or organize inside your home? Lattice can create a modern yet classic look and add big time character for your interior rooms without a lot of effort.
Actually, lattice is a great interior furnishing idea. It can bring a bit of outdoors to your interior, and trust us, that's a good thing.
It all depends on your style and the room you want to update or create.
There are many ideas for projects that require new sheets of lattice, as well as scrap pieces.
So what to do with the scrap lattice pieces? They may be just what you need to add a little something to an indoor area.
Here are a few ideas for your indoor space.

Scrap Lattice Projects
Garage or Tool Shed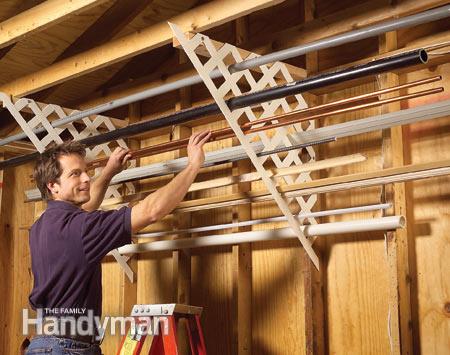 Construct a rack for pipes, brooms, rakes or anything that will slide into the openings of the lattice piece. Simply cut two lattice pieces to the desired length and angle. Attach each lattice section along the top to a support piece. Secure each lattice section and support piece along the wall of the garage. Viola! You have an instant rack to free up space in your garage and organize your area.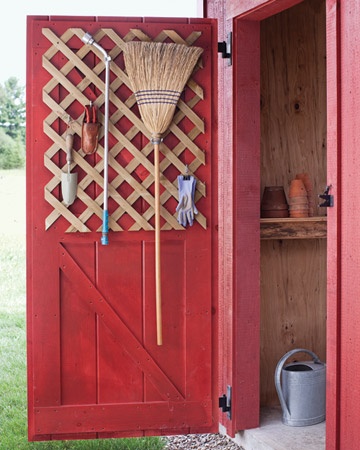 How about adding a vinyl lattice rack to a door? Add a small piece of lattice to the door of the garage or shed.  Hang the items on hooks and you've increased your storage space. This'll eliminate misplacing items because of disorganization.  Let's face it, the stacked brooms, rakes, and shovels can be hard to find and keep upright. This will keep things easily accessible and convenient.
Whole Lattice Sheet Projects
Lattice in the living room
Using lattice for your living room décor can be fun. The lattice will provide a new look for an old room. It can also add texture to an otherwise ordinary space and is a great way to create a focal point in your living room as well.
You can add lattice to the wall of your living room as an architectural detail, but don't stop there. Consider adding lattice to the ceiling.
Lattice will produce an eye-catching one of a kind look to make your room stand out. The lattice can also bring a touch of elegance to your living room.
The most common pattern for lattice use is the diagonal pattern. However, you can mix it up a bit by adding the square pattern to create your own design and personal touch. Consider using both patterns of lattice when incorporating it into your décor to have the exact look you desire.
Seriously, the options can be endless. You imagine it then you create it, and Viola! You have a personal design.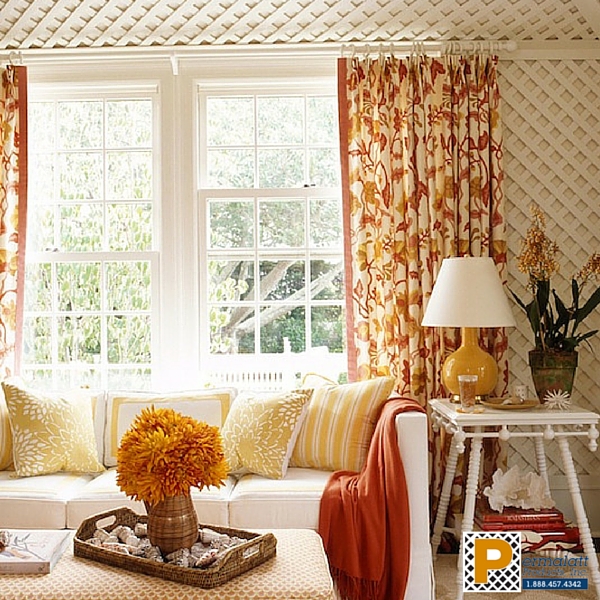 Spruce up an old cabinet by using lattice for the doors. Paint or stain the cabinet, remove the center panel of the cabinet door and insert the lattice sheet. The lattice cabinet door may be just the thing to restore and create a beautiful new look to the entertainment area of your living room.
Or maybe you have built in shelves that seem to be lacking any type of personality. Enhance the shelves by adding lattice to the wall between shelves. You'll find that lattice panels over a painted wall behind the shelves will give it definition and the added pop you're looking for.
You can use lattice as a room divider, sectional screen or even over a mirror to provide depth and glamour to the décor.  Looking for more inspiration for indoor lattice ideas?  Check out Pinterest for more!
Not sure you feel comfortable with adding lattice to the walls of your living room? What about incorporating lattice in other areas?
Lattice in the bedroom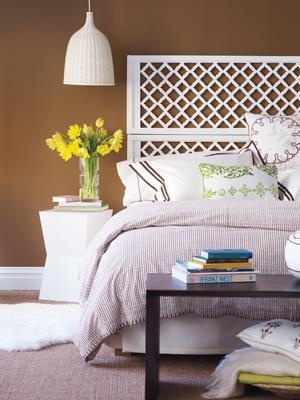 You've got a nice, comfortable bed, but no headboard.  Framed pieces of vinyl lattice can add an extra little something and give a completed look to the bed and entire room.
Choose 2 or 3 pieces of lattice to build the headboard. Frame each piece of lattice with u-channel or build a frame. Attach each individual vinyl lattice sheet to the wall or make 1 large unit. To create 1 sheet from 3 piece section, splice the sheets together, and then attach to the wall.
Wall racks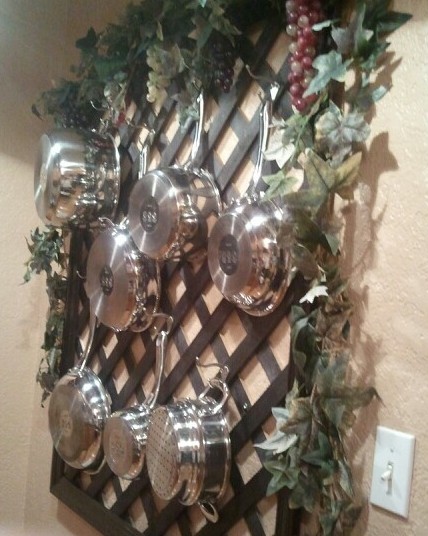 Limited on your kitchen cabinet space?  Why not create a pan rack?  You can use any size of lattice sheet. Frame the lattice sheet or leave the open edge.  Just add coat rack hooks or s-hooks and attach to the wall. The rack is now ready for your pans.  This gives you easy access and a unique look for your kitchen.
Even though there are many more uses for lattice in any interior, I have just a few more to show you today.
Not everyone has a craft room, but if you do here's a great way to organize.  Screw eye hooks to the lattice sheet and secure to the wall.  Have I mentioned you can use Velcro to attach the sheet to the wall?  Consider the weight of the lattice sheet and the items you're organizing on it.  Velcro might just do the trick.  Otherwise, I suggest securing it to the wall with screws.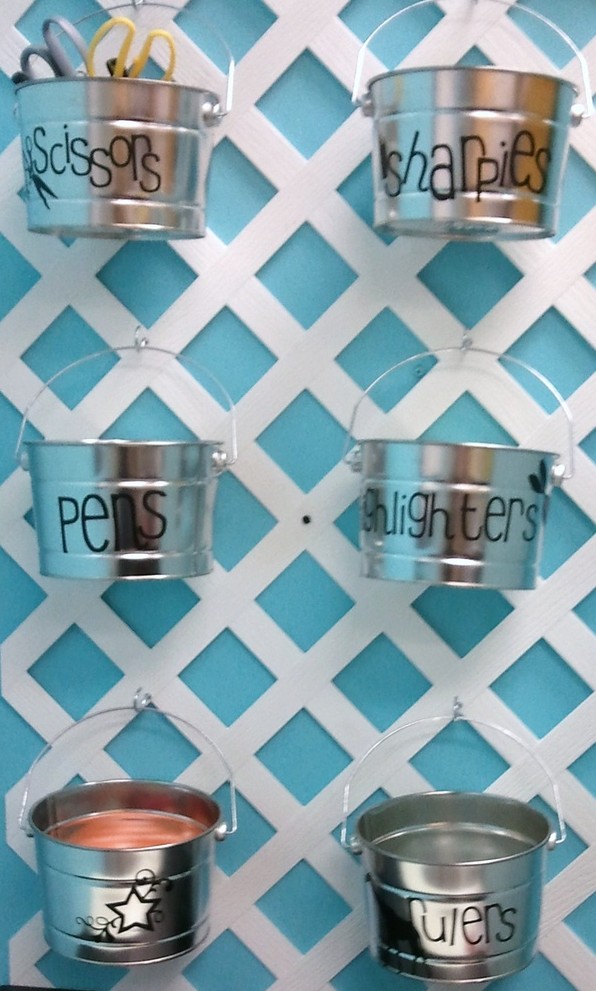 Does your entryway lack something?   If we think outside the box, the typical seat and shelf combo can grow into an area that is functional as well as appealing  Add lattice sheets between the bench and the shelf to create a nice visual effect. Go one step further and add hooks, baskets or clips to the lattice and you can attach or hang things between the seat and shelf.  The hooks work great for scarves or the dog's leash.  The baskets are great for hats and gloves, and clips are a nice place for that reminder note you wrote.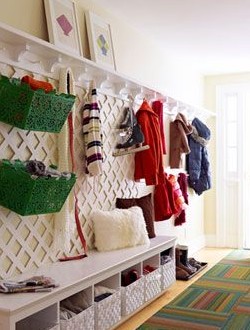 What about using clothespins to attach something to the lattice sheet? Of course! Consider painting the clothespins or maybe using hot glue to attach fabric in an accent color in the area to the clothespin to attach things to a seasonal memory board. You can even add family photos or Christmas cards on a lattice display board.
Alright, so I'm not saying it's time to decorate for Christmas. It's just the beginning of fall after all. We're just looking at decorating lattice for any season or occasion.
Lattice on the ceiling
Yes, yes you can. Lattice is great to use for adding dimension to a room.
Are considering finishing your basement, but don't want the standard drop ceiling panels? Use lattice.
The suspended lattice panels beneath your existing ceiling can make a room feel cozy and warm. Not to mention the lattice can help hide stains and cracks you may have on the ceiling. Or the wires, pipes, and ductwork that runs across the top of your unfinished ceiling in the basement.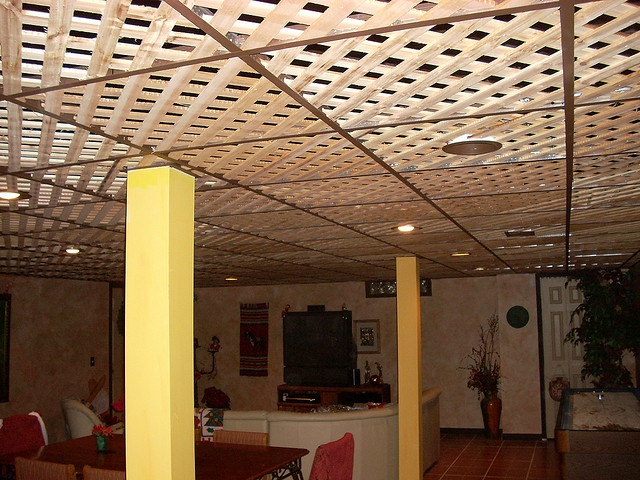 Saftey Ratings for Vinyl Lattice
Something to consider if you choose to add lattice to an indoor design is the fire rating. Here are the Fire ratings the DuraShell® vinyl lattice meets and exceeds.
Surface Burning ASTM E84-95:
Rate of Burning ASTM D 635-91:
Ignition Properties of Plastic ASTM D1929-91a:
Smoke density of PVC lattice ASTM D2843:
With the peace of mind given from the fire rating test results, you can rest assured that our lattice is just as safe to use indoors as any of your other building materials.
Now that you've thought about lattice for your ceiling, consider the other interior areas of your home as well. Think about how the lattice can make that one plain wall pop, or how it can be used for card displays, headboards or in your craft area. The possibilities are endless.
You can see the full ASTM rating information on the "Test Results" page of our website. Yes, we really did list our ratings, doesn't everyone?
Permalatt Products, Inc. is the manufacturer a premium, high-quality lattice that can be used in any of your projects. Inside and out! Contact us today or visit us at www.permalatt.com. We'd love to hear from you.