The Safety of Vinyl Lattice vs. Wood Lattice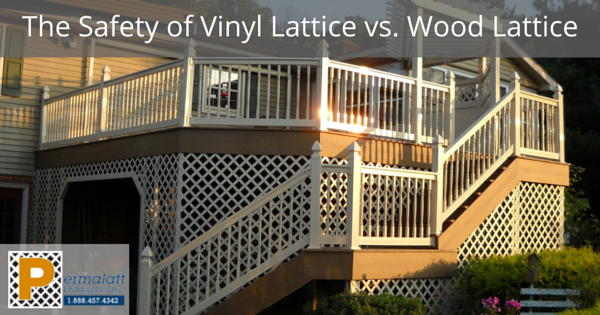 You have a lovely area that needs a finishing touch. What can you use? Lattice! Lattice has become one of the most used items for enhancing landscaped areas, creating privacy and hiding unsightly things such as air conditioners and trash cans.
When looking for lattice, the two most common options are vinyl and wood. There are many things to take into consideration when choosing between vinyl and wood lattice products. You will probably consider things like longevity, maintenance, and ease of installation to decide what lattice option is best for you. One consideration that often gets overlooked is the safety each lattice type provides. Of course safety is a concern during the installation of the lattice but also consider where the lattice will be installed and that it is a safe choice for that area.
Several things to consider when looking at the safety of lattice products are as follows.
Fire Ratings
Some lattice projects are connected to directly your home or outdoor structure. If either of these places were to catch fire, would the lattice contribute to the destruction?
Vinyl:
The DuraShell® vinyl lattice has passed several fire tests and ratings. The DuraShell® lattice passed the Surface Burning ASTM E84-95 with the highest possible rating. DuraShell® lattice has also passed the following test: ASTM D635-91 – Rate of Burning and/or Extent and Time of Burning test, ASTM D1929-91a – Ignition Properties, and ASTM D2843 – Smoke Density test.
Wood:
You will be hard pressed to find what, if any, fire rating tests a wood lattice has had done and passed. Consider this, to get the results of the burning brand for boards; a piece of lit wood lattice is put over the board to see how long it takes the board to catch fire.
Cutting/Splintering and Cracking
With a vinyl lattice, the splinter rating comes into effect when cutting the lattice.
With a wooden lattice not only are splinter ratings related to cutting the lattice but can also have to do with the charter of the lattice as it ages. Safety first: always wear eye and ear protection when using power tools.
Vinyl:
Permalatt Products, Inc. recommends the use of fine tooth blade installed backwards on the saw when cutting the DuraShell® lattice. Make slow cuts to ensure a nice clean cut. You can also use a large pair of metal snips. The snips will also provide a clean cut. Of course, you can also use a vinyl cutting blade. When a nice clean cut is made to the lattice sheet, there is no need to worry about what the ends of the lattice sheet will look like. The cut edge will have a nice appearance. You won't have to worry about getting splinters or scraps off the edge and surface of this lattice either. After installation, you will not need to worry about the DuraShell® lattice cracking or splintering.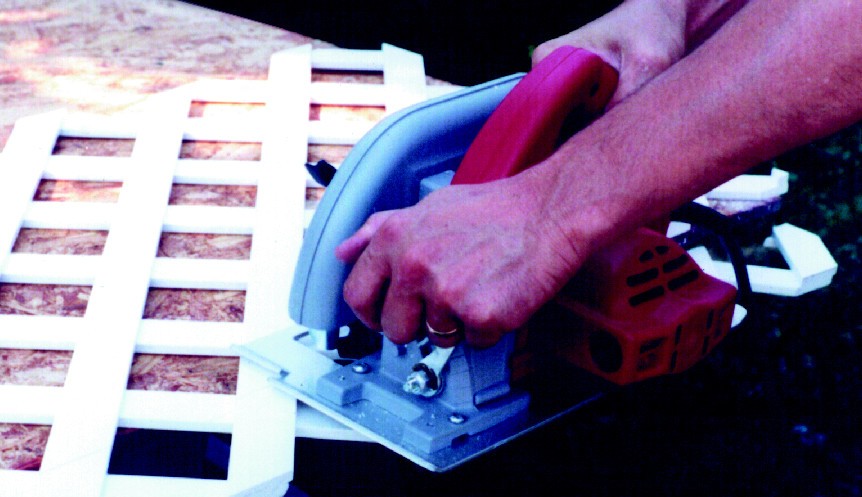 Wood:
Wood lattice is fastened with metal staples. In order to prevent personal injury, you will need to remove the staples along each cut line before you can cut the lattice. In addition to this issue, the thin strips of wood lattice are somewhat fragile. If you use a saw that causes a lot of vibration, the stapled joints can pop loose. A table saw with a fine tooth plywood blade works the best. You may have sprinters and cracks left on each slat of the wood lattice after cutting it. This will not give you a clean edge or nice appearance and can also mean the lattice piece you just cut cannot be used. Also as the lattice
This will not give you a clean edge or nice appearance and can also mean the lattice piece you just cut cannot be used. Also as the lattice ages you will notice that each strip can crack and splinter. As the strip deteriorates, it can break and let go from the rest of the sheet. Thus leaving nails heads or staples sticking up from the surface. If this is in an area where pets, children and guest may be, there's the opportunity of bad scrapes, pokes or even cuts occurring.
Strength
Consider the long-term strength and stability of vinyl and wood when choosing which one you want for your project. Neither vinyl nor wood lattice can be considered structural products. So when we are looking at strength, we are comparing the strips used to make the lattice sheet.
Vinyl:
Permalatt Products, Inc. lattice is manufactured with solid cellular foam strips. We use a strip over strip method. We do not staple or nail the strips to each other but use a glue bonding technique. The DuraShell® lattice is made with a strip thickness of ¼". Where the strips cross in the pattern, there is a total thickness of 1/2". This is a very sturdy product. With the ¼" thick cellular foam strip, it will take a high impact, and an amount of force to break it. While we have not performed any impact testing, the strip strength is substantial. The strength of each strip and lattice sheet will remain the same over time. The DuraShell® lattice will not rot, and it is insect resistant.
Wood:
This type of lattice is also manufactured with a strip over strip method. The strips are stapled where the strips cross. Most of the wood lattice available will have a strip thickness of 7/32". The lattice is advertised as ½" thickness. As with any wood product, the thinner the piece the less strength it possesses. This type of lattice does not offer any information regarding impact testing or strip strength. The wood lattice can snap or break easily as the individual strips do not offer substantial strength. This type of lattice becomes susceptible to twisting and bending as the sun and rain rot the wood, and will cause it to become unstable. Wood lattice is not insect resistant. The insects will add to the deterioration of the lattice.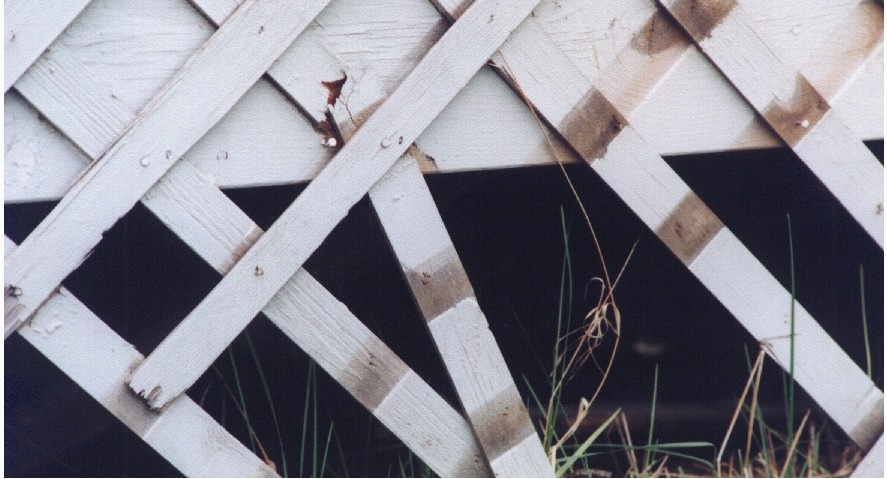 As the manufacturer of the DuraShell® vinyl lattice, we have compared several attributes of Vinyl, HDPE (plastic), Hollow PVC and Wood lattice. The Comparison Chart sums up each product per category and is included for your convenience.
In summary, what is the best as well as safest, vinyl or wood lattice? The decision of which product to use is ultimately yours.
Permalatt Products, Inc. manufactures a high-quality premium lattice and is ready to enhance any project you have. Contact us today at 888-457-4342 for more information!
Please note, the statements regarding vinyl lattice are based on our DuraShell® solid cellular core product.
Save