The Best Vinyl Lattice Color Options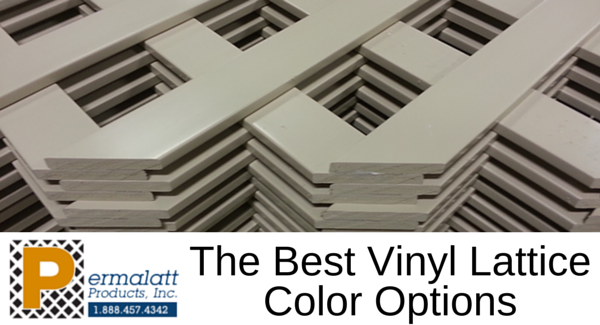 Permalatt Products, Inc. has manufactured the DuraShell® solid core vinyl lattice for almost 18 years. As the manufacturer, we are able to control the colors we offer. We're not limited to the selection a supplier chooses for us. While we have retired a few colors over the years, we offer colors that are strong in their demand. Permalatt's colors were originally geared towards the fencing industry. However, as the use of vinyl lattice expanded to more than just fencing, we are pleased to be among the top choice of lattice suppliers.
The current color selection is Snow White, Almond, Laguna Dune, Sandtone, Khaki, and Pebblestone. The color is throughout the entire strip, not just a surface color. The lattice is guaranteed against peeling, flaking, cracking and becoming brittle. It won't fade or warp. This means no matter which of our colors you choose, or how you use them, the results are always the same. Perfection! No need to worry that a dark color vinyl lattice can warp or fade before a light colored vinyl lattice.
There are lattice providers who offer more colors. The colors range from the light almond to a dark brown. This lattice is pressed or molded HDPE lattice. The colors run throughout the entire piece. However, with any stamped or molded lattice there can be issues with the colors fading, that is a characteristic of plastic lattice. If you read their warranty, the lattice is not covered if you use the sheet in a "horizontal" application.
The DuraShell® lattice can be used, vertical, horizontal, sideways or even upside down. Although it would be hard to tell exactly what upside down is on a lattice sheet. The point is, the color is the same throughout. Our warranty is the same for every piece of vinyl lattice no matter the color.
It doesn't matter if you're incorporating our vinyl lattice into your current area or if you are starting from the ground up, our u-channel and h-channel are the same colors as our lattice. Our colors match or accent any of your projects.
When choosing a color, we strongly recommend you order a color ring as most computer monitors will not represent the actual color.
Order your color ring or complete sample kit. Or call us at 888-457-4342 to get today.
Save