How to Sell Your Client on Permalatt Lattice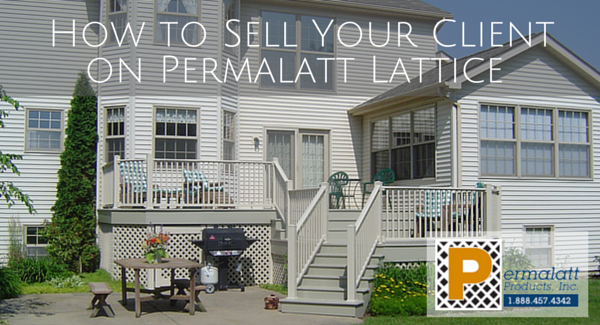 As you can see, the lattice deck skirting adds the finished look to this outdoor space. When enclosing a deck, mobile home, or porch, consider using the DuraShell® lattice as the skirting.
It will be a great product to work with and ensure lasting beauty. How can you sell your customer on a high quality, premium lattice product that's easy for you to work with?
First let's look at who Permalatt Products, Inc. is and what makes us stand out from the rest of the lattice manufacturers.
WHO WE ARE:
Permalatt Products, Inc. has been manufacturing solid core 3-D lattice for over 15 years. Originally we started out manufacturing the DuraShell® lattice for the fencing industry.
We later introduced and included the Decorative 3D lattice for the fencer's convenience. We catered to the fencers by offering several standard sheet sizes other than a 4' x 8' sheet.
As our popularity has grown, we still value and support the fencing industry, but we have broadened our horizons. Now you will find our lattice in numerous applications.
From deck skirting to privacy screens our lattice is by far the ultimate lattice in appearance and durability. Our standard sheet sizes are: 4' x 8', 4' x 6', 12" x 6' and 8', 16" x 6' and 8'.
We also offer custom sheet sizes. In a square opening lattice we can manufacture any custom sheet size less than 4' wide and less than 8' long.
In a diagonal opening we can manufacture any sheet size less than 4' wide in lengths up to 12' long. Any dimension within these parameters is available for your convenience.
WHAT SETS US APART:
Both products, DuraShell® and Decorative 3D, are manufactured the same way. We use a strip over strip manufacturing method.
Therefore they are true 3-D products. Each strip is solid. This is not a pressed or molded product.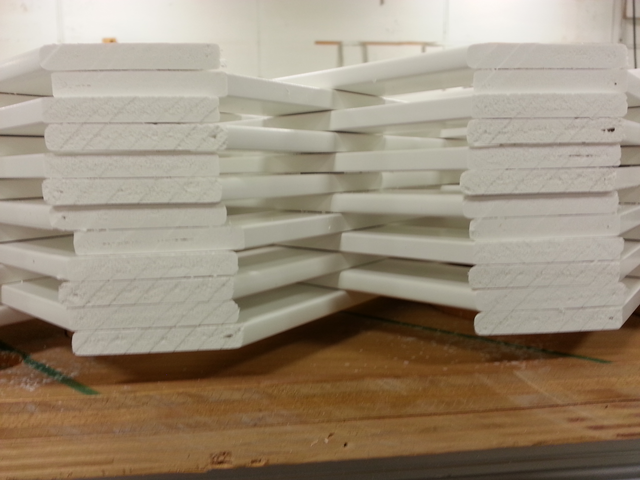 DuraShell® is manufactured with ¼" thick strips, making the total thickness of ½". Each strip has a scuff and scratch resistant coating on it.
While it is not considered structural it is a very sturdy and hardy product.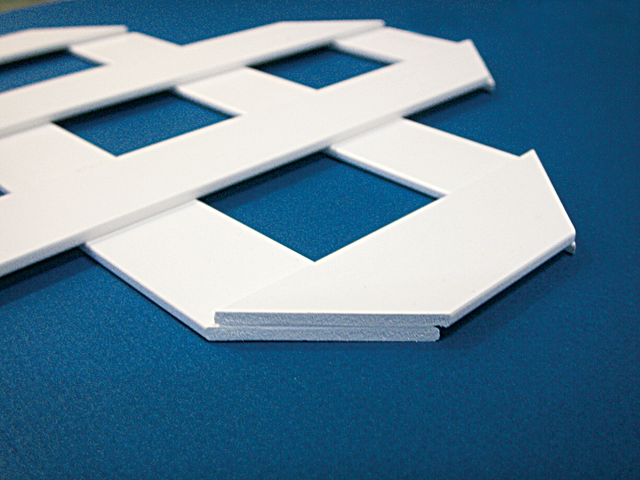 Decorative 3D is manufactured with 1/8" thick strips, making the total thickness of ¼".
The great appeal for our DuraShell® and Decorative 3D lattice is:
Both products have are 3-D construction
Both include a Lifetime Warranty
Both meet several fire ratings.
Neither will splinter, chip or warp
Both are virtually maintenance free
As a contractor/installer, you know the value of a product that is easy to work with. We are happy to manufacture custom sheets sizes for you. Earlier in the article we listed the standard sizes, as well as the maximum sheet sizes available for custom sheets.
You can literally order the exact size sheet you need for the job. If you decide it works best for you to order one of the standard sizes, don't be concerned with cutting the lattice down to size. The DuraShell® and Decorative 3D lattice cuts like wood. You can use a circular saw. Simply reverse the curve of the saw blade, and this keeps the strips from splintering.
The DuraShell® and Decorative 3D lattice handles like wood. The great thing is, our lattice will not rot or need replaced like wood.
When you're ready to secure the lattice sheet, you can either screw the sheet on, or nail through it. You can also secure the u-channel to the post or deck board to use as a guide that doubles as a frame around the lattice sheet.
The feedback we've received from other contractors states; "you don't need to oversize the screw hole to allow for expansion or retraction. The sheets are dimensionally stable". Combined with the ease of installation and longevity of the product, it's a win/win situation for you and your client.
We believe that once you work with our lattice, you'll feel it's the best lattice to use in all of your projects. When it comes down to why your client should go with the DuraShell® or Decorative 3D lattice, it's simple. Permalatt Products, Inc. manufactures lattice that last!
No need to replace in a couple of years because it's warped. No need to stain it year after year. And definitely not need to worry about deterioration.
A wise man once said; "you can pay a little more up front and be done with it, or you can continue to pay a small amount year after year until you realize the more up front would have been better."
The quality and durability of our DuraShell® and Decorative 3D lattice products is above and beyond any other lattice product out there.
Contact us today to get your sample kit. Once you see the product you'll understand the value of it.
Save