Permalatt Lattice For Yard Improvments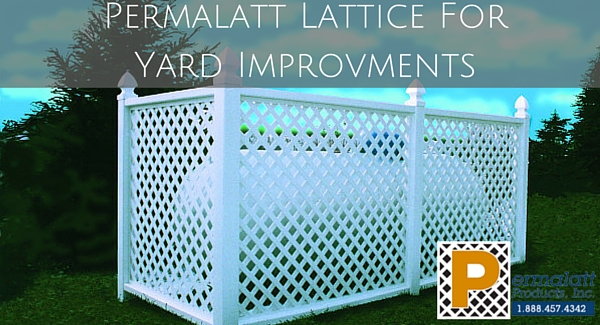 There are many yard improvements your client may request.  The project may be a completely new addition to the yard or it may be an area that just needs a little something to revive the look.
From hiding the ugly LP tank or garbage can to adding a trellis for their climbing plants, Permalatt Products, Inc. has the perfect lattice for any yard improvement project your client presents to you.

The DuraShell® vinyl lattice is constructed strip over strip.  Solid core DuraShell® Lattice is made with 1/4" thick strips producing a 1/2" total thickness.  The color of the lattice is not just a surface color.
The color is throughout the entire strip. Each strip is smooth, it is does not have a wood grain textured surface.  The DuraShell® lattice is resistant to mold and mildew.
It will not rot, peel, decay, splinter or warp. The DuraShell® lattice has a scuff and scratch resistant coating to enhance the durability of surface.
Even though the DuraShell® is not considered a structural product, it is a very sturdy lattice. We offer both diagonal and square opening sizes in standard sheet sizes of 4' x 6' or 4' x 8'.  As the manufacturer we are able to accommodate you with custom sheet sizes as well.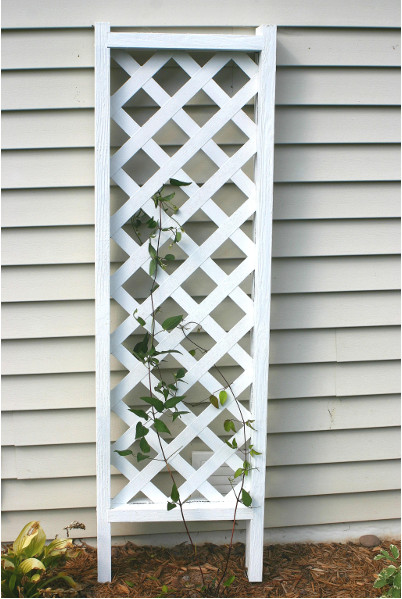 The DuraShell® lattice looks great mixed with wood, vinyl or aluminum post, rails and other frame work, thus creating any look your client wishes to achieve.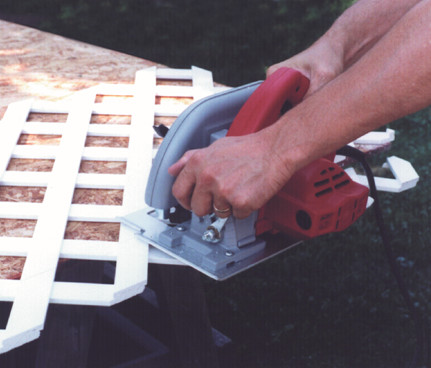 Now how is it to work with?  Easy!  It cuts like wood.  We do suggest that you reverse the curve on the saw blade, just like when cutting aluminum.  This will prevent chipping and splintering. If you prefer, we can manufacture custom sheets sizes for you.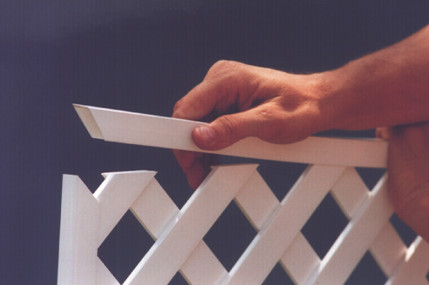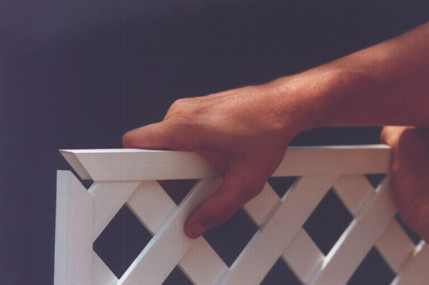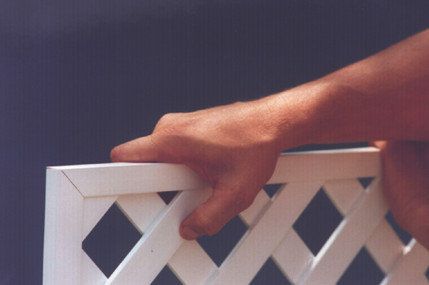 How do you attach our Permalatt lattice?  No need to predrill the holes. Since it is dimensionally stable, you can screw or nail through the lattice sheet.  You can also use the U-channel to frame the lattice sheet and screw/nail through the channel, through the lattice sheet.
Why should you and your client choose DuraShell® lattice from Permalatt Products?  The DuraShell® is a high quality, premium product.  It is the lattice that lasts!
Time is the test for any project and you will find that the DuraShell® lattice will prove to be a great investment. Year after year, it will be the lattice product that is still looking as good as the day of installation!
If you use and are familiar with our DuraShell® lattice we hope you will suggest our product to your client as the best product for their project.
You know that no matter what the project, our lattice is easy to work with and will outlast any other type of lattice. The DuraShell® lattice will prove to be the top choice item time after time.
You will see that our lattice is nothing like what you will find in any of the big box stores. Call (574) 546-6311 | (888) 457-4342 for you sample kit today. Once you have the lattice in hand, you will understand how we are different from every other lattice manufacturer. Feel free to contact us with any questions or to receive your free quote.
We're happy to help!