Outdoor Buildings Made Of Vinyl Lattice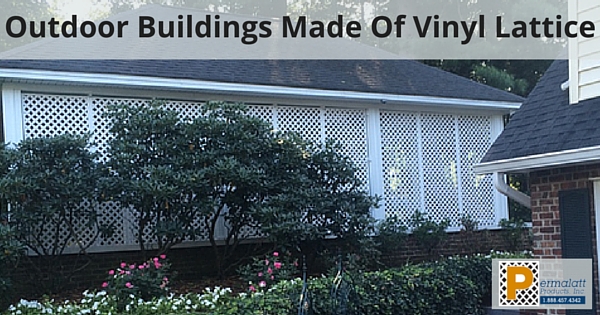 Do you have an old building that just keeps drawing unwanted attention? Does it rate as an eyesore for your property?
Do you have a pergola that seems to be lacking something? Dread the idea of replacing it?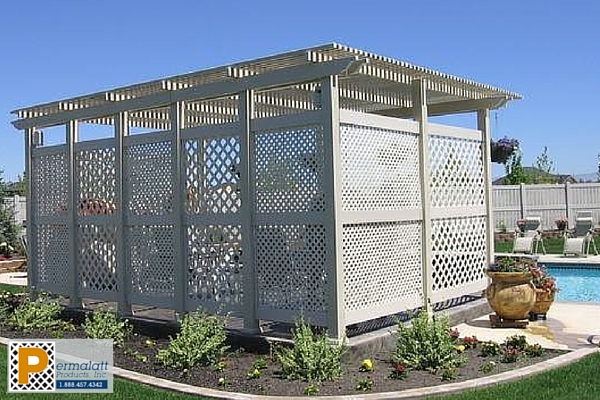 We have an easy solution for both of these situations. A vinyl lattice building! You can transform the old worn out building into a new creation with vinyl lattice. You can convert the pergola into a lattice building without a major construction project.
Vinyl lattice offers a great option for this type of project. It will enhance the look of the building, bringing it into a new life. Check out some creative inspiration from Houzz.com.
Revitalizing an existing building with vinyl lattice offers a more uniform appearance throughout the structure. It offers crisp, clean lines and a classic look. It will keep a "new" look for many, many years.
With the benefit of the attractive look vinyl lattice offers and the lifetime warranty that comes with vinyl lattice, it's a win-win solution!
A few perks of a vinyl lattice building include:
Vinyl lattice is made to withstand all weather conditions.
A vinyl lattice building will stay nice for a very long time without requiring a lot of maintenance.
You will not need to stain, paint or seal a building made with vinyl lattice.
It will not fade in both the color and white lattice.
Vinyl offers a worry-free attitude because it is rot resistant as well as insect proof.
Vinyl lattice is dimensionally stable. This means no warping or expanding.
It will not crack or splinter when you cut it.
You can easily nail or screw through the lattice.
It is very easy to clean. If it gets dusty or dirty, simply spray it down with water, and you're done.
Vinyl lattice is very easy to cut.
*Please note; our perks list is made in consideration of our DuraShell® lattice.
DuraShell® lattice is a niche product manufactured by Permalatt Products, Inc. and is not available in the big box stores. We manufacture a high-quality premium vinyl lattice that is easy to cut and install.
DuraShell® lattice is "Made in the USA" by skilled craftspeople. Permalatt Products, Inc. meets and exceeds all of a standard vinyl lattice quality.
DuraShell® lattice is the best choice hands down. The DuraShell® lattice is truly 2nd to none.
Contact us today for your free quote on your current lattice project, and visit our Facebook page for daily updates!