Commercial Buildings Using Lattice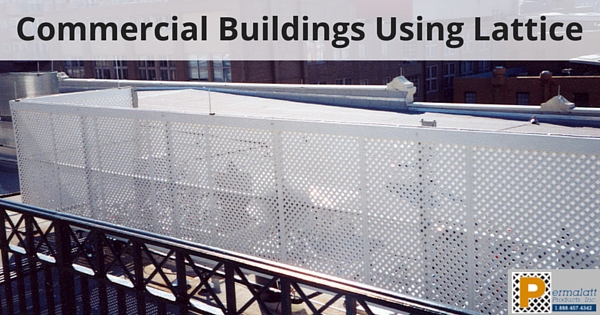 Vinyl lattice is a versatile product that can be used in many projects. As a business owner, you may be considering the outside appearance of your property and building.

Maybe you're considering enhancing the look of the necessary – but less than attractive – things at your facility. Vinyl lattice would be an upscale addition to the view of any property and location. After all, vinyl lattice isn't limited to residential uses.
Let's take a look at a few ideas to help you take charge of your property by renovating it with vinyl lattice:
Roof-tops
A rooftop can host all sorts of vents, air systems, antennas, or other miscellaneous items. These items can hinder the overall look of your facility.
By adding a privacy lattice, you will transform the not so pleasant look into a mystery area that is pleasing to the eye. A privacy screen promises to offer a uniquely beautiful extension of your building.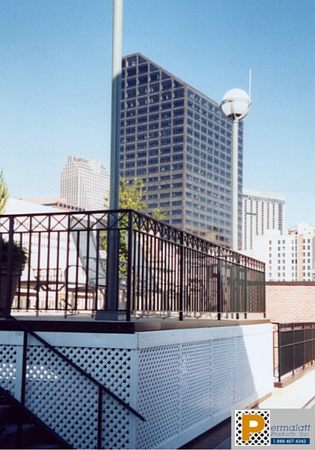 Decks And Patios
An additional seating area at the side of your facility is awesome for your employees and clients. The underside of this type of deck will have joists, footings, post beams, and anchors.
In order to keep all of these things from becoming a focal point, add a vinyl lattice enclosure around the bottom.
If you add a vinyl lattice barrier, it not only blocks the view of the structural design below the seating area, but it keeps unwanted debris from blowing underneath the structure as well. The vinyl lattice adds a finished look that improves and defines this area.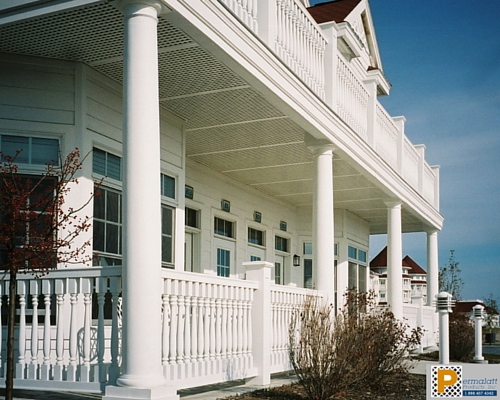 Rafters, Supports, And Undersides
The upper deck of your building offers added space for the second level occupants. As the lower level occupants stroll along the walkway, they will have a view of the rafters and supports to the decking above.
Renovate the underside of the balcony with vinyl lattice. The vinyl lattice will offer a clean look that perfects the entire area.
Using a privacy opening on the vinyl lattice will keep birds from nesting in the rafters and overhead floor joists. It will also offer a finished effect for the entire space.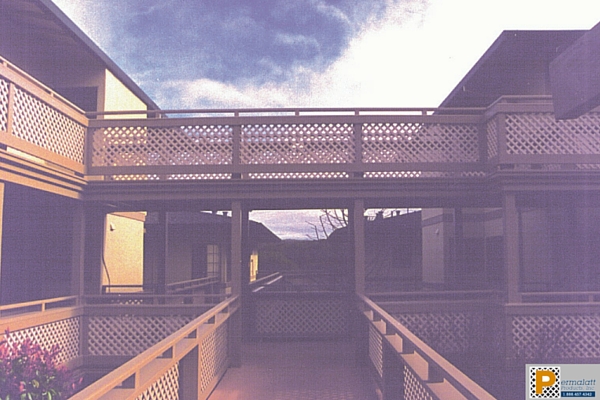 Walkways And Bridges
Walkways on lower and upper levels of your business will include some type of railing system. Add vinyl lattice between the rails to complement the look and feel for your walkways.
While vinyl lattice is not a structural item, it adds a pleasant visual benefit.
Benefits Of DuraShell®
When we share vinyl lattice ideas and suggestions, Permalatt Products, Inc. always states the advantages of using vinyl lattice in consideration to our DuraShell® lattice.
Permalatt Products, Inc. wants to be the first place you choose for your vinyl lattice needs. Permalatt Products, Inc. is the manufacturer of the DuraShell® vinyl lattice. DuraShell® is a high-quality premium lattice that can be used in any project.
Our premium vinyl strips used to create our lattice meet several ASTM ratings. The DuraShell® lattice is fade-resistant in all of our colors including our Snow White. It is resistant to insects, mold, and mildew.
The DuraShell® lattice will cut just like wood lattice. DuraShell® does not rot, peel, splinter, become brittle or chip. DuraShell® offers excellent weather ability. With the strip over strip construction, you will not have the expansion and contraction you see with a solid lattice sheet.
The DuraShell® lattice sheet is dimensionally stable. Therefore, it will not warp. You can easily nail or screw through the lattice and not be concerned with the possibility of damage where the lattice sheet is secured. Yes, the DuraShell® lattice is truly maintenance free. If it gets dusty or dirty, simply spray it down with water, and you're done.
We invite you to browse our Facebook page for more vinyl lattice ideas and comparisons. While on the website, don't forget to request a sample kit for yourself or for your contractor.
The kit includes samples of 1-7/8" diagonal lattice, u-channel, h-channel, a color ring and a brochure.  When you receive your kit, you will understand how we can say the DuraShell® lattice is second to none. It truly is a high-quality premium lattice that stands the test of time.
We're always happy to help with any questions you may have and will provide you with a free quote for your lattice project. Contact us today!