A Before and After Look at Vinyl Lattice Underskirting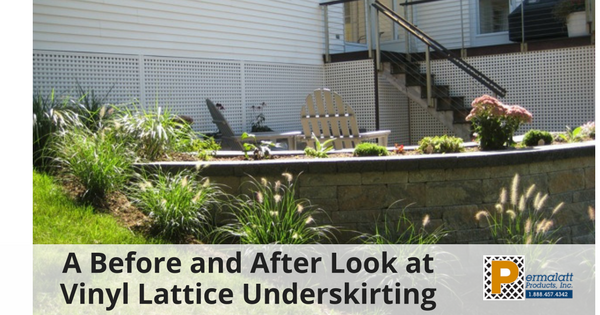 As the winter weather diminishes and the first signs of spring appear, you may be contemplating ways to beautify areas on your property.
There are several ways to refresh or create beauty in any outdoor space. You can choose to add numerous varieties of plants and flowers to the landscape. You can add walkways, arbors or even add a water feature. Or you may choose to completely revamp an entire outdoor space.
Take a look at what one of our clients decided to do with the patio and deck area.
With just a little bit of time, this area went from this,
To this

Big change right?
First, the client removed the cinderblock borders, steps, patio, and plants. There was no need to level or re-slope the yard as this gradual grade was utilized in the landscaping of the area. For the patio, large paving stones and pea gravel was used. The steps are made from paving stones as well. Then natural stone and a dark capstone were used to create the elevated garden areas used for new plants and a water feature. There was a new post added to the corner on the deck which is anchored in the new garden area by the steps. The outside frame pieces of the deck were painted black.
Vinyl Lattice Materials
The DuraShell® 1" square lattice was extended from beneath the deck to the block foundation of the house. The U-channel was used to cap the top of each sheet and the H-channel was used to connect each sheet giving the foundation a framed and finished look.
Notice the combination of the stone textures, the color choice of the deck boards and the white lattice all work together to blend this entire area. We think this entire project turned out awesome. The area looks so inviting now. Makes you want to sit outside for a while, doesn't it?
In addition to this project our DuraShell® vinyl lattice is a great option for many types of projects. Please take some time and browse our news/blog section to see how others have used our products. While you're there peek in the Photo Gallery to see pictures shared with us by our clients.
Feel free to contact us anytime for product information, questions you may have or a free quote. We are always happy to hear from you.
Save