How Lattice is Used to Beautify Decks, Fences, Gazebos and Railings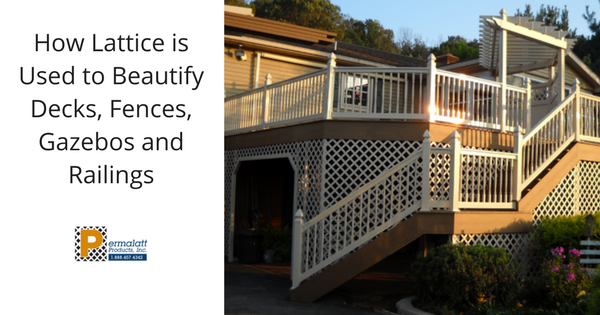 You want to beautify the home you're so proud of, and you want an economical and long-lasting solution. Vinyl lattice may be your answer.
Usually, lattice comes in a diamond shaped pattern which is produced by weaving strips of wood in a crisscross-fashion. For fences, railings, under deck enclosure and privacy screens, lattice gives a homeowner a beautiful, neat looking result for a reasonable cost.
Vinyl, combined with injection molding makes a very sturdy and maintenance free product. While white is the most common color for lattice, the advantage of modern manufacturing methods makes it easy to add color that coordinates or matches a home's exterior.
Patterns are no longer limited to the traditional diamond shapes. A beautiful square lattice brings a modern feel to under deck enclosures and privacy screens. The end product can have a distinctly Asian feel.
You may not realize in the many places and ways you can use it. Let's check out a few.
Deck skirting:
As you can see in the photo, lattice can take a multilevel area and tie it together. Or it can be used to get a great finished look on any deck. It can be installed to accent the steps of your deck, keep unwanted pests out, as well as provide your climbing plants a place to grow. This photo shows lattice as the deck skirting and in the fence section on the main floor of the deck surface. Here's some ideas for the deck skirting for your home.

Fences:
Lattice can be used as an accent for your fence, and it can also be the fence. This fence provides privacy but also lets you experience an open feeling for your outdoor space. It keeps out uninvited visitors, but lets you see what's going on around you. How to Beautify your Fence with Lattice.
Air conditioning and pool pump boxes:
If you have equipment that is an eyesore and a potential hazard to children and pets install small sections to wall off or even box off the equipment. Using Vinyl Lattice to Hide Unsightly AC Units and Trash Cans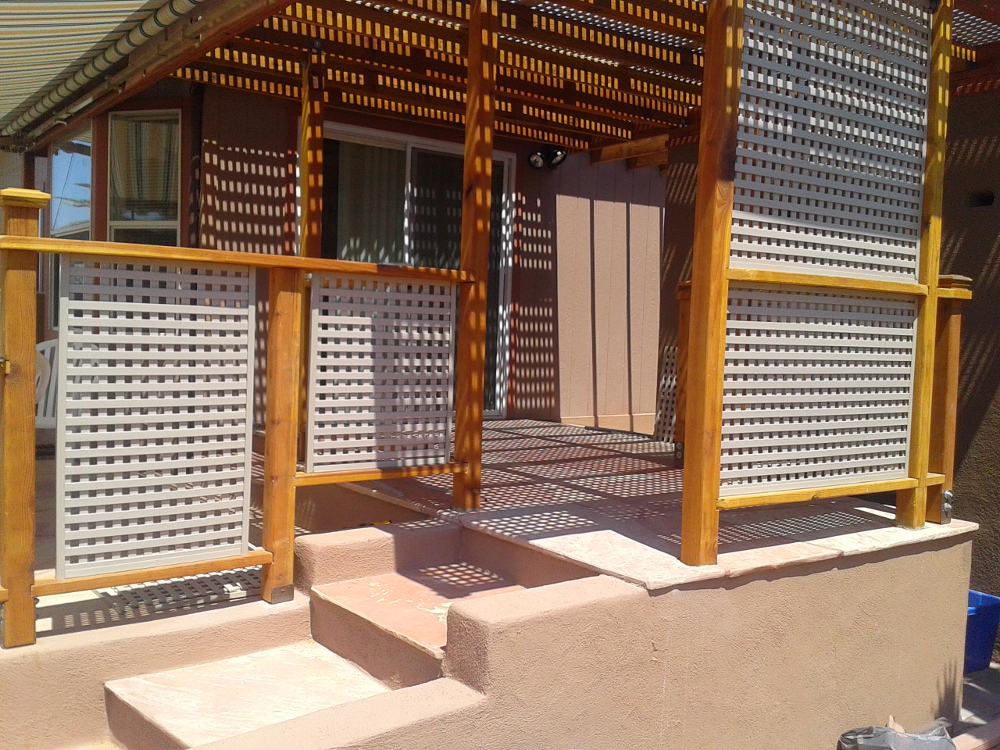 Railing Décor:
Want something other than the typical deck railing? Insert panels between the railings and viola! How to Beautify Your Deck Railing.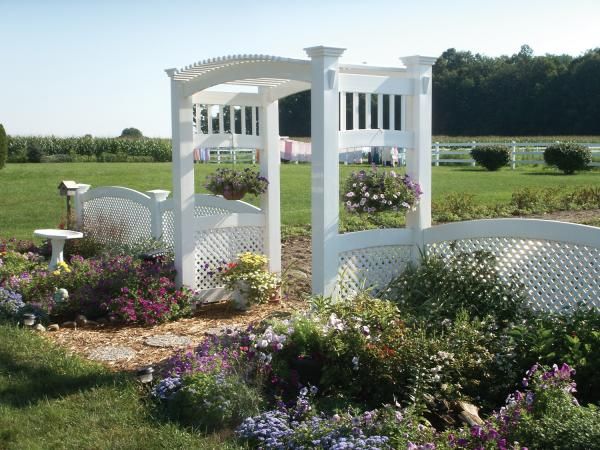 Trellises and arbors:
Plant some climbing plants and allow the plants to climb. The lattice is virtually indestructible and your plants will vine nicely. Grapes and vegetables will hang down for easy harvesting. Arbor solutions for your home.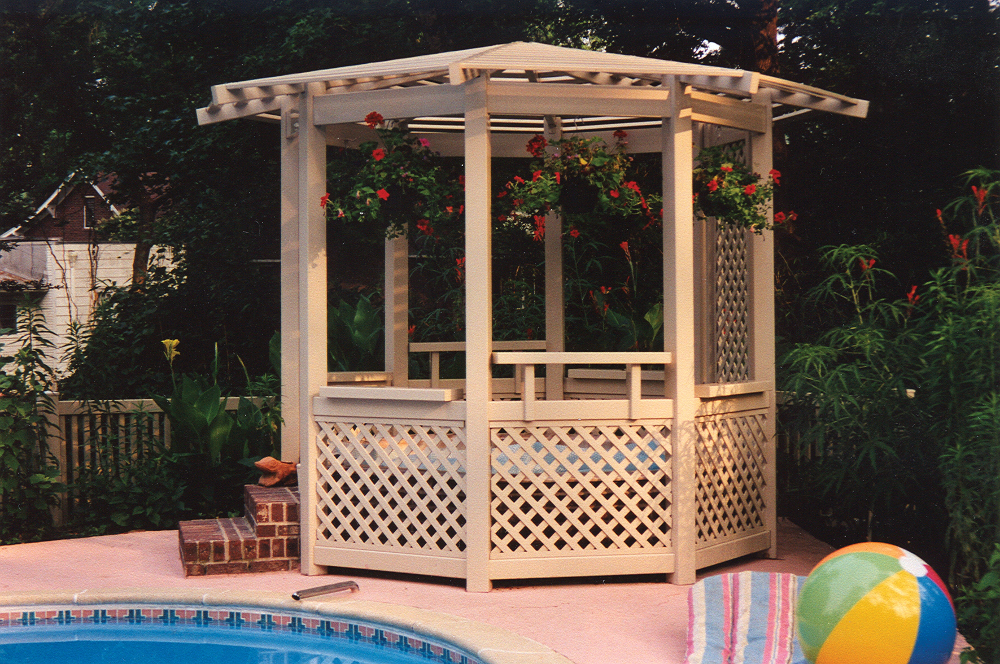 Gazebos:
Some Gazebos offer the spindle type design with the railing. Why not use lattice and get the benefit of beauty and privacy? This offers a unique variation of the typical design, thus making your space something special. Do you need a Pergola or a Gazebo?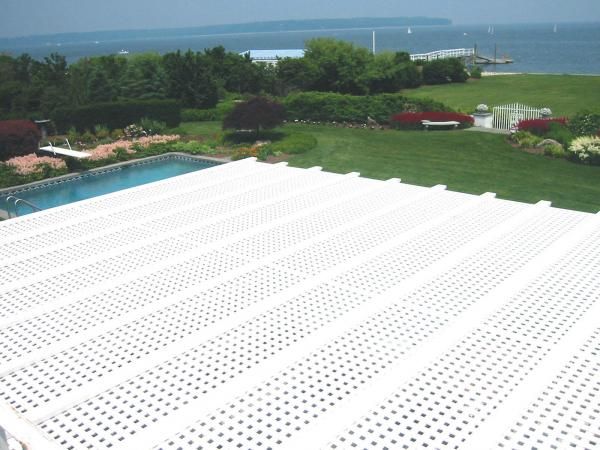 Patio Covers:
Lattice patio covers let in diffused light. Just enough shade to be a comfortable place to sit in the summer with a cool drink and relax or play with family. Learn how to use Permalatt Lattice for your patio cover project.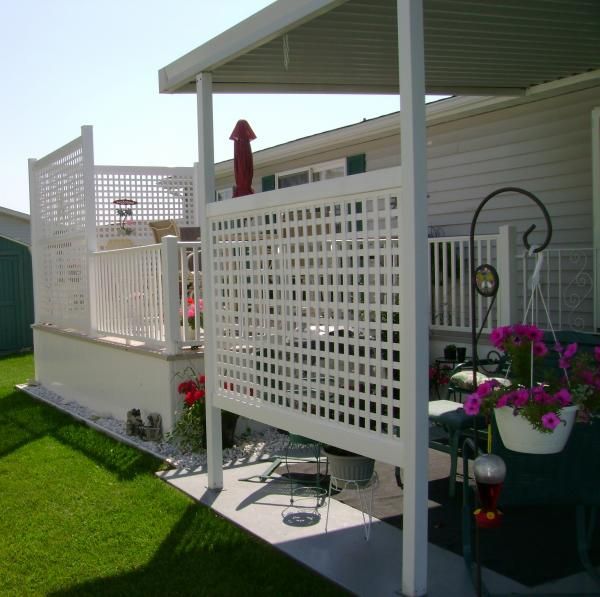 Privacy Screens:
Use vinyl lattice panels on patio or porch to keep out prying eyes and unwanted attention. Simply add a section between posts. Check out more privacy screen projects here.
These are just a few of the ways you can use vinyl lattice to beautify your home exterior. Check out more ideas on how to use lattice in and around your home on Houzz.