Lattice Solution For Screen Doors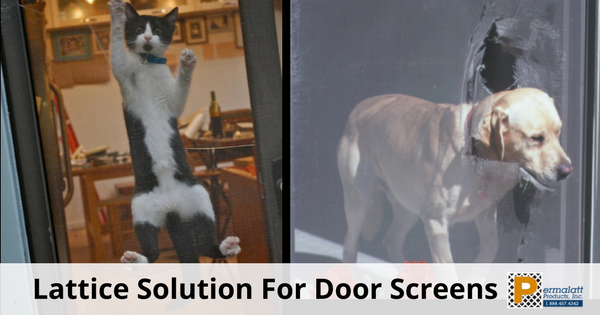 UGH! The cat is climbing up the screen again. And Fido just ran through the screen door. We all love our pets and may tolerate some of their bad habits. But when they start to destroy the house it's time to make some adjustments.
One of the most common things to be ruined by a pet is the screen door. In all fairness to our pets, the screen door can be their favorite spot. After all, it allows them a view of the exciting life outdoors. The screen door can even be their place to see and meet us. Or the screen door can be the barrier that prevents them from getting to us. This can be one of the reasons your pet pushes on the screen and causes damage.
If your cat loves to climb up the screen or your dog scratches the screen to be let out or in, eventually the screen will be ruined. There are a few ways to keep your screen door from being destroyed and becoming a costly mess.
One option is to use lattice
Use the lattice panel as a guard to place over the screen. The lattice option will allow the nice breeze to come in while protecting the screen from your pet. We suggest a smaller lattice opening so little paws can't get through to the screen. We also suggest installing the lattice on the side of the door that is accessible to the pet. In some cases, you may need to install the lattice on both sides of the screen door.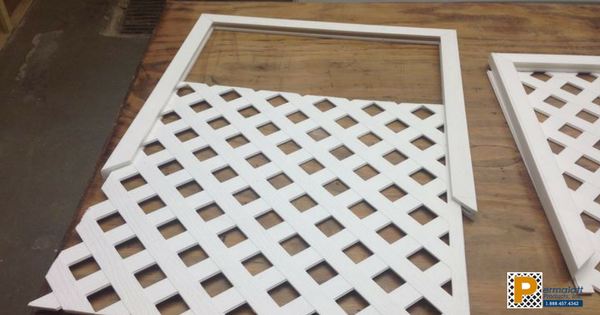 Frame a lattice panel and screw it to the door to protect the screen. You can make the lattice panel as big as you want. In other words, you can cover the entire screen area or just the lower section of the door. However, you will want to consider the size and paw reach of your pet. You will want to alleviate the possibility that your dog or cat can jump up and catch the screen above the lattice sheet.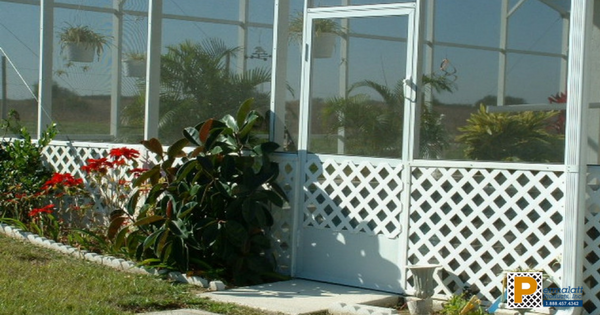 Do you have an outdoor room you want to protect the screens on? Here is a way to keep your screen safe from pets and varmints. Use lattice panels around the exterior walls and doors of the screened in room. Again the lattice allows airflow while safeguarding the screen.
We hope you and your pet benefit from the lattice over the screen option for your screen doors. By the way, this idea can also be used for window screens.
Permalatt Products, Inc. manufactures a high-quality premium lattice and is ready to enhance any project you have. Contact us today at www.permalatt.com or 888-457-4342 for more information!