Lattice Ideas for Privacy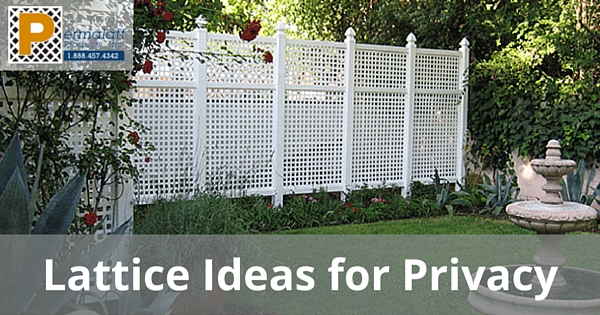 We all need and want privacy from time to time. We cherish a place where we can spend time alone or with our friends and family.
If you are in an area with your neighbors right next to you, or you feel exposed you may want a bit of open seclusion in your outdoor space. The entire open seclusion thing is privacy without a closed in feeling.

You may even want to feel a gentle breeze while you enjoy a space that is completely private. To achieve this concept, you can use lattice.
Lattice will let the air flow through, but conceal your space from neighbors or those who pass by.
There are many ways and many places you can add privacy to your property. Lattice offers a variety of options to create a place where you are apart from the view of others.
You may also find that lattice will be the most cost-effective way to make your dream of privacy a reality. Consider installing lattice for privacy as a fence, on the deck, around the patio or even poolside.
A lattice fence will not make your yard feel completely closed off. You can choose to install a lattice fence around the entire property or add it in a specific area.
You may consider adding a fence of just 3 or 4 lattice panels to create the desired privacy.
It doesn't matter if it is a small yard or a large yard; the privacy lattice fencing will add beauty to the entire location.
An added bonus with a lattice privacy fence is it's great for climbing roses or other plants.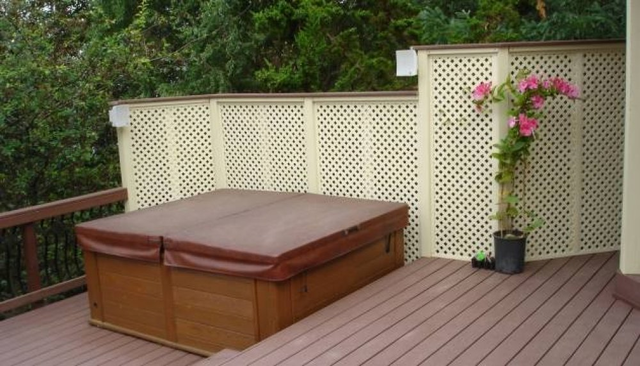 For the deck, you can add a privacy lattice screen on any side or the whole deck top. This project can look somewhat like a lattice privacy fence.
By using taller post to host the lattice panels, you will have head level privacy for this personal space. Simply incorporate the post to the deck structure, add the lattice panels and you are all set.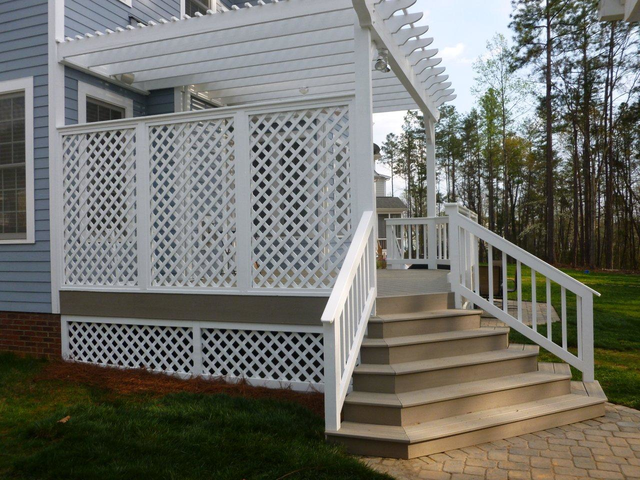 For the patio that has one side that can be viewed by all, add a privacy lattice screen. A lattice screen will blend perfectly with the rest of your railing and post.
A lattice screen is a subtle and stylish addition to your patio area.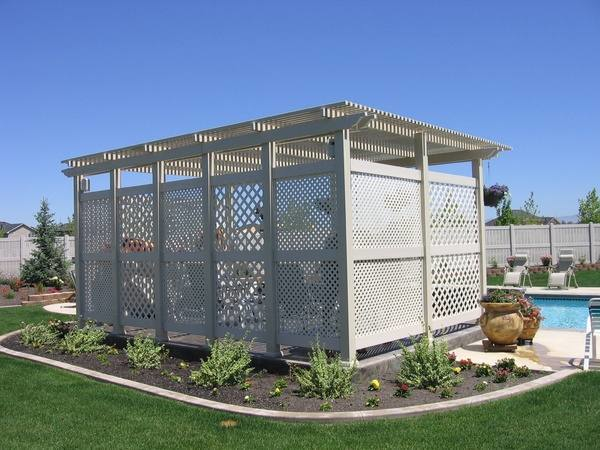 You may not realize it until after the pool is installed, but extra poolside privacy may become a "must have" feature for you. Adding privacy lattice will give you the opportunity to relax poolside and not worry about the rest of the neighborhood watching your every move.
You do not have to stay with just one pattern of lattice for whatever project you are working on. As with any project, the design and creativity are left up to you. Go for it! Check out Houzz.com for more inspirational ideas!
Permalatt Products, Inc. manufactures a high-quality premium lattice. We manufacture a true 3D lattice using a strip over strip construction.
With opening sizes of 1" diagonal, 1" square, 1-7/8" diagonal, 2" square, 2-3/4" diagonal (Snow White only) or the 3" diagonal, you can achieve any look you want for your project. We offer standard sheet sizes of 4'x 6' and 4' x 8'.
If you prefer a custom sized sheet, we can accommodate you! In our diagonal openings, we can manufacture any custom sheet with a width of 4 feet or less, and any length up to 12'.
In our square opening lattice, we can manufacture any custom sheet size that is a width of 4 feet or less, and any length of 8' or less.
Check out our product page for more information regarding the DuraShell® and Decorative 3D lattice, and contact us today for your free quote. Don't forget to request your sample kit!
Save