Lattice for Growing Vegetables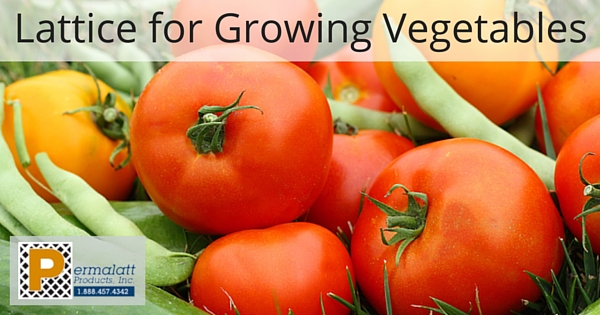 It's almost time to start planning your garden!  The short, cold winter days are giving way to the increased sunshine and warmer temperatures.  Whew, finally!

Garden planning involves more than just deciding what vegetables to plant, such as where to plant each vegetable so that it benefits from the sun.  You also need to consider the spacing of each vegetable so it "has room to grow".
Some of the most common vegetables for a garden are tomatoes, green beans, and cucumbers.  Each of these vegetables can get away from you in the garden area, overpowering the allotted space you've provided and causing havoc to other vegetables and their growing space.
Why not be creative in the designated space for the vined-type vegetables?  There are many ways to contain the vegetables in your garden space.  Think lattice!
You can build your own tomato stand that will last more than one growing season! Wire racks are great, but as you well know, after one great growing season the tomato racks can become bent and useless.  If you build a rack out of PVC pipe and lattice, the rack will last season after season.
The suggested diameter pipe is 2".  The suggested lattice opening is 3".  Simply cut 4 PVC pipes to your desired height.  Cut your lattice sheets to a width of at least 18" and 6" shorter than the height of your PVC pipe/poles. (The added 6" is for the bottom of the rack to be driven into the ground.)
Next, screw each lattice sheet to two PVC pipes creating a square.  Place the lattice rack around the tomato plant.  Need more ideas?  Check out Pinterest for more creative inspiration!
You may also choose to run lattice panels along a row of tomato plants.  Just use the PVC pipe as the supporting poles and cut the lattice sheet according to the length and desired height.  Either option will work great year after year.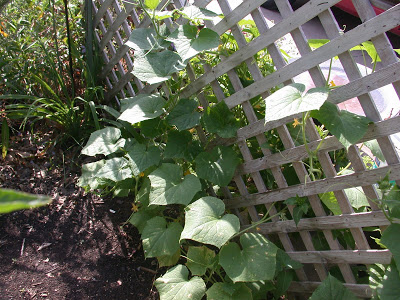 Tired of the out of control cucumber plants?  Why not create a small lattice trellis for the vines to climb on?  Using lattice for the vines to climb up makes picking easier.  As the plant begins to grow and the vines begin to reach out, gently guide them between the lattice openings.
Use either wood or PVC pipe for the post and screw the lattice sheet to them.  You can make this trellis any size according to how many cucumber plants you have.  Be sure there is plenty of support the length of the trellis.  Place as many post as necessary to keep the trellis from falling over from the weight of the plants.
Don't forget, some green bean plants will need a place to climb as well.  A supported lattice sheet is the perfect thing.  You can use the same construction as the cucumber trellis for the beans.
If you want a lattice that will be perfect for your vegetable garden project, chose the DuraShell® lattice. At Permalatt Products, Inc., we manufacture square and diagonal opening designs.
We offer diagonal opening sizes of 1", 1-7/8", 2-3/4" and 3".   We offer square opening sizes of 1" and 2".  Our standard sheet sizes are 4'x 6' or 4' x 8'.  We can also manufacture custom sheet sizes for your convenience.  Our premium lattice will enhance any project you may have!
We invite you to browse our other articles on our Facebook page and request a sample kit from our website. You will see many other ways to use DuraShell® lattice.
Feel free to contact us with any questions or to receive a free quote for your current project. We are happy to help and look forward to hearing from you!