Lattice for Privacy in a Manufactured Home Park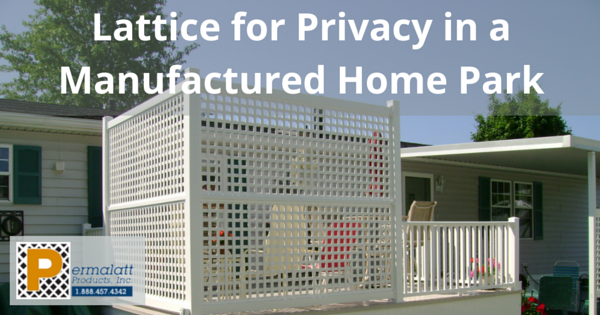 What is the definition of privacy? It means the quality or state of being apart from others. Each one of us needs a little privacy every once in a while, and we all have a desire to have that special place to relax and enjoy the solitude.
If you have neighbors that are a mere 15 to 20 feet away from your home, consider adding privacy screens to your deck and patio areas. Don't let your neighbor's close proximity keep you from enjoying a relaxing moment outdoors.
You can establish more privacy on your patio and deck area as you can make either location more inviting and comfortable when you install vinyl lattice. Vinyl lattice provides an economical and easy-to-use way to enhance both the deck and patio area while allowing your dream of privacy to become a reality. Lattice can create privacy while adding dimension and beauty to the appearance of your area. With vinyl lattice as a means of privacy, you won't have the feeling of being boxed in. While privacy separates us, it does not have to make us feel like we are too closed in.
There are many ways and many places you can add privacy to your property in a manufactured home park. Lattice offers a variety of options to create a place where you are apart from the view of others.
Let's look at the advantages of using vinyl lattice for privacy on your deck and patio.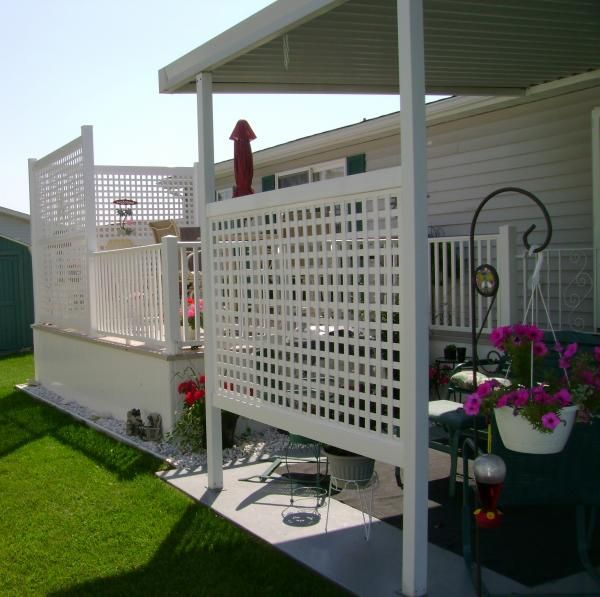 As you can see in our photos, the lattice screen will blend perfectly with the rest of your railing and post. A lattice screen is a subtle and stylish addition. Depending on the amount of airflow you want for your area, you can choose either small opening sizes or large opening sizes. Our client chose the 2" square for their project. The photo below shows what effect and look a 1" square lattice will have.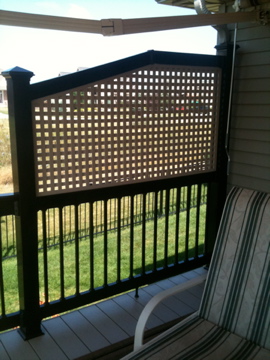 With vinyl lattice, you are not limited to the square opening. This is what a diagonal opening will look like for your privacy screen:
In this particular project, the client chose the 1-7/8" diagonal lattice. As you can see, the lattice provides a semi-shaded private area with notable style.
The benefit of using vinyl lattice is not only a great look but also a maintenance free quality. If it gets dusty or dirty, simply spray it down with water, and you're done. Vinyl lattice is insect proof and moisture resistant. If you choose Permalatt Products, Inc. DuraShell® lattice, it will not fade, warp, crack, splinter or rot. The DuraShell® lattice is dimensionally stable.
Permalatt Products, Inc. manufactures a high-quality premium lattice. We manufacture a true 3D lattice using a strip over strip construction.
With opening sizes of 1" diagonal, 1" square, 1-7/8" diagonal, 2" square, 2-3/4" diagonal (Snow White only) or the 3" diagonal, you can achieve any look you want for your privacy project.
We offer standard sheet sizes of 4'x 6' and 4' x 8'. If you prefer a custom sized sheet, we can accommodate you! In our diagonal openings, we can manufacture any custom sheet with a width of 4 feet or less, and any length up to 12'. In our square opening lattice, we can manufacture any custom sheet size that is a width of 4 feet or less, and any length of 8' or less.
Any project, any time, DuraShell® lattice is second to none.
Visit our website, www.permalatt.com, for more information regarding the DuraShell® and Decorative 3D lattice. Contact us today for your free quote! Don't forget to request your sample kit as well. You can also reach out to us at 888-457-4342 or sales@permalatt.com.
Save