Using Vinyl Lattice to Raise Curb Appeal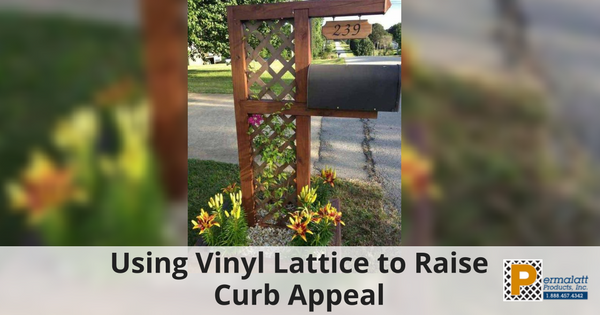 When landscaping your yard, don't forget the area where your mailbox is located. This will add true curb appeal to your front yard. There are no limits on what you can do with the area around your mailbox. You can do something on a small scale or a large scale. Either way, don't forget, if this area is left unattended it can become an eyesore. A little sprucing up can go a long way toward adding charm and curb appeal to your property.
Appraise your Current Mailbox
First of all, before you can settle on the landscape concept,  you need appraise your current mailbox. Wait; one more first thing! You'll need to make sure you are within the parameters of the postal system. Otherwise, you may find all your time and hard work towards adding curb appeal to your mailbox area was wasted. It'd be awful to have it completed only to find you need to move everything.  The United States Postal Service recommends that the mailboxes be 41 – 45 inches off the ground and 6 – 8 inches back from the curb with a minimum recommendation of 4 feet off the ground for those people living in the city.  Ok, now we can get back to the appraisal of your current mailbox and its surrounding landscape.
Mailbox Area Cleaning and Repairs
If needed, clean up the area around the mailbox. Did you have plants or flowers around the mailbox? Maybe you had a stone, brick or wooden border around the mailbox base.  Be sure to pull the weeds and remove the dead flowers getting the area ready for the new plants. Check and replace any of the border materials that have deteriorated or broken to keep the area looking refreshed.
Updating the Look with Vinyl Lattice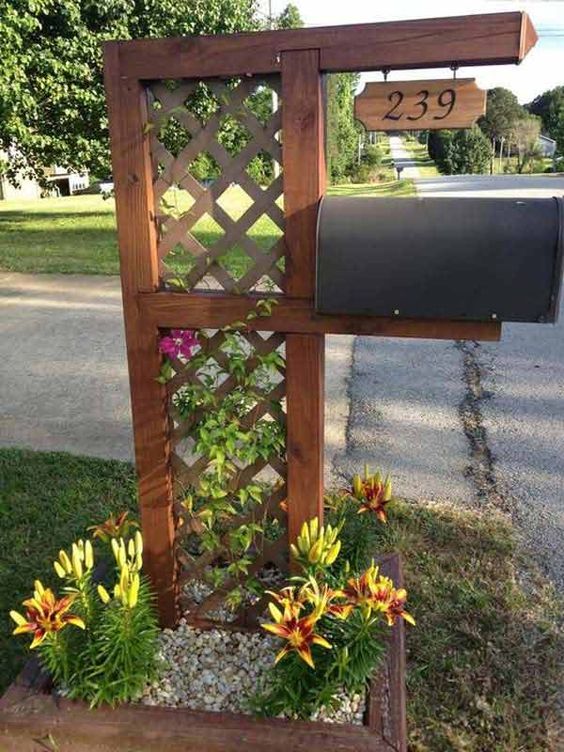 Now check the mailbox base. Are you thinking about changing the look completely or keeping what you have?  Depending on what you decide, this can be as easy as painting the existing base or complete removal and installation of something new. If you decide to keep what you have but are looking for a little change, you can incorporate a little something to the base you have. For Instance, a lattice section between post to give climbing vines and flowers a place to grow.  Honestly, you can even use lattice attached to an existing base for the same benefit of the climbing plants.
As for the actual mailbox, again choices; keep what you have or change it completely?  If your mailbox is not in good shape, rusted or broken it's time to replace it.  If you find it's in decent shape and you don't want to change it, wash it thoroughly to remove dirt and grime. You can also paint it a new color, or add a cover up. Ta Da! Instant charm and a new look.
If you decided to incorporate plants, flowers or mulch add these touches after you have completed the base and mailbox rejuvenation.  Performing this step last keeps the plants looking fresh and new without the possibility of damage while taking care of the post section and mailbox.
Adding the lattice accent?  Permalatt Products, Inc. manufactures the best maintenance free lattice product on the market.  From the lifetime warranty to the option for custom sheet sizes, you will happy you chose us for your lattice needs.
Contact us at www.permalatt.com or 888-457-4342