Uses for Lattice Indoors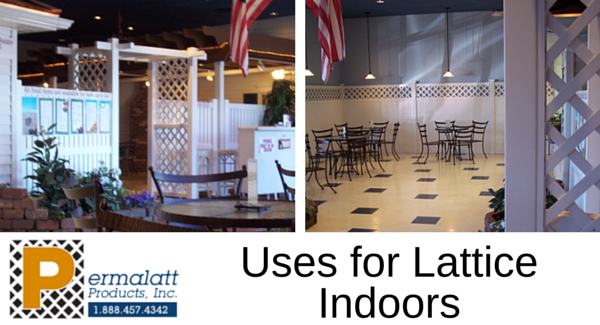 Ok, so most everyone is not surprised by seeing lattice on a Gazebo or Pergola. We even feel comfortable with the presence of it as a vinyl fence topper. But what about using it as an indoor design?
Something to consider, if you choose to add lattice to an indoor design, is the fire rating. Let's look at the DuraShell® vinyl lattice in regards to its fire ratings. Yes, we really did list our ratings, doesn't everyone?

Surface Burning ASTM E84-95:
DuraShell® testing passed with the highest possible rating- Class A-1.
The flame spread index = 10, and the smoke development index = 240
Rate of Burning ASTM D 635-91:
This test is for the rate of burning and/or extent and time of burning of self-supporting plastic in a horizontal position. We tested 10 samples. None of the samples reached the 25mm mark. All 10 passed.
Ignition Properties of Plastic ASTM D1929-91a:
Flash ignition temperature was at 752 degrees F
Self-ignition temperature at 665.6 degrees F
The material was tested using Procedure B, with an air flow of 5 feet/minute
Smoke density of PVC lattice ASTM D2843:
Notification Number ETC 97003
The maximum average smoke density for the material is 80.2 percent, and the smoke density rating for the material is 63.1 percent when tested per ASTM D2843.
With the peace of mind given from the fire rating test results, you can rest assured that our lattice is as safe to use indoors as any of your other building materials.
Look what you can do to spice up your dining room.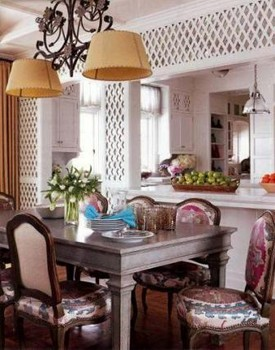 And here lattice is shown as a way to create an alcove in a large building to separate your business from the others inside. Look how it calls out to you – "Come on in, sit for a spell".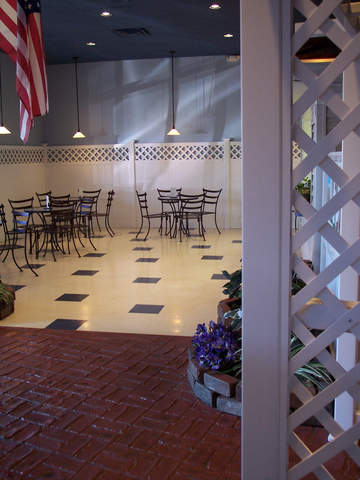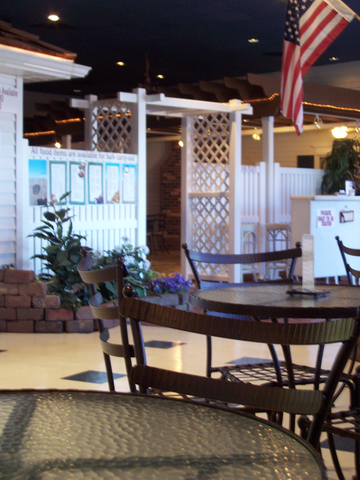 There are many ways to use lattice inside your home as well as on the outside. Honestly, I never thought to use it anywhere but outside. I now realize it shouldn't be limited to the standard uses. Oh sure, we've seen the garage organizer option too, but consider the interior of your home as well. Consider looking at all the ways it makes that one plain wall pop, or how it can be used for card displays, headboards or in your craft area. The possibilities are endless.
Permalatt Products, Inc. is the manufacturer a premium, high-quality lattice that can be used in any of your projects. Inside and out! Contact us today.