Is Your Fence Ready for Winter?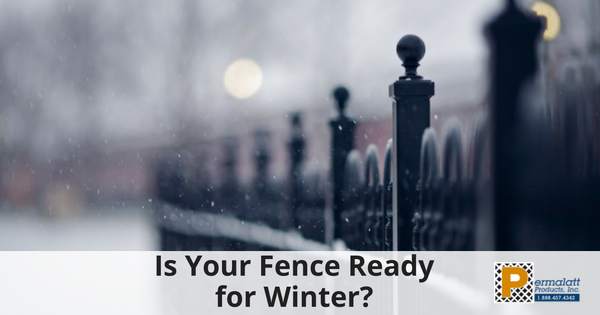 Summer weather is gone, and winter will be here before we know it. Depending on where you're located, you may have already have seen the arrival of snow. Don't delay. Get your fence ready for winter season ASAP.
Now, the type of fence you have will determine what you need to do to prepare the fence for winter weather. Common fencing materials such as wood, vinyl, and aluminum each have different methods of winter preparations.
Wooden Fence Preparation
If you have a wooden fence you'll need to consider the moisture winter weather creates. Mold, mildew, and even rot can happen as a result of a harsh winter. Before the snow falls you should make sure your fence is in good condition.
For example, make sure it is water resistant. Treat the wood fence with a waterproof stain or clear sealer. This process may need to be a yearly part of your preventative maintenance. It's a good idea to make sure there aren't any leaves up against the wood as well. The leaves will hold the moisture and damage the wood panels, pickets, and post.
Vinyl Fence Preparation
If you have a vinyl fence your winter preparation is different than that for wood. While vinyl fences are mold and rot resistant, if you do not remove the leaves from around your vinyl fence, you might find that the excessive moisture from leaves piled on your fence will cause algae grow. It will be particularly noticeable if your fence is white or a light color. So remove all the leaves on and around your vinyl fence.
The dropping temperatures will make the vinyl less flexible and more rigid. This means a hard impact can cause a vinyl fence to break. You'll want to avoid plowing, shoveling or snow blowing directly into the vinyl fence. Use plow markers for vinyl fencing along the drives, sidewalks and parking area so the plow service doesn't pile the snow into or on the vinyl fence.
Aluminum Fence Preparation
The aluminum fence owners will want to trim back any tree limbs and branches that are around and above the aluminum fence. Why? The heavy snow and ice can cause them to break off, fall on, and damage the aluminum fence.
You will want to keep leaves, sticks, etc. from piling around the fence post. This will be where the water and moisture will settle and can cause the earth to loosen around the post. This can cause the fence to shift becoming less stable and secure.
You will want to inspect any type of fence you have regularly to see if it has sustained any damage. Repair any damage as soon as possible. Routine maintenance prior to the winter can make sure that your fence is ready for the harsh winter weather and that it will last for seasons to come.
It's never too early or too late in the season to plan for your next project. Does it include lattice? Permalatt Products, Inc. is happy to help you with all of you lattice needs. Contact us today and let us provide a free quote for you. We can't wait to hear from you!
Save