Enhancing Your Trellis with Vinyl Lattice
A trellis is a structure made with framework and lattice intersecting the frame. The purpose of a trellis is to support and display climbing plants and flowers. Additionally, your trellis can be used as an accent or decorative piece in a garden or yard area.
Do you currently have a trellis made with wood lattice? Is it looking weathered and worn?
Would you like something on your trellis that is maintenance free but also holds the weight of the flowers and plants? If so, here's a solution.
Enhance your Trellis with Vinyl Lattice
Keep in mind trellises are not only found in garden areas. They can also be right on your patio.
By having vinyl lattice in your trellis you will not only have maximized the beauty of your area during the plants' peak season but throughout the entire year as well.
When choosing a vinyl lattice for a trellis, you will want to make sure it can support the plants and flowers that will be climbing up the trellis in their peak season. Select a vinyl lattice that will not warp or expand. Either of these things can cause an issue with the structure used to frame the trellis. Not to mention it can take away from the look of the area.
Below is our Comparison Chart. The chart may help you decide which lattice is best for your trellis.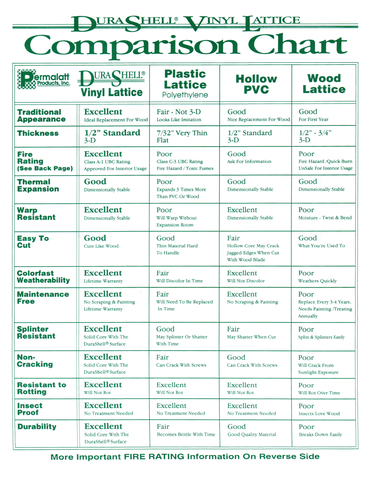 Check out the DuraShell® vinyl lattice manufactured by Permalatt Products, Inc. for all of your lattice projects.
Contact us at 888-457-4342 or browse the website at www.permalatt.com to see the sheet sizes and opening sizes we offer. Got a custom sheet size? As a manufacturer of vinyl lattice, we are able to make just about any size you want.
Feel free to contact us and we will be happy to help you with any questions you may have.
Save
Save
Save
Save
Save
Save
Save
Save
Save
Save