Wonderful Deck Skirting Ideas to Use for Your Home
What is deck skirting exactly? Deck skirting is a material attached to support post and boards below a deck. Deck skirting is used on elevated decks to conceal what is between the deck and the ground and as a base.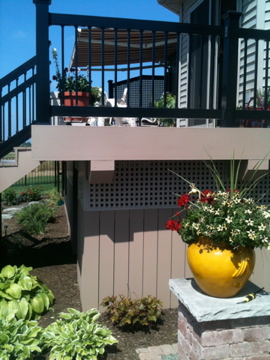 There are several materials you can use for skirting. For example, you can use brick, faux stone, fencing boards, and lattice.
Here are a few pictures to give you an idea of how each of these materials will look when they are used as deck skirting.
Brick Deck Skirting:
The warm, earthy look of brick for your skirting can really complement your home. This option will completely seal off the bottom of the deck.
Faux stone:
There are many styles and numerous colors to choose from with faux stone skirting. This option can also completely seal the area beneath the deck.
Fencing boards:
The fencing boards can be installed vertically and will achieve a custom fit for the uneven contour of the ground. The color option will be limitless with the fencing boards as you can paint or stain them any color you choose.
Lattice: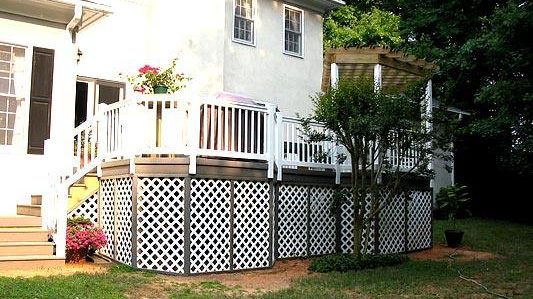 This is the most common form of deck skirting and the easiest to install. Choose either vinyl lattice or wood lattice. Of course, vinyl lattice is our recommendation for so many reasons.
Here's another look at what you can use for deck skirting:
As you can see, each type of material used creates a different look.
Now, we want to remind you that there are things to consider when choosing materials for deck skirting. Things like ventilation, maintenance, and appearance. You may also need to consider what material will keep small animals from making their home beneath your deck area. Will you want added storage under your deck? If so don't forget to add an access door.
We hope the pictures we've included will help you see what options you have when planning your deck skirting.
Let Permalatt Products, Inc. help you with all of your lattice "wants" and "needs".
Contact us today through our website www.permalat.com or call us at 888-457-4342, we're always happy to hear from you.